A sink is by far the hardest-working kitchen tool. It is important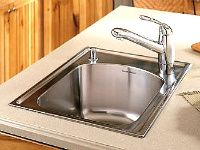 to make it work for your kitchen needs. Consider the size and configuration, materials, accessories, and the faucet and other sink fixtures.
Don't let convention determine your sink location. In front of a window may be the perfect spot for a sink, but overlooking the rest of the kitchen or family room may work better for you. Keep in mind that you should leave at least 2ft. of countertop space on both sides for dishes and food prep.
Sink Configurations: When selecting the right sink, keep in mind your cleaning habits. If every pot and pan goes straight into the dishwasher, you may not need a dish drainer. If you use a lot of large cookware, you may prefer a sink that is wide enough to fit a large baking sheet or a roasting pan. If so, make sure to note that a sink wider than 33 in. will require a wider than standard sink base.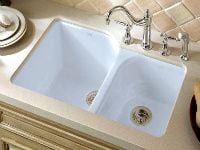 Sink details make a huge difference in performance. Sink drains, for example, don't always have to be installed in the middle of sink basin. A drain that is off to the side allows pans to soak while leaving room for sink grids or racks that won't cover the drain.
Apron front sinks, also called farmhouse or farm style sinks, make it easier to belly up to the sink because there is no intervening countertop, just the sink edge. Undermounting gives the sink more depth.
Sink Syles:
Drop-in or Self-Rimming sink: Countertop materials that have a weak edge, such as plastic laminate or wood require a self rimming sink. Steel sinks can be clipped into place and trimmed with a separate stainless-steel rim or they can be self rimming. Porcelain enamel sinks remain in place solely by their weight. The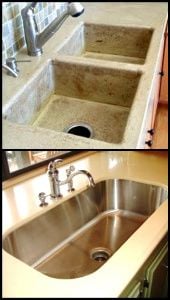 raised rim of a drop in or self rimming sink makes it difficult to sweep crumbs and other particles into the sink. It requires more elbow grease to clean, because the perimeter seam is exposed. All drop in and self mounting sinks should be sealed under the lip with silicone caulk.
Undermount Sink: Undermount sinks make it easy to clean off the countertop, but require extra attention to keep the top edge of the sink clean. Materials that require sealing, such as granite and marble, must be sealed at the cut edge.
Integral Sink: Stainless steel or other meta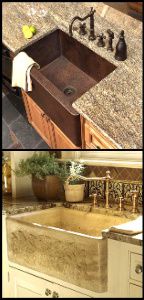 l can be shop made or manufactured into different configurations to accommodate an integral sink, backsplash, and countertop. Solid surface and composite stone countertops can be fabricated with the integral sinks already in them. These sinks have no joints, so they can't leak and there are no joints to clean around.
Farmhouse or Apron sink: The farmhouse sink makes a statement in the kitchen because it protrudes from the countertop and cabinetry. The materials and finish become prominent design features. These sinks make it easy to wash produce and dishes because of their generous size and placement.
Prices vary greatly among the options discussed in this blog. Are you having trouble developing your design concept. Let us design your kitchen.