The kitchen is the heart of the home. Of course it's great to have a beautiful kitchen, but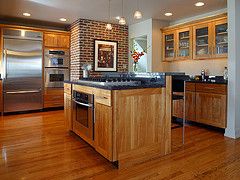 there is no point to it unless it is functional. Most of the storage and functionality is thanks to the kitchen island.
There are three main reasons why you should plant an island in the middle of your kitchen:
It increases storage and counter space
Increases the light because of more lighting opportunities
Becomes the central to social gathering
Kitchen islands open up more opportunities for adding ceiling fixtures, ie lighting fixtures or a pots and pans rack. Both options are functional yet decorative.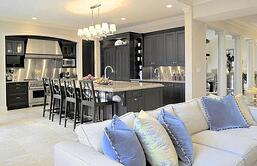 As center islands have increased in popularity, they have helped change some of the most fundamental aspects of kitchen design. For example, the old rule that the sink must be centered under a window no longer has to apply. Now it is common to see sinks located in the center island so the cook can engage with guests more easily. People also put a cook top on the island for the same reason. In either case, it cooking is no longer seen as a solitary activity, but more of a social event.
Islands can be quite simple or complex in their design. The simplest islands are usually rectangular masses with flush countertops. More sophisticated islands might feature work surfaces at varying heights, large overhangs to accommodate seating and unusual shapes to add visual interest. Either or, every island will benefit from thoughtful lighting. Kitchen islands should be lit appropriately to ensure that people will be able to see well, but also to distinguish certain areas of the island. The most common lighting for islands is pendants of a chandelier. The visual cues help set the island apart.
Kitchen islands also have a natural way of being the center point of socializing. This is why the open kitchen floor plan has become so popular. It allows more space for gatherings with family and friends.
For more information on kitchen islands or open kitchen floor plans. Please contact us or leave us a comment with your questions.