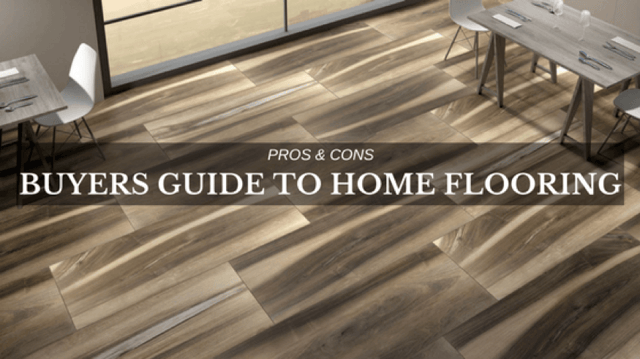 The meticulous process that is turning a house into a home is a series of careful decisions regarding comfort, style, color, and cost. There are so many flooring options that it might be hard to choose the right one for you. Most homeowners choose to pick a single flooring style for the entire home, but if you want a different look for each room you can choose different flooring options for each room being remodeled. Deciding on the right floor for a room is not just about flooring, but you should also consider the size and shape of the room, its architecture, furnishings, style, the amount of natural light, and the room's utility. All these different elements must be taken into account when considering the different materials for your home flooring. If major parts of your home get lots of foot traffic, you'll want a floor option that is durable and can stand up against heavy use. You should consider all the options available to you, so you can pick the right product for your home, finding a balance between style and function that works within your budget. Keep in mind that higher-quality flooring options tend to have a higher price, and this can be a huge deciding factor for people with larger homes. We realize that choosing the right floor product for your home sounds like a ridiculously complicated product, but we want to help you every step of the way. This article is meant to help you choose the right flooring option for your home and perhaps introduce you to some new options that were non-existent just a few years ago.
For over 15 years, Bay Cities Construction has helped hundreds of homeowners across the South Bay region of Los Angeles transform their homes. Our team specializes in kitchen and bath remodels, home additions, and even soft story retrofits. Our experience with home remodeling and interior design allows us to write this article with real world experience to help you choose the best flooring option for your home. If you need expert advice for your home remodeling project, Bay Cities Construction is ready to help you with whatever question you may have. The high-standard of our remodeling projects has ranked us among the best home remodeling contractors in the South Bay, and amongst the top kitchen remodelers in Los Angeles. As a full service general contractor, we can help you with Interior Design, Architectural & Engineering Services, City Permit Processing, Project Management, and Construction Services. Bay Cities Construction is the team of Pro's you need for your home remodeling project.
Laminate Flooring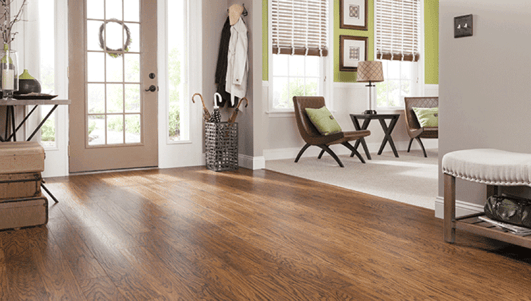 (Laminate Flooring - image courtesy of Lowes)
The very first step in your home remodeling journey is to realize that it's time for change. If your home still has linoleum flooring or shag carpeting from the 1970's, it's time for a change. Carpeting outside of the bedroom has fallen out of fashion in recent years, the typical Southern California home has wood or tile floors. The most basic and inexpensive type of flooring is Laminate Flooring. Laminate flooring has come a long way, you can find high quality laminate flooring to give you a high-end look on a modest budget. Laminate flooring is composed of synthetic material that simulates wood or even a stone appearance, which is then laminated. Laminate flooring has come a long way and has shed the reputation of being a cheap product. Laminate flooring comes in a wide array of colors and finishes that it will be nearly impossible not to find one that you love. Homeowners that choose laminate flooring for their home are impressed by just how easy it is to clean and maintain. If maintained properly, a laminate floor will last you several decades.
Pro - Extremely Simple Installation
Pro - Easy to Replace
Pro - Easy to Clean
Con - Cannot be Sanded
Con - Slippery When Wet
Con - Can Scuff Easily
Ceramic & Porcelain Tile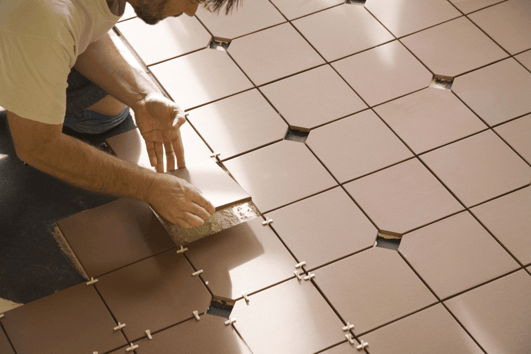 (Ceramic tile floor image courtesy of thespruce.com)
The second most popular flooring option in Southern California due to its low cost and relatively simple installation process. One of the most attractive features of ceramic and porcelain flooring is that it is easy to clean and maintain. A simple wipe with a moist rag will do the job. Both ceramic and porcelain tiles are hard glazed tiles that have been used for centuries to provide a durable coated surface that is hygienic and easy to clean, for indoor and outdoor environments. There have also been some innovative ways to use ceramic and porcelain, including tiles that resemble wood flooring. At first glance you'll be unable to tell the difference between a ceramic tile with wood-grain finish and a real hardwood floor. You would have to get on your hands and knees to be able to tell the difference. Next to wood, ceramic and porcelain tiles are one of the strongest flooring options you can choose for your home. But keep in mind that these floors do require more maintenance and upkeep, so they might not be the best options for people with small children or pets. If you are considering ceramic or porcelain as your floor choice you'll need to know that professional installation is required, especially for expensive masonry. Novice DIYers should not attempt to install tiles themselves, you're better off saving yourself future heartache by letting a team of expert masons handle your installation.
Pro - Strong & Durable
Pro - Wide Variety of Colors
Pro - Easy to Replace
Con - Grout attracts dirt
Con - Hard Surface
Con - Can Break Brittle Items
Hardwood Flooring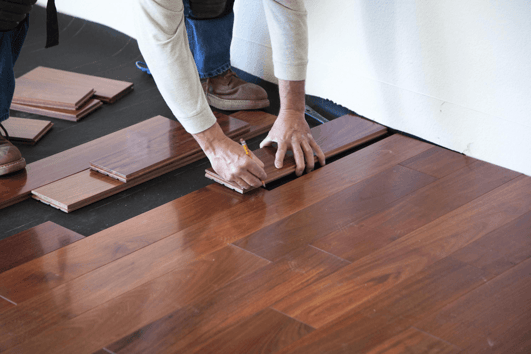 (Hardwood Floor - image courtesy of thespruce.com)
One of the most popular flooring options in the United States, hardwood floors offer a Hardwood flooring is milled from a single piece of timber. Oak, walnut, and hickory are common types of wood used for hardwood flooring. Hardwood flooring is a classic choice because of the warmth the rich colors can add to the room, and because they are very durable when maintained properly. Although hardwood fell out of favor in the 1990's, they are back with a vengeance. Hardwood floors have had a steep rise in popularity in the last 5 years, especially across trendy neighborhoods of Los Angeles. If you have a keen eye for design, you'll know that one of the latest trends in flooring is grey oak flooring. This is the most requested flooring options our customers call for when planning their home renovation project. If you want this classic look in your home you'll need to be ready to fork some big bucks, hardwood floors are not cheap. Additionally, hardwood floors require a lot of maintenance and upkeep. If your hardwood floors receive a lot of direct sunlight they can fade and develop deep discolorations, so you'll want to take this into consideration if your home has lots of windows. But hardwood can survive both children and pets but be prepared to clean it daily if you have a messy family. Keeping hardwood floors clean is critical to ensure that your investment lasts you several decades.
Pro - Very Durable
Pro - Water Resistant
Pro - Can be Refinished
Con - High Cost
Con - Requires Professional Installation
Con - Can Shrink or Expand
Engineered Wood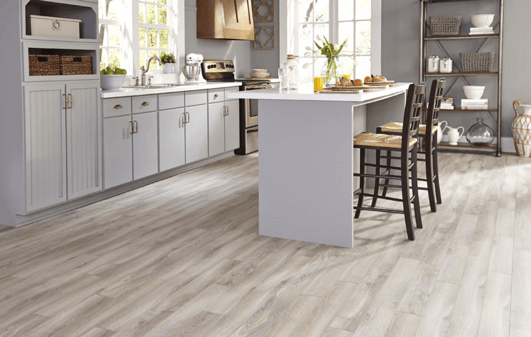 (Engineered Wood Floor - image courtesy of Lumber Liquidators)
One of the newest flooring options to come in the last 10 years. Engineered wood differs from hardwood in that it is a veneer of hardwood on top of several layers underneath. It is processed or machined to have a specific look and feel, and typically comes pre-laminated. In essence they are similar to laminated floors, but they are fully made of natural wood components, and include a natural wooden grain. Engineered wood flooring pricing sits right in the middle of the spectrum, it's not cheap but it's not too expensive. The price in flooring for a moderately sized home will be right in the middle for the average budget. Installation is not too difficult. Homeowners and DIYers can handle this installation themselves and save a couple of bucks. Engineered wood products can appeal to almost any budget because it is available in several styles and colors. Since engineered wood is made up of several layers of pressed wood, it is higher on the durability scale. Additionally, since engineered wood flooring is a manmade material it does not have any special maintenance requirements. Daily cleaning is not required.
Pro - Resistant to Moisture
Pro - Easy Installation
Pro - Wide Variety of Colors
Con - Quality Can Vary by Price
Con - Cannot be Refinished
Con - Edges Can Fray
Bamboo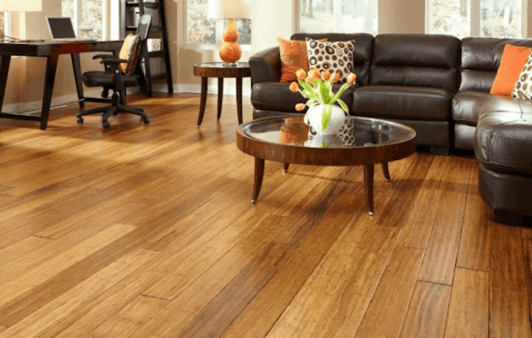 (Bamboo flooring - image courtesy of BobVila.com)
Do you want to make an impact on the environment while remodeling your home? You can consider other materials like bamboo that are environmentally friendly and responsibly sourced. Bamboo flooring falls into that category, bamboo is an eco-friendly flooring option that you can choose for your home. Bamboo is very flexible and durable.
Much like hardwood flooring, bamboo flooring is an ultra-durable natural option that utilizes bamboo reeds installed over subflooring. Bamboo flooring is an eco-friendly, and highly renewable option for modern homes. But since bamboo flooring is relatively new, the price for bamboo flooring is higher than traditional wood flooring products. Installation costs are moderate, but you'll be hard pressed to find a contractor that is familiar with bamboo flooring. You should also keep in mind that bamboo does not have a wide selection to choose from, your color options are quite limited. The majority of bamboo floor options come in lighter color variations.
Pro - Easy to Install
Pro - Hypoallergenic
Pro - Durable
Con - Color Can Fade
Con - Can Discolor in Sunlight
Con - Susceptible to Water Damage
Cork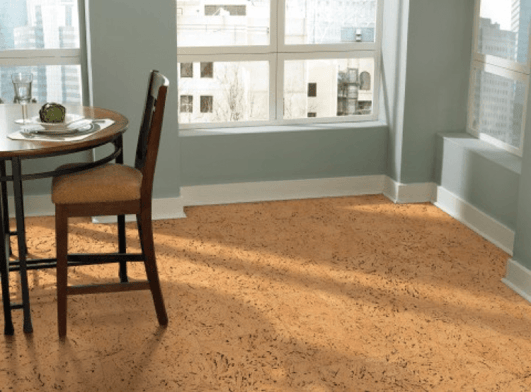 (Cork Floor - image courtesy of US Floors)
Cork flooring is a relatively newcomer in the flooring category, and one that might not come to mind when you think of flooring options for your home. This is another option for homeowners that are considering an eco-friendly flooring option for their home.
Cork is a flooring derivative that is made from bark of the cork oak, cork flooring makes for a highly sustainable flooring option that adds an earthy natural look. The installation of cork floors is overly difficult, but it is best if you leave the installation up to a professional. Cork flooring is responsibly sourced, placing it on the higher-end of the pricing spectrum. If you are on a very strict and tight budget cork is not the right flooring option for you. Once it is installed you'll also be responsible for finishing, if left untreated cork can absorb water and warp; completely ruining the look and feel of your home's floor. Cork floors do require a lot of maintenance, but if maintained properly you can have them last for several years.
Pro - Sustainable & Eco-Friendly
Pro - Durable
Pro - Resistant to Mildew
Con - Expensive
Con - Needs Finishing
Con - Difficult to Clean and Maintain
Stone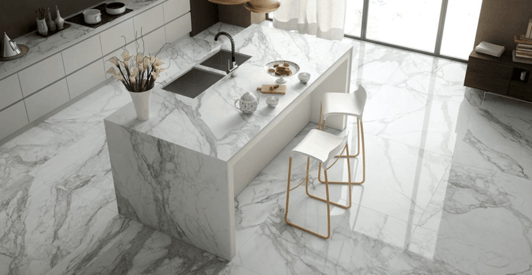 (Marble Floor - image courtesy of HomeAdvisor)
Stone has been used for centuries, not just as a flooring option but as a building material as well. Stone flooring is very durable and heavy, so you want to make sure your foundation can support it. A flooring option that makes use of different types of natural rock carved out of a quarry and then cut for a flooring application. Limestone, granite, marble, and slate are common stones used for interior flooring. If you live in an area with lots of seismic activity you might want to avoid stone floors, once damaged, they can be quite expensive to repair. Stone flooring is usually reserved for the ground floor of a home, or kitchens and outdoor patios. If you were hoping to save some bucks and install the stone yourself, you are out of luck. Stone flooring is difficult to install and should only be left to professionals. Stone flooring comes in several colors and materials, so you won't have any trouble finding a flooring option that matches the look you are going for but be prepared to shell out some dough. Stone is a naturally occurring material, so it is very expensive.
Pro - Appearance Improves with Age
Pro - Extremely Durable
Pro - Timeless Appeal
Con - Expensive
Con - Labor Intensive Installation
Con - Extremely Slippery When Wet
---
These are all the home flooring options available to homeowners in Southern California. Did you see any new flooring options that were not available a decade ago? We hope this pros and cons approach helped you choose a new material for your home floor and has helped you with your home remodeling project. If you still need help with your home remodeling project you can also check out our blog articles below. Our blog is full of hundreds of articles to help you learn more about home remodeling and hopefully help you with your own home renovation project. You might also be interested in:
Ready to take the next step? We're certain that Bay Cities Construction is the best general contractor for your project, you can Schedule an Appointment by clicking HERE. We offer a complimentary 1-hour consultation at our office, so you can meet our team, and we can get to know your project and needs. The majority of contractors don't have an office or showroom, do you really want to deal with a contractor that can disappear overnight? We didn't think so!