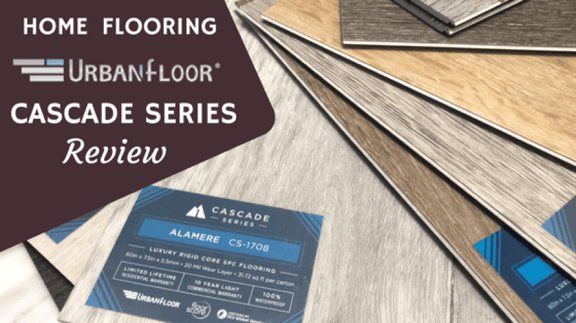 As a general contractor I see lots of construction materials every single day. From time to time I evaluate potential flooring options to bring the right balance of quality and value for my home remodeling. I see various types of flooring, everything from solid hardwood, bamboo, laminate, vinyl, and SPC (stone-polymer composite). Believe me when I say that there are ton of options for home flooring; there is something out there for everybody and for every budget.
Product: Laminate Flooring
Just recently I came across an amazing new laminate flooring product from Urbanfloor that blew me away. The brand new Cascade Series, a luxury SPC product. Urbanfloor is a manufacturer and importer of various high-end engineered flooring lines based in Southern California. As a contractor and advocate for my clients, I am constantly trying to find great products that can help reduce the total construction costs for them. In the home remodeling industry the customer is king, so the search for amazing products is never ending. Urbanfloor offers so many amazing flooring options that we will be writing more articles on them to share with you.
It's rare when I come across a series of products that really get me excited. The Urbanfloor Cascade Luxury Rigid Core SPC series is one of those product lines. My product review will analyze three topics: style, quality, and cost. Why did I choose those topics? Because this is how most home remodeling customers evaluate products. I'll rate them using hammers, so 🔨🔨🔨🔨🔨 is top notch!
Style:
Quality is irrelevant if the floor doesn't look good. The right flooring option has to both look good and last a long time. Flooring plays a major role in capturing the vibe and feel of a room. Color and pattern options also play a big role in how flooring integrates with the other architectural features of the room. Most clients I see are captivated by gray and brown color palettes because they want a modern but timeless look in their home. Urbanfloor offers a great selection of styles and colors to fit any style. They have color options that are traditional, modern, and transitional. There are 10 different color options in the Cascade Series. The grain patterns and finishes offered by Urbanfloors in the Cascade Series is unique. I'll mention just three of my favorites, but don't forget they have 7 other fantastic colors to choose from. Although the Cascade series is thinner than solid hardwood, it is still tough and can tolerate heavy use. It can survive small children, pets, and will only require minimal maintenance.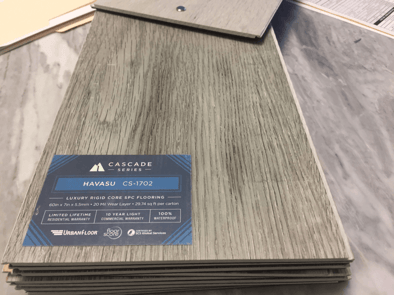 Havasu is a gray laminate that offers intensity in color and depth in the grain pattern.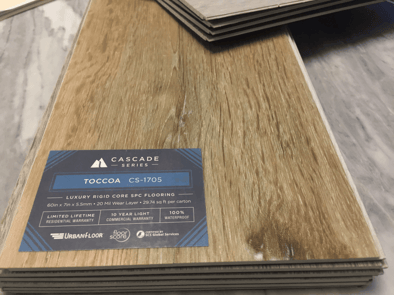 Toccoa is a light caramel color with wide grain and warm tones.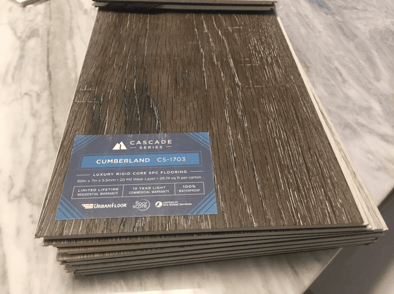 Cumberland is a rich dark cocoa with white highlights in the grain. It has depth in patter and offers a chic rustic look.
Style Rating: 🔨🔨🔨🔨
Quality:
My customers care about both quality and value. The Cascade series is tough enough to handle everyday traffic while maintaining a sleek modern look. Even though this is an affordable product, you still get a durable flooring. To accurately describe the quality of the Cascade I'll be detailing all three layers of SPC floors.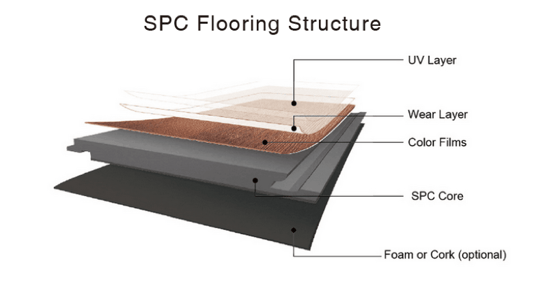 As you can see in the image above, there are three main layers that makeup SPC flooring.
Let's dissect the flooring plank and focus on 3 components:
1) The backing layer (core)
2) The print layer (color)
3) The film layer (wear)
The backing layer, or the "core" is the foundation material of the laminate plank. In most cases it is made of medium density fiberboard or high-density fiberboard. Some manufacturers use fiberglass as the backing layer. Fiberglass can have some major advantages over fiberboard. Fiberglass is more resistant to water damage than fiberboard. If the flooring is to be used in a bathroom or kitchen, laminate with a fiberglass backing layer may be a better option. The Cascade Series uses a solid composite made of a stone-polymer blend. This makes SPC both light, tough, and durable.
There are two more components that make a great floor, the "Wear Layer" and the quality of the "Print Film" underneath the wear layer. The wear layer is evaluated by how clear it is and how thick it is. You want a thick wear layer that is at least 15 MM thick and made of virgin PVC that will not delaminate. Some wear layers are obscure and look like "plastic". Urbanfloor designed the Cascade series to look as natural as possible with grains to resemble natural wood. The sheen on the wear layer plays a major role in how vivid film layer shows through. You want to see a matte finish that showcases some depth in the grain pattern captured in the film layer.
A high-resolution print layer will give your flooring a vivid, three-dimensional appearance. In some cases, it "looks like wood". The same can be said about the Urbanfloor Cascade Series. The resolution of the print layer is determined by the pixel count. Just like in a digital picture, a high pixel count is a high-resolution image. Hold the sample at arm's length to help gauge the quality of the pixel count.
Urban Floor specs out their wear layer at 20 mm thick. The image film is high resolution with varied grain pattern and color. No pixilation is visible, only a clear image with a dynamic range in color and depth.
Quality Rating: 🔨🔨🔨🔨
Price:
Price is always a factor. Consumers with a small home remodeling project often consider laminates as a low cost flooring solution. The market is flooded with cheap Chinese-made laminate. Although they affordable, you really get what you pay for in this case. Do not expect Ferrari performance with a Honda budget. Most home stores such as Home Depot, Lowes and Costco will carry laminate floors ranging from $0.79 cents to $5 per foot. Urban Flooring Pricing for the cascade series is just under $5 per foot. This can vary by color, but in most cases it's under $4 per square foot. This is an amazing price without compromising on quality. Once installed, nobody will know that the Cascade series is a value flooring product.
Price Rating: 🔨🔨🔨🔨
---
The Urbanfloor Cascade Series is a great flooring option for people that have a moderate budget; it's affordable, it's durable, and it looks great. The Cascade Series gets 4 Hammers for it's style, it's available in many modern colors but they may not be for everybody. This series also receives 4 Hammers for their quality. It is a thin laminated product but it's bulletproof, it will survive wear from kids and pets alike. You can expect high quality and durability from this reasonably priced line. The Cascade Series also receives a 4 Hammer rating for it's price. You get several benefits from this value priced flooring option. No single product is perfect for every job and that is why the marketplace offers so many options. However, if you are looking for quality laminate flooring with great color options at a reasonable cost, consider the Urban Flooring Cascade Series. Please make sure you look through our blog library, it is a wealth of knowledge and it is free! I would love to know what you think about laminate floors? Is this something that you would consider? Please let us know in the comments below.
---
For over 15 years Bay Cities Construction has helped hundreds of homeowners with flooring as part of their home remodeling projects, helping them transform their house into a home they love. Our team has the experience and expertise to help you with home remodeling, kitchen remodeling, bathroom remodeling, home additions, soft-story retrofits, and accessory dwelling unit. When you hire Bay Cities Construction you don't just hire a contractor, you also hire an entire team of Pros. With several years of experience, our team has the expertise to help you with Interior Design, Architectural and Engineering Services, City Representation, Permit Processing, Construction Management, and Construction services. If you think Bay Cities Construction is the right team for you, contact us today. We will help you select and install the right flooring option for your home.
Ready to take the next step? We're certain that Bay Cities Construction is the best general contractor for your project, you can Schedule an Appointment by clicking HERE. We offer a complimentary 1-hour consultation at our office, so you can meet our team and we can discuss your home remodeling project. Our team of Pros can help you design and build the home your dreams. If you have been disappointed by other contractors, it's time to call one of the best home remodelers in the South Bay.