We have been scoping out the bathroom remodel trends for 2012. Next year will be all about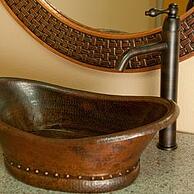 going green, spa like bathrooms, chandeliers, and art. Here are a few examples of how these four things will function in your bathroom remodel.
Eco Friendly Bathroom Fixtures and Materials:
If you're planning on going green in your bathroom, the fixtures and materials will be a huge part of your bathroom design. Now that low flow shower heads and faucets are becoming more popular, there will be plenty more styles to choose from. Don't forget about the dual flush toilet! Although we're not emphasizing the dual flush this year, it is still a big part of being eco friendly.
Make sure find fixtures labeled "Watersense." This means the product uses less water than regular fixtures.

Should you choose to have wood in your bathroom, find wood that is FSC-Certified Wood. This wood has been harvested from a sustainably-managed forest. The Forest Stewardship Council (FSC) monitors forest management policies, also ensures that FSC-certified wood has a controlled supply chain that allows tracking from the source to the final product.
Ceasarstone recycles and reuses the waste materials generated during manufacturing, so waste and pollutants are kept minimal.
Recycled glass, also known as vetrazzo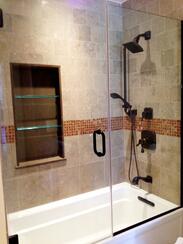 Spa like Bathroom:
We have talked before about creating a relaxing atmosphere in the bathroom, but now more than ever, it is becoming a bigger and bigger trend. There are several ways of obtaining this ever so popular feel.
Is in the shower.
Remove the clutter of shampoo and body wash from being everywhere in the shower. Find or create a zone for it.
Create an open shower. This will give your shower a steam room/spa feel.
Heated floors and towel racks. Yes, they have those now!
The rest of the bathroom will be based on storage and the style of your bathroom (rustic, modern, traditional, etc)
Eclectic Lighting:
Chandeliers are huge this year. Of course you'll need more lighting in the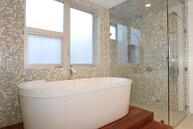 bathroom if this is where you do your hair and make-up but for the most part chandeliers will be the feature of your bathroom. It will give your bathroom a luxurious spa like feel whether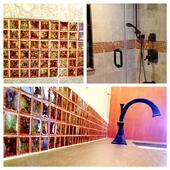 you have a contemporary bathroom or rustic bathroom.
Mosaic Tile in the Bathroom:
It's no longer just about basic tile in the bathroom. This year we'll be seeing woods, stones, and even concrete. Mosaic art is becoming trendier on bathroom walls with unique designs.