Kitchen Remodel
Getting Started with Kitchen Remodeling Services
Everything you Need to Know
Schedule a Quote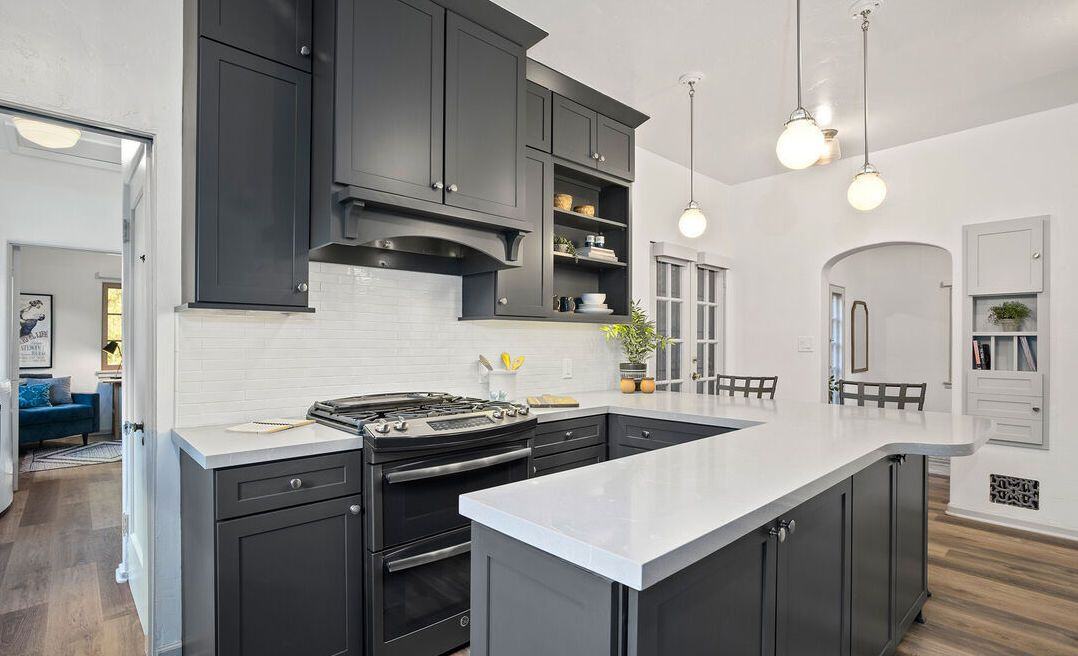 Getting Started- Kitchen Remodel
1. Planning your Kitchen Remodel
First things first, if you're investing in your kitchen, it should be a reflection of you and your lifestyle. Begin by thinking about how you use your kitchen and what you'll need and want from it daily.
Set Goals:
Before you dive into a meeting with a contractor, you need to take evaluate how you currently use your kitchen and what you'd like to get out of it. It's easy to leave things out, so we've created an easy worksheet guide to help you think about the current activities that go on in your kitchen and how it currently stacks up to your needs.
After completing the daily activities questionnaire, you'll move on to think about what you want and need from your future kitchen. Click here to get your kitchen remodel worksheet- based on how you answer these questions. We can help you create a roadmap to your dream kitchen. Last but not least, don't forget about your budget! We've created a kitchen remodel calculator to help you figure out where to allocate your budget.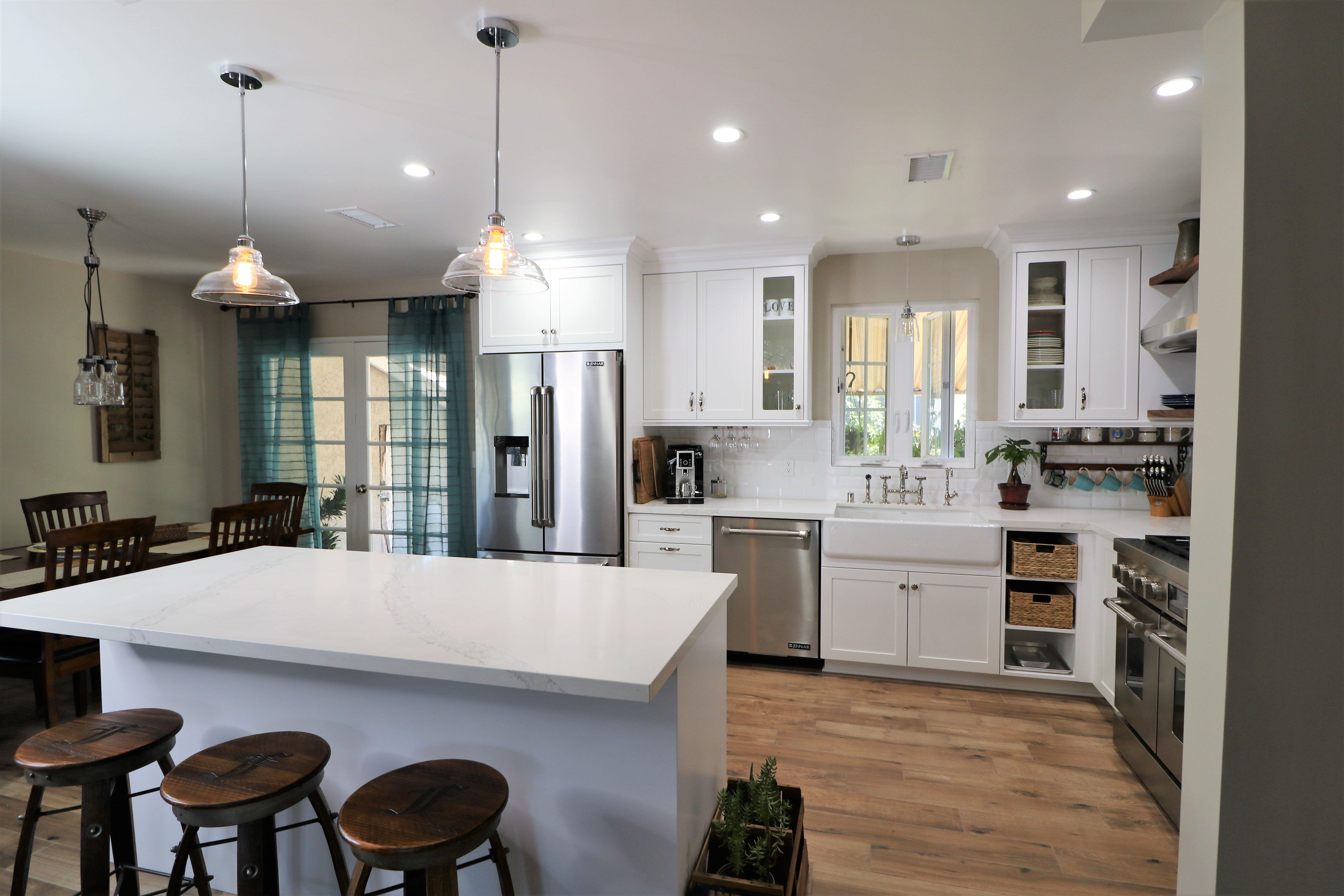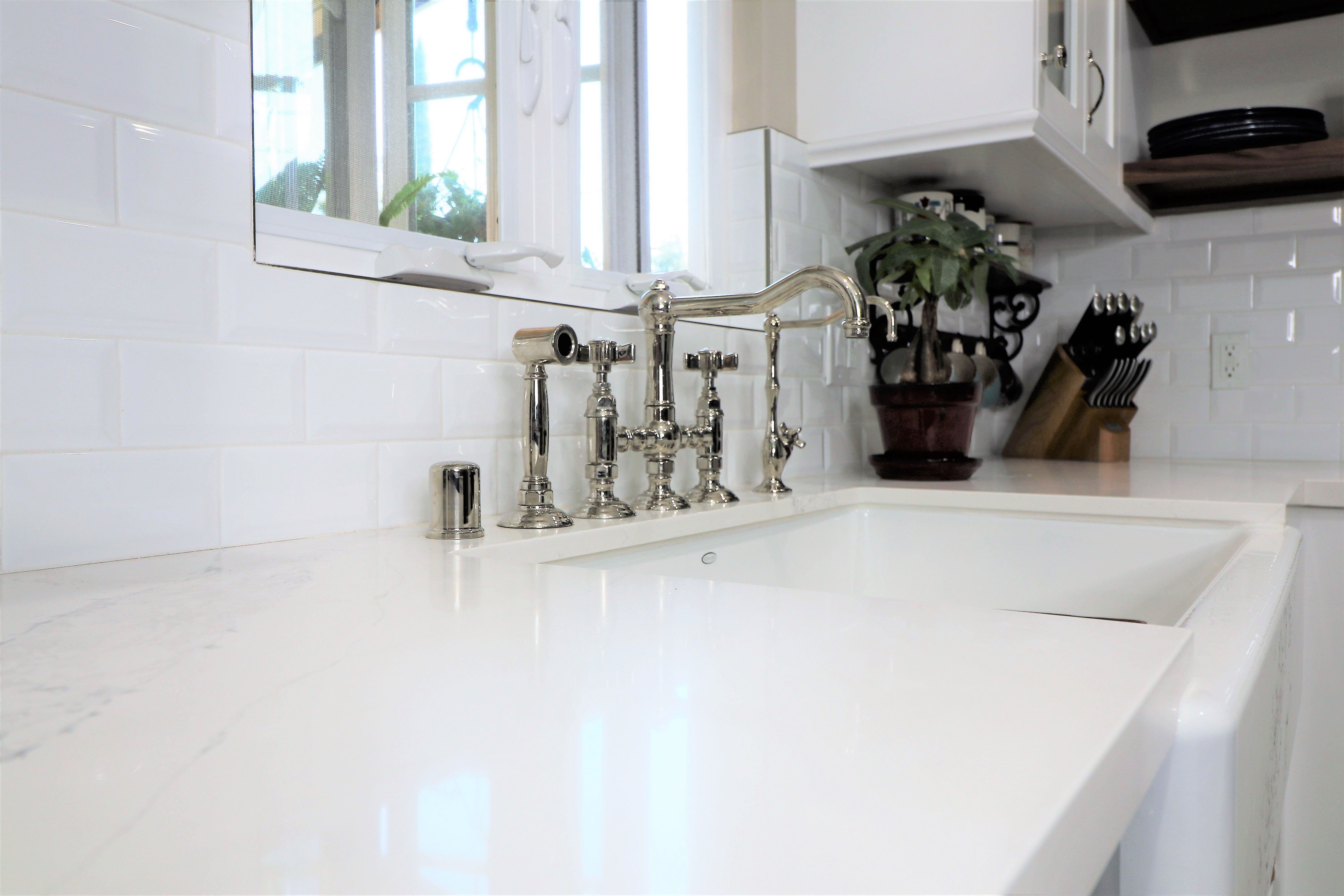 2. Budgeting for a Kitchen Remodel
Setting a budget for you kitchen remodel involves more than just throwing out a random number, it requires research. You may have an idea of how much you'd like to spend, but sometimes it's just not a viable number. Do your due diligence by finding out what's available to you by visiting showrooms, checking out trade shows, and reading magazines. Once you've curated your wish list, revise it into a reality list with the price tags. We help you do this by pairing you with a designer that will help you add or delete items to meet your budget. However, keep in mind that it's important to keep a little flexibility in your budget for unforeseen costs such as dry rot, or non compliant plumbing and electrical.
Kitchen Remodeling Costs:
One of the biggest fears while embarking on a kitchen remodel is blowing through your budget. This is why we emphasize careful planning. To help you develop a clear plan to your kitchen remodel cost and budget, we've created a worksheet to guide you through planning, goals, and a kitchen calculator to help you determine where your money is going to be allocated in the budget based on your needs. When you have a solid understanding, you'll be able to provide the contractor exactly what you're looking, and therefore they'll be able to provide you with a project scope.
3. Designing your Layout
Bring beauty and functionality to your kitchen with inspiration from popular layouts, kitchen design ideas, and fixture trends. There are different styles for different needs; the gourmet cook needs appliances and counter space to work, the entertainer need warming drawers and a wine cooler, the large and busy family needs plenty of storage, etc…
Kitchen Spaces:
Today's kitchens are designed around work zones and activities instead of around the appliances. This is because we want more from our kitchens, we want them to work for us while also being an appealing space for gatherings. Everyone wants a family room, a breakfast room, and a kitchen all in one space.
The kitchen should include work zones for the following:
Foods- Storage for groceries, including non-perishable items, refrigerated and frozen foods
Dishes, Etc- Space for dishes, glasses, cutlery and odds-and-ends, such as scissors or desk items
Cleaning- An area for recycling/waste management with recycling bins and trash cans, and space for household cleaning items
Food Preparation- The main work area with easy access to utensils, knives, small appliances, cutting boards, mixing bowls, etc.
Cooking- Where you'll find pots, pans, bakeware, cooling racks, etc.
THE KITCHEN MIGHT ALSO INCLUDE SPACE FOR THESE ACTIVITIES:
Entertaining- An island, peninsula or other bar area that can accommodate stools a serve as a stand-or-sit space for cocktails or dinner. Additionally, it could be an entertainment configuration to include a conversation zone with lounge chairs and a low table or versatile ottoman.
Dining- A place where family can eat breakfast together, or where a household can host holiday dinner (depending on goals for the space).
Working (Office)- A dedicated workstation, or hidden features like a drop-down touch-screen computer.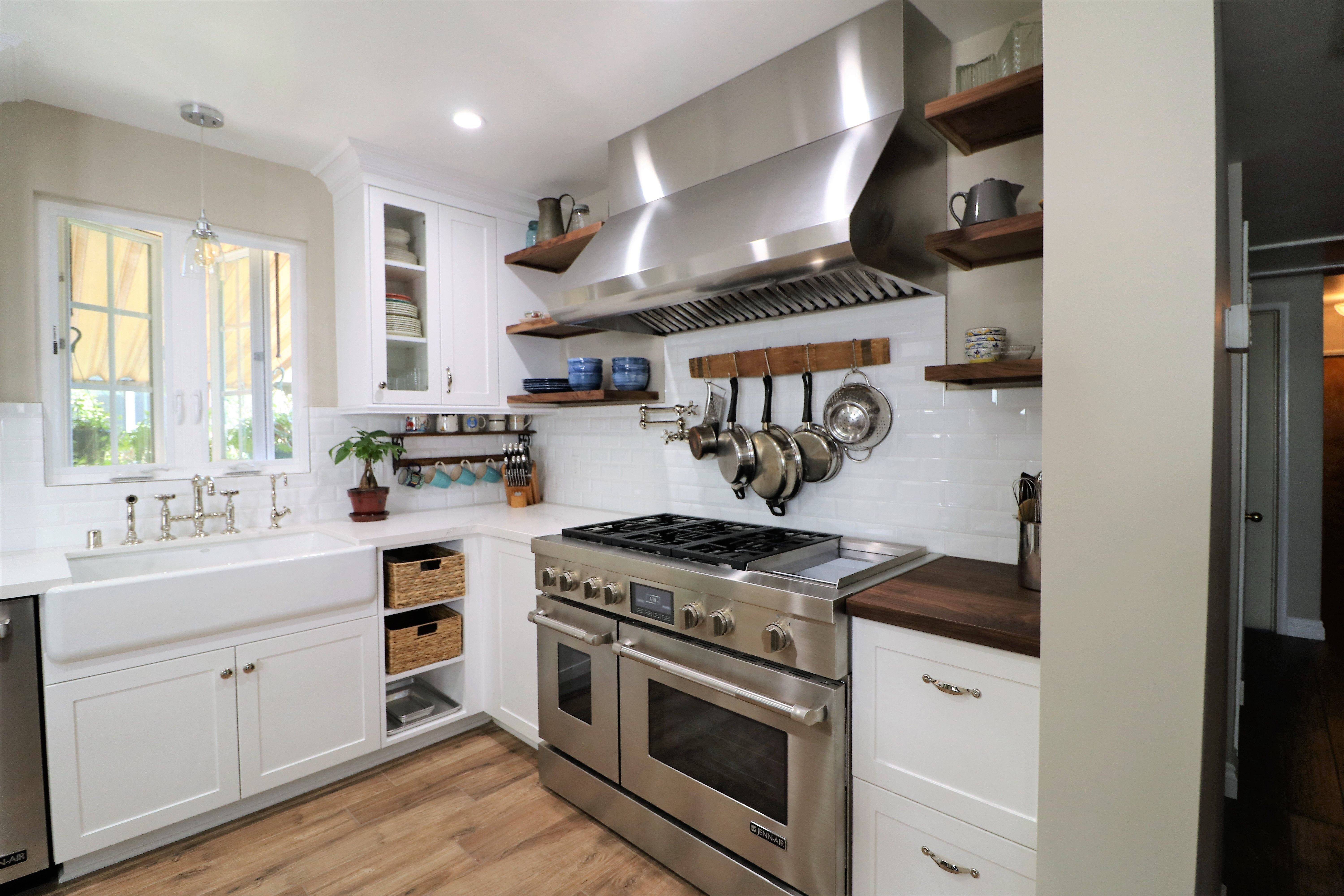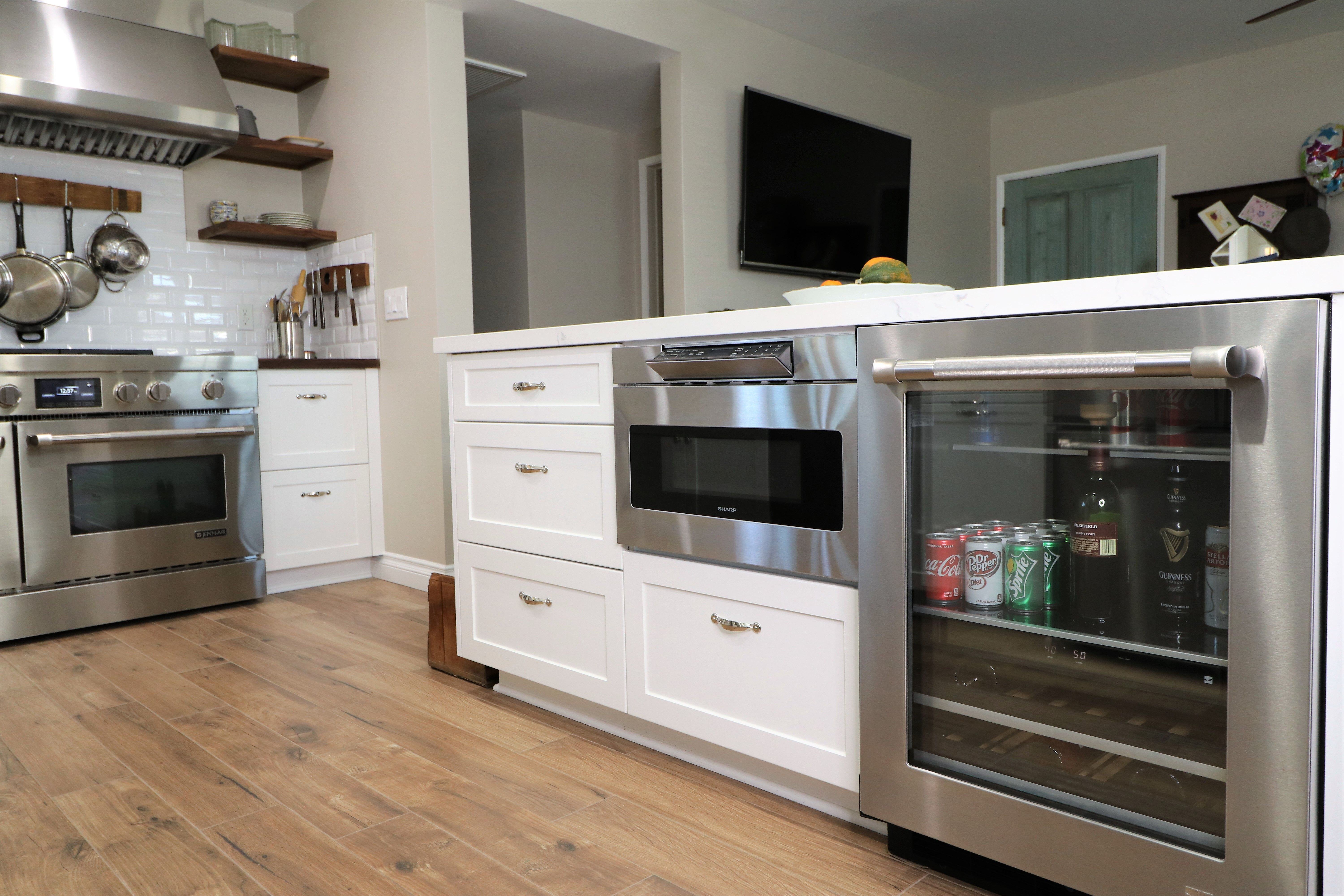 START YOUR PROJECT TODAY
Want to understand what it's like to work with Bay Cities Construction and what it will cost for your kitchen remodel dreams?
Start a Conversation and Get a Quote Today
START THE CONVERSATION
Country Farmhouse Kitchen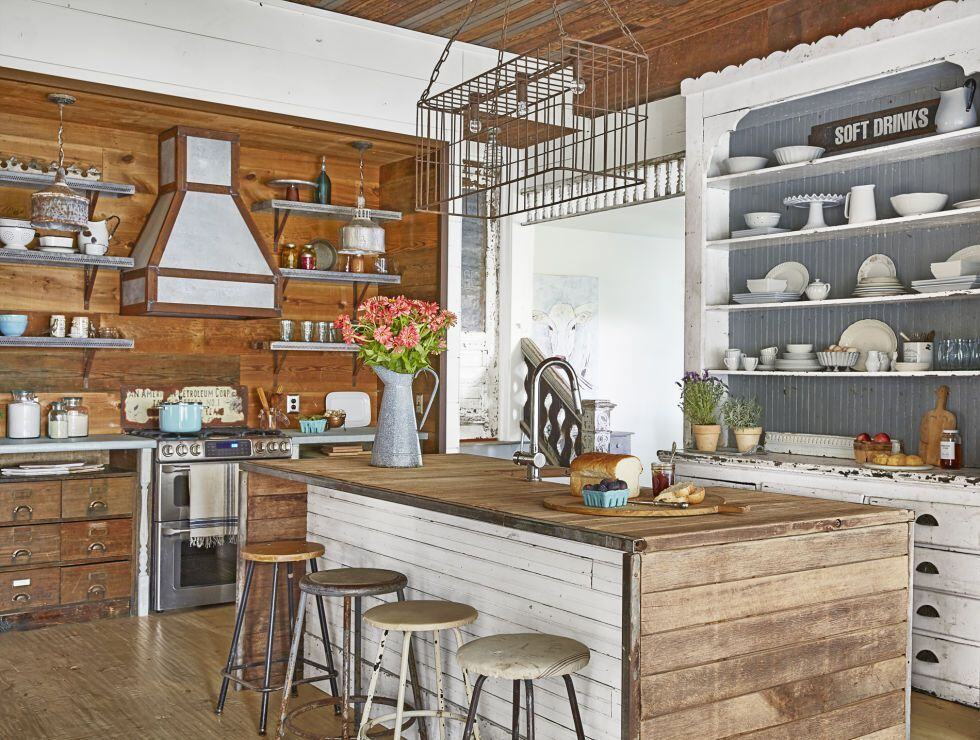 Courtesy of Country Living Magazine
Modern Kitchen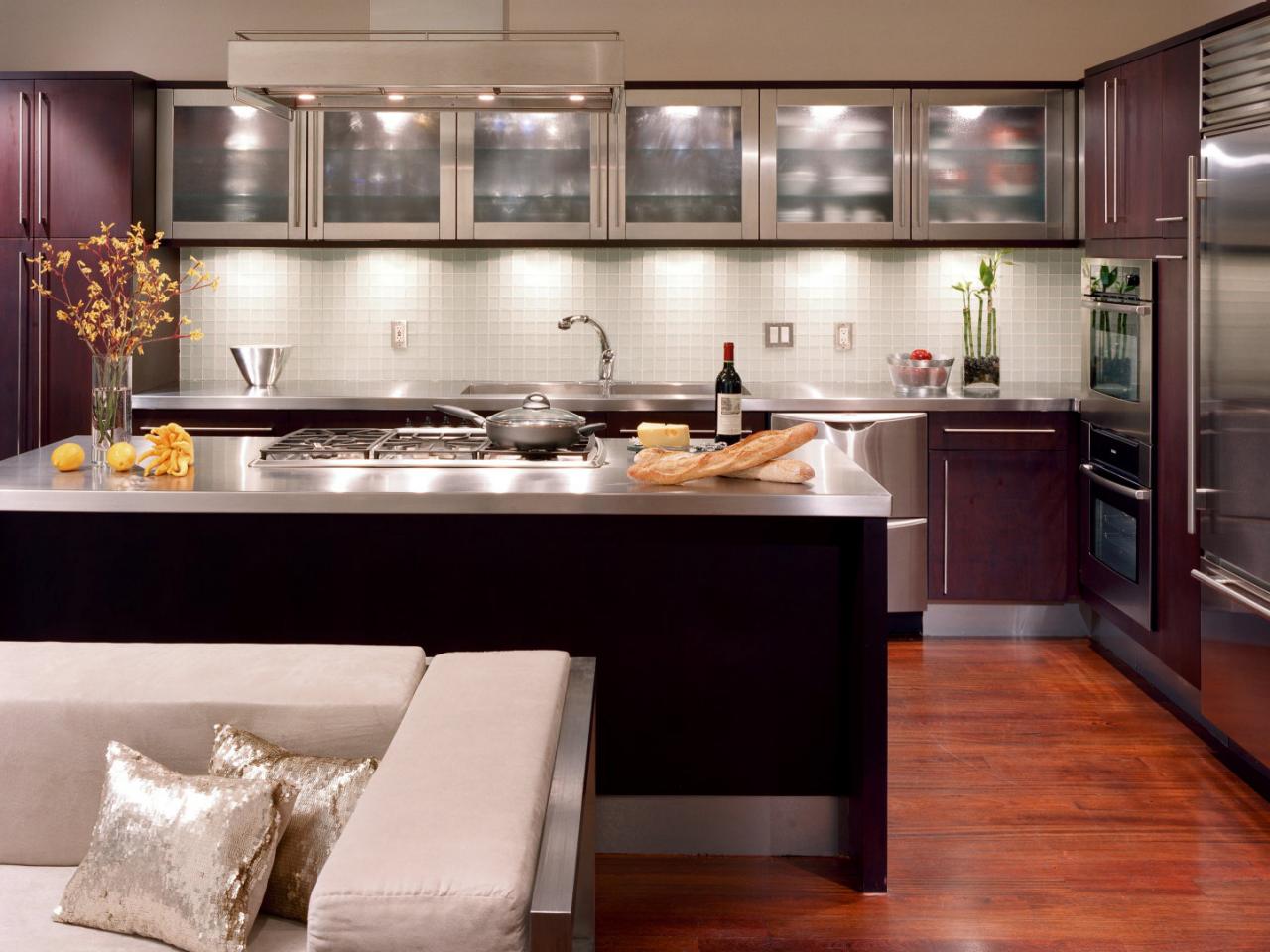 Courtesy of HGTV
Cottage Kitchen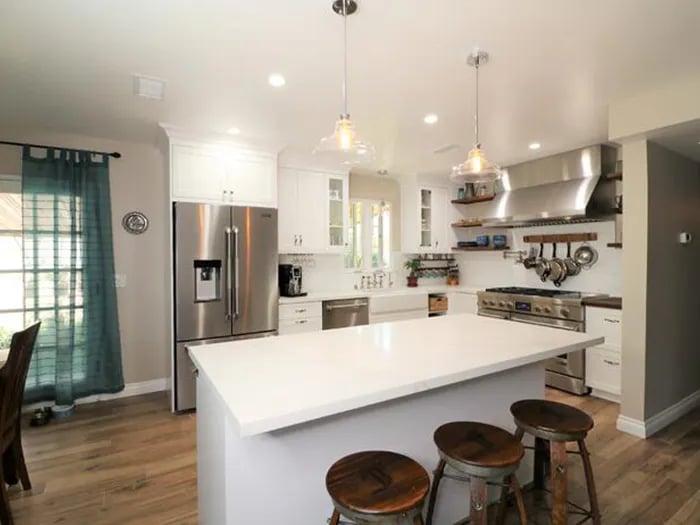 By Bay Cities Construction
French Country Kitchen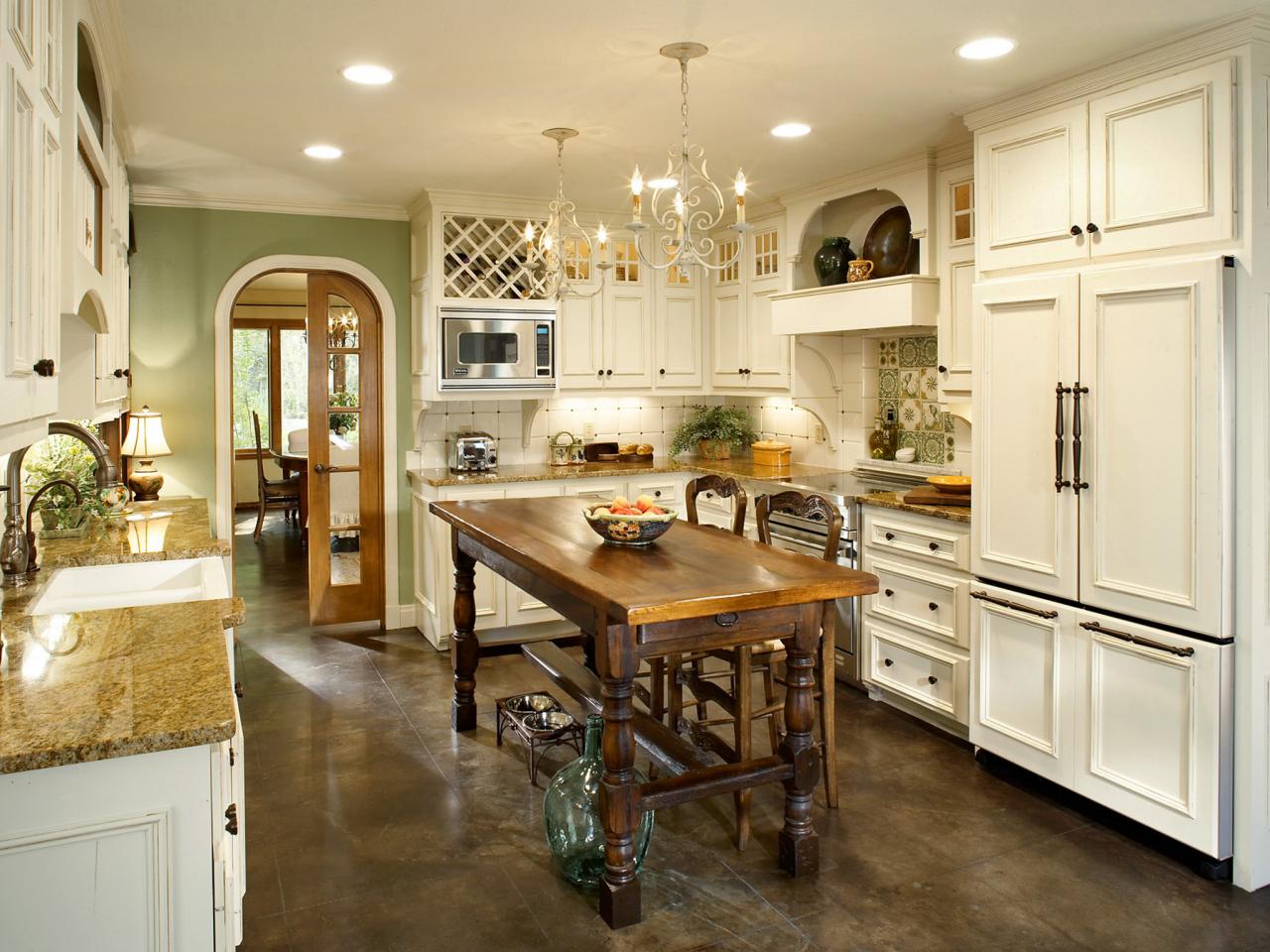 Image Courtesy of HGTV
Coastal Kitchen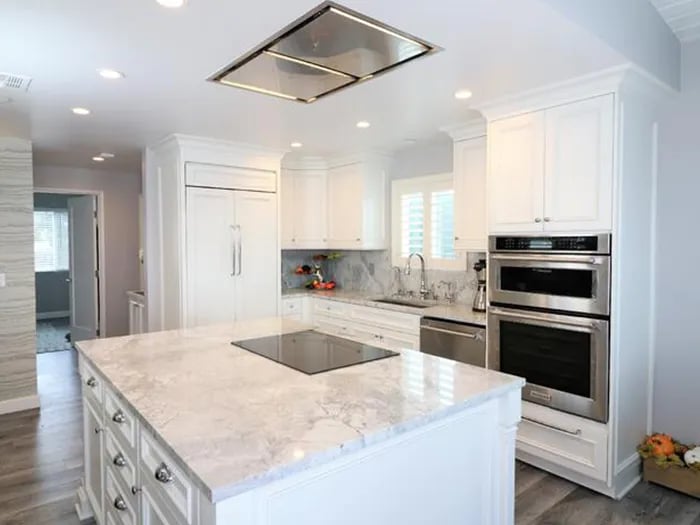 By Bay Cities Construction
Rustic Kitchen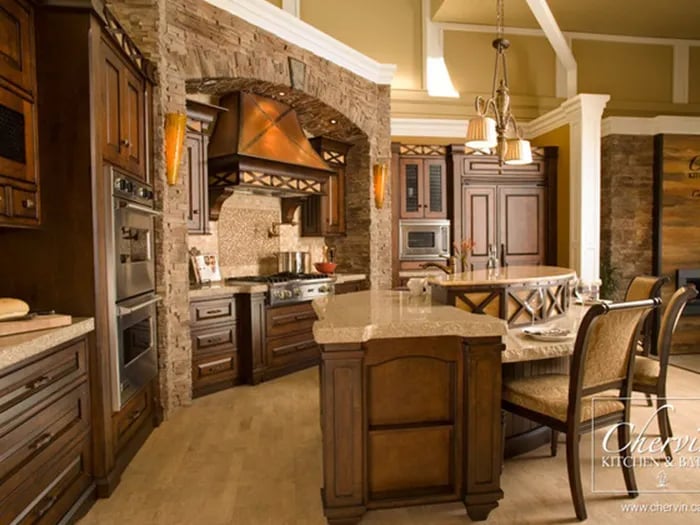 Courtesy of Houzz
4. Choosing Materials for your Kitchen Remodel
Choose materials and products that fit the goals of your kitchen remodel to get a realistic idea of the costs.
Choosing Kitchen Flooring:
Moisture Resistance
A key factor when choosing a tile is how easily it absorbs water. Tiles that are fired at high temperatures for a longer period of time are denser; making them both watertight and resistant to stains.

Most watertight tiles are usually made from glass and porcelain. They are called impervious", meaning they absorb less than 0.5% of moisture.
Tiles classified as "vitreous" are second to the least moisture, absorbing 0.5 to 3% semi vitreous" tiles absorb 3 to 7%.
Soft bodied "non vitreous" tiles, such as glazed wall tiles, art tiles, and terra-cotta, absorb 7% or more. Only when treated with a sealer do they become water resistant, but even then it is only partial. Most people choose soft bodied tiles because of style despite moisture absorption.
Durability
The simplest scale divides floor tiles into four ratings: light duty, medium duty, heavy duty, and commercial.

Medium and light duty materials can be used for a bathroom floor.

Heavy duty tiles are usually used for kitchens and family rooms.

Tiles are also rated for glaze hardness, in other words, their resistance to scuffing and abrasion.

Common tests include the abrasive wear index and the Mohs hardness test. You don't need a high rating for wall tiles, but you definitely will for entry floors or kitchen counters.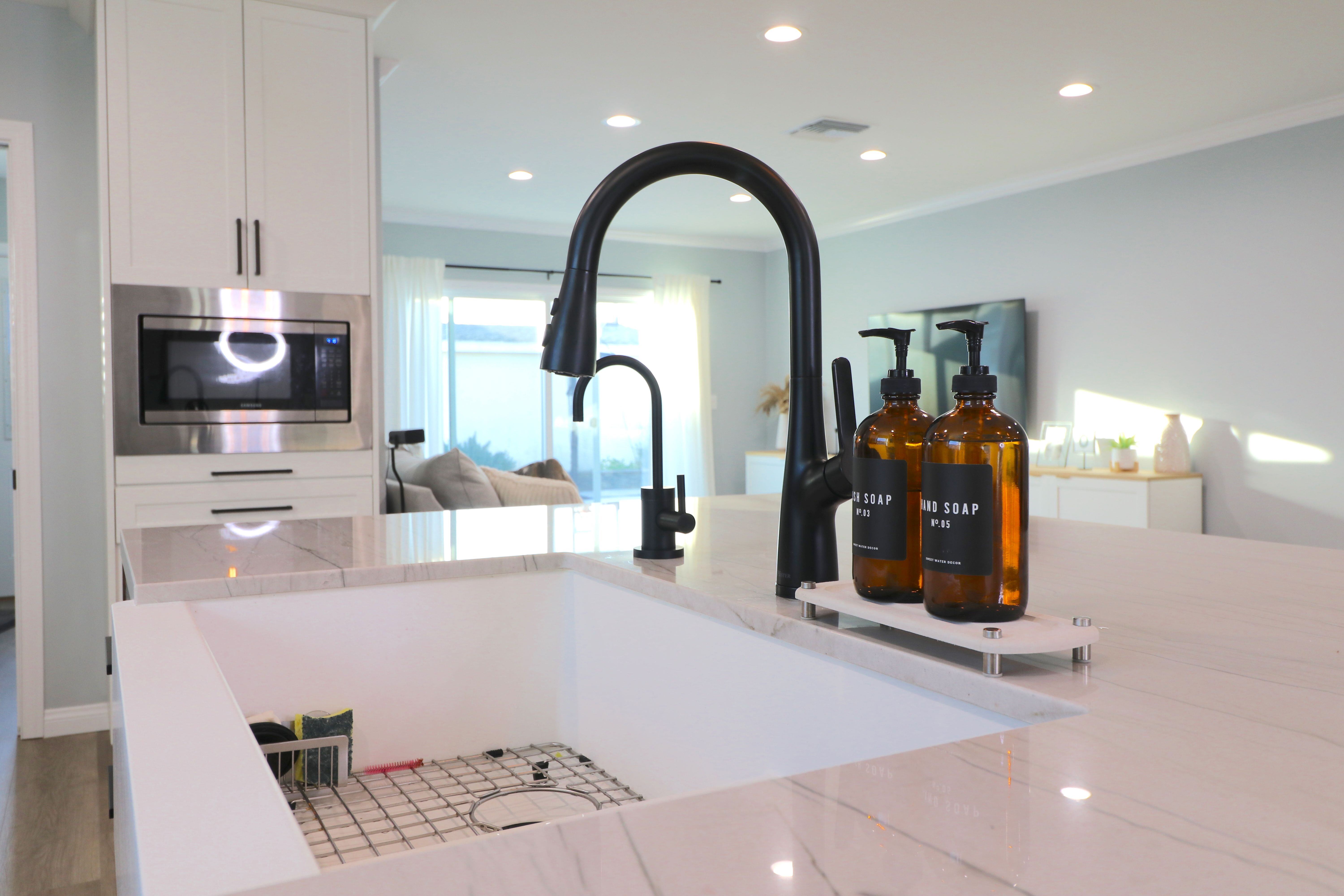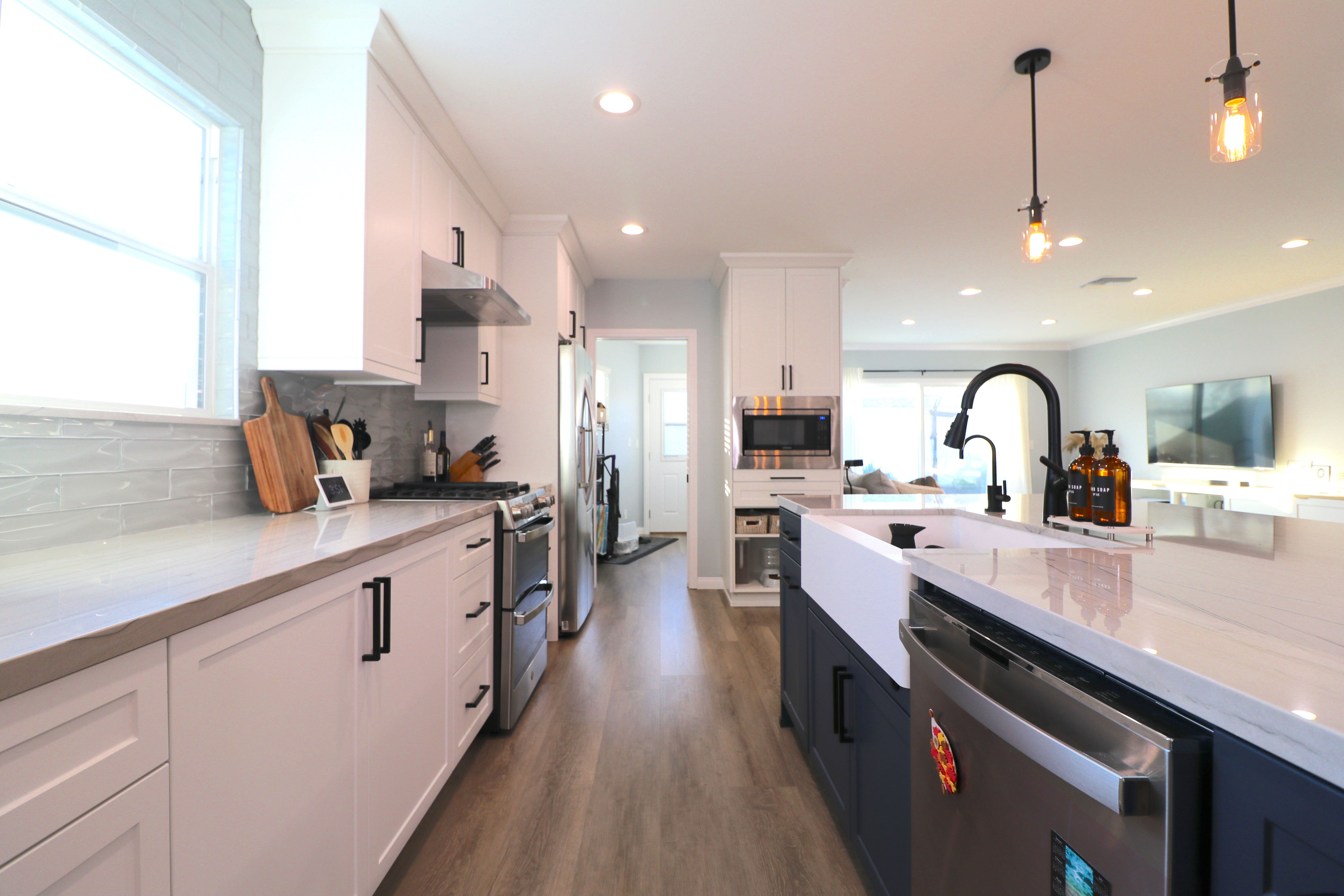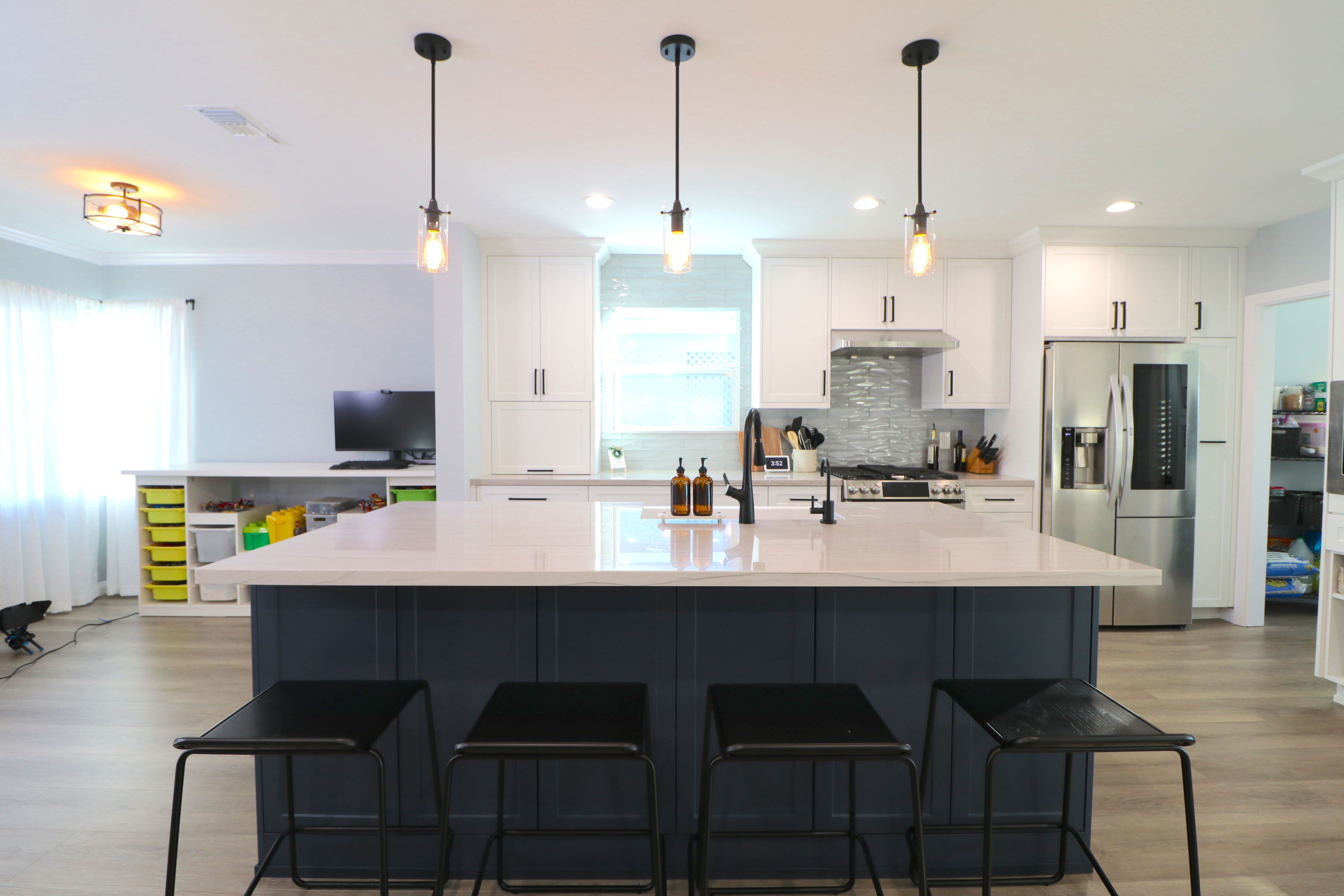 Slip Resistance
Tiles dedicated for interior floors, stair threads, showers, and patios must provide adequate traction for safe walking, whether it is wet or dry. Generally, unglazed, textured tiles offer better traction than glazed ones. Although some glazed floor tiles include enough texture or abrasive additives for safe footing. Unglazed mosaics also work well because of their grout lines. It helps break up the surfaces.
Stain Resistance
Kitchen countertops, kitchen and bathroom floors, tub surrounds, fire place faces, and patios are areas with high potential staining. Dense and sturdy glazed tiles are your best pick to easily remove stains. Keep in mind that sealers help protect porous tiles, but may be unsafe to use where you prepare or eat food.
Freeze-Thaw Stability
Tiles used for the outdoors in cold climates must be able to withstand water absorption and seasonal temperature fluctuations without warping or breaking the tile. In these areas, "impervious" or "vitreous" tiles are usually the safest for fluctuating weather. This is less of an issue in mild climates where softer more absorbent tiles like terra-cotta can be used.
Choosing Kitchen Cabinets:
Cabinets are the backbone of the kitchen. Your contractor and designer should help you develop a cabinet layout to make the most use of your kitchen's size and floor plan.
Style- Cherry wood is big for cabinets with rich, dark finishes. For a more modern look, go for alternative woods such as mahogany, bamboo, sapele and anaglade. These can be stained or even lacquered to provide a sleek finish.
Hardware- Don't forget about hardware. It's the jewelry of your kitchen.
Request fully adjustable door hardware that allows the installer to adjust doors so the gap between them is uniform. Also ask for recessed bottoms or a valence to hide under-cabinet light fixtures.
What are you going to do with that dead space in the far back corner of your cabinets? You might not even know this space exists—sometimes the blind corner is closed off completely. A pie-corner base cabinet pulls out and utilizes the space; and an old-fashioned Lazy Susan spins and brings stored items within reach.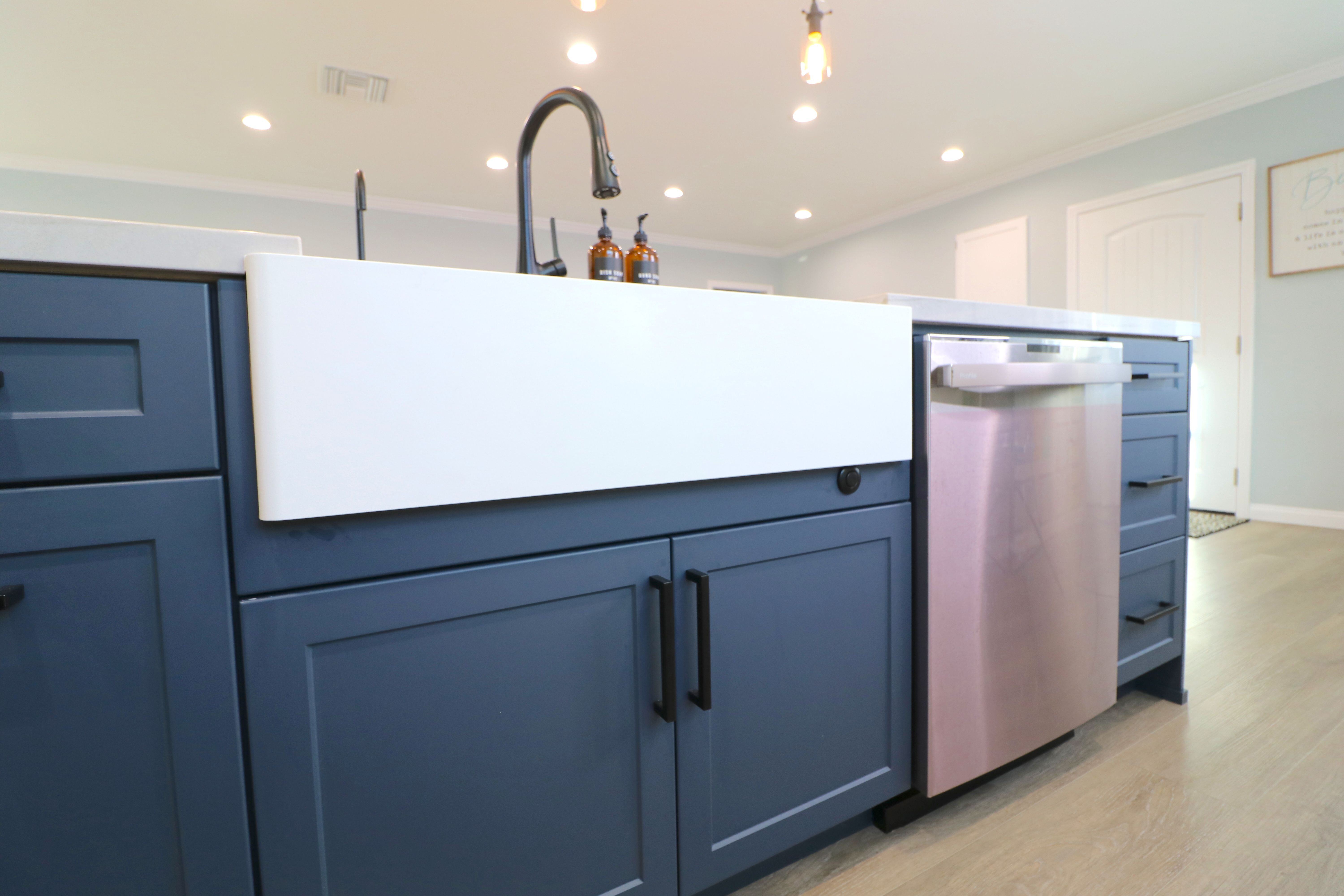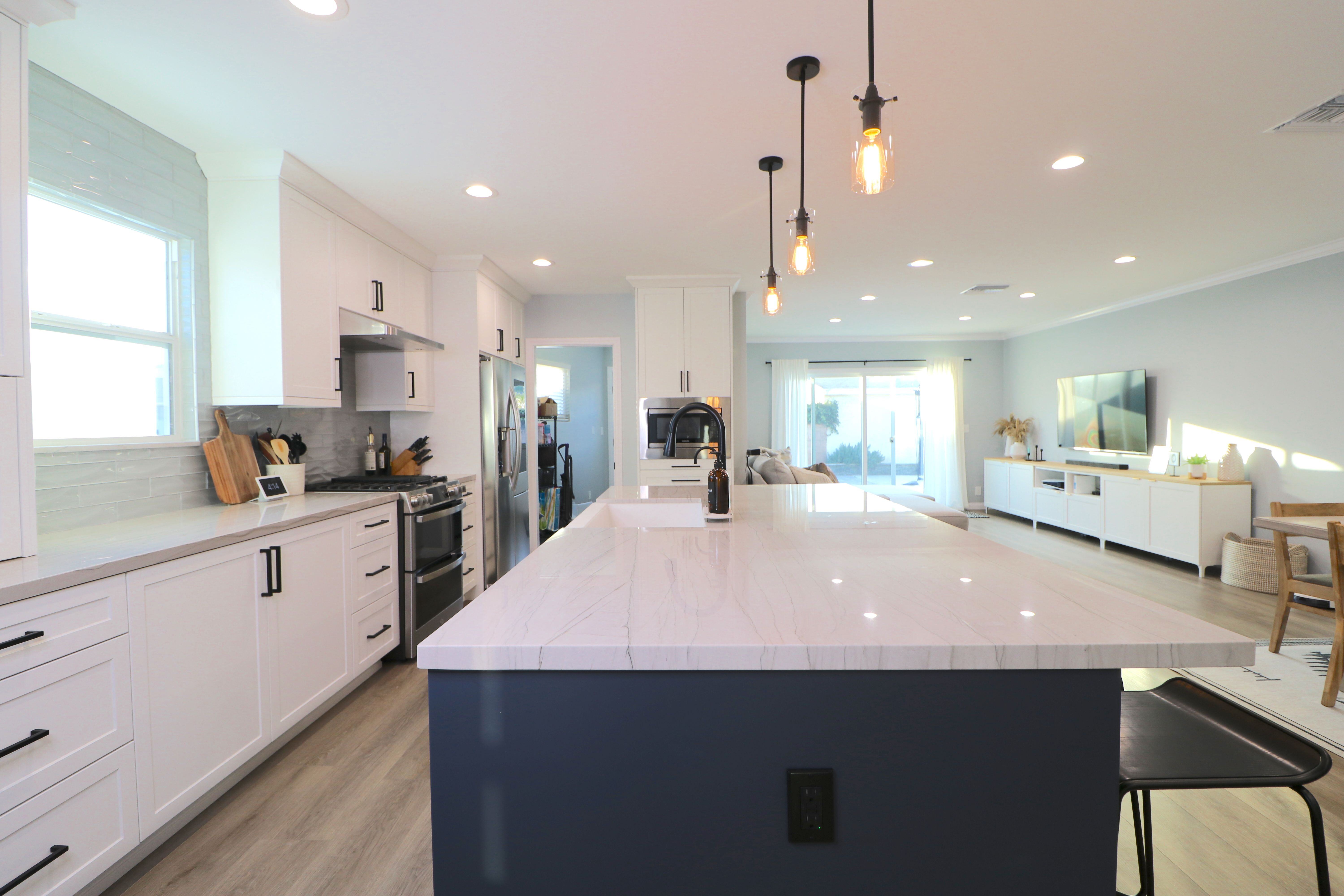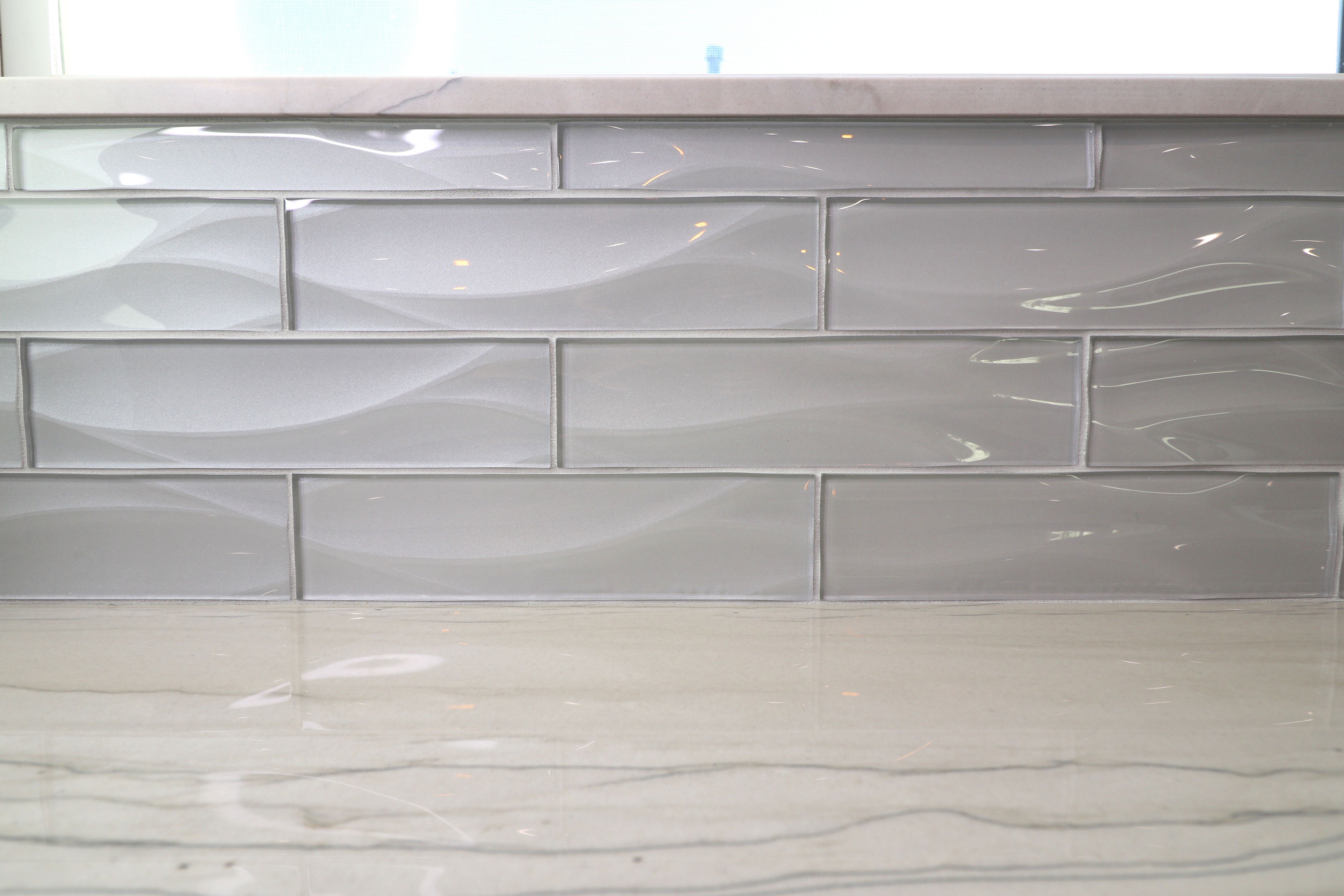 Choosing Kitchen Countertops:
Just like cabinets are the backbone of the kitchen, countertops set the tone. Choose material, and a look that not only reflect your style, but also are in line with how you'll use your kitchen.
Granite- Riding a wave of popularity for the last several years as the surface for countertops, granite is available in several grades, generally 1 through 5 (ratings depend on where you buy it), patterns, colors and thicknesses.
Engineered stone- These are your quartz surfaces composed of 93 percent quartz particles and available in a larger range of colors than granite. Prices are comparable, sometimes more. The nonporous surface resists scratches and stains, and manufacturers generally offer a warranty.
Laminates- The surface, frequently referred to by the brand-name Formica, is plastic-coated and available in a range of colors—including surfaces that resemble granite. If your budget is tight and you're doing a quick-and-dirty kitchen overhaul, this is a solution within reach.
Ceramic tile- You can lay it on the floor, wall and, yes, countertops. You can recover an existing surface, but remember, tiles do crack. And perhaps the biggest downside: tiles require grouting.
Concrete- Cast concrete counters can be poured to suit countertops of all shapes. They can be cast in the kitchen, or produced off-site and installed after the fact. The great thing about concrete is its durability. This style suits a modern kitchen—concrete can be dyed a range of colors.
Stainless steel- This industrial-strength surface provides a sleek finish in modern kitchens. It's easy to clean with soap and water, and it takes hot pans, no problem. But stainless steel can scratch and dent, so you can't cut on stainless. Plus, it's a costly surface. You might decide to use stainless in a certain area of your kitchen, such as a dining area or by the range.
Choosing Kitchen Appliances:
Appliances, alone, do not make a kitchen. But, they just might be the most important aspect of your space. After all, the kitchen's primary function is for preparing and cooking meals.
Ovens- A high-performing convection oven, which circulates heat with a fan to cook food faster and more evenly, will help you get dinner on the table faster than a traditional oven. Bakers, on the other hand, will want the traditional bake/roast/broil. In a perfect kitchen world, you can have both with a stacked or side-by-side oven station.
Range hoods- A serious cooktop demands a ventilation system that will usher exhaust out of the kitchen. If you hear the sound of suction (and not the motor running), this is a good thing. If noise bothers you completely, consider units that can be installed with exterior motors. Choose a hood with adequate cfms for your cooktop. As a general rule, a four-burner electric cooking surface should have ventilation that performs at 400 cfms.
Refrigerators/Freezers- Freestanding models slide into a space and generally stick out 6 or 7 inches beyond counter depth. But you can purchase counter-depth refrigerator/freezers that will look like built-in units. When evaluating refrigerator performance, quality comes down to the compressor. Single-compressor units that power a refrigerator-freezer work double-time to keep a moist fridge and a dry, cold freezer. A dual-compressor unit costs more but will allow you to keep fresh food longer. This might be worth it if you pay a lot for groceries.
Microwaves- Microwaves can consume a lot of space no matter where you put them: on the counter, built in to cabinets or above a cooktop. So if you want your microwave to work twice as hard for you, consider a convection microwave that also works as a fast-speed oven, eliminating the need to purchase a double oven. Also available are microwave drawers, which are handy and nestle among base cabinets.
Dishwashers- Traditional dishwashers with doors that pull from the top down are the most popular style, and they can be paneled to blend with the cabinetry for a seamless look. Stainless steel still reigns in popularity. Depending on your kitchen layout, you might want to add an economy-sized dishwasher by a wet bar to manage glassware.
Sinks- The sink is an afterthought in some kitchens, but it's a good idea to choose one at the same time you choose cabinetry for underneath the sink area for a seamless look. If you opt for an undermount style, the sink is generally installed before the countertops, so plan for that. Don't skimp on the sink if you splurged on a gorgeous countertop. If the sink has to be replaced prematurely, a contractor might have to lift up the entire countertop of an undermount sink—a costly and messy job.
Consider how you use the sink before you make this purchase. Do you like to prep and clean dishes in the same space? (If not, perhaps you need a separate prep sink.) How deep do you want the bowl? How tall are you, and what sort of reachability is necessary?
Warming Drawers- These are especially convenient for the entertainer, but every household can benefit from a warming drawer that is properly utilized. Warming drawers allow you to prepare food in advance and serve it all at the same time. They allow food to maintain moisture while staying warm, which is a preferable alternative to reheating lukewarm side dishes in a microwave, which will break down the molecular structure of the food.
Finishes- Now that you've considered your appliances, think about finish. Stainless steel is standard and rated by gauge. Appliances range from 8- to 30-gauge steel. The higher the gauge, the more slick and sleek and shiny the surface. This means it's better quality, easier to clean, more durable and will last longer.
Higher grades of stainless steel look smooth and less "brushed." Lower grades are more gray in color and have a grainier texture vs. the silver shiny surface of a higher-grade steel. That's because the higher grade has a greater ration of nickel to chromium, which retains luster for longer and is more durable.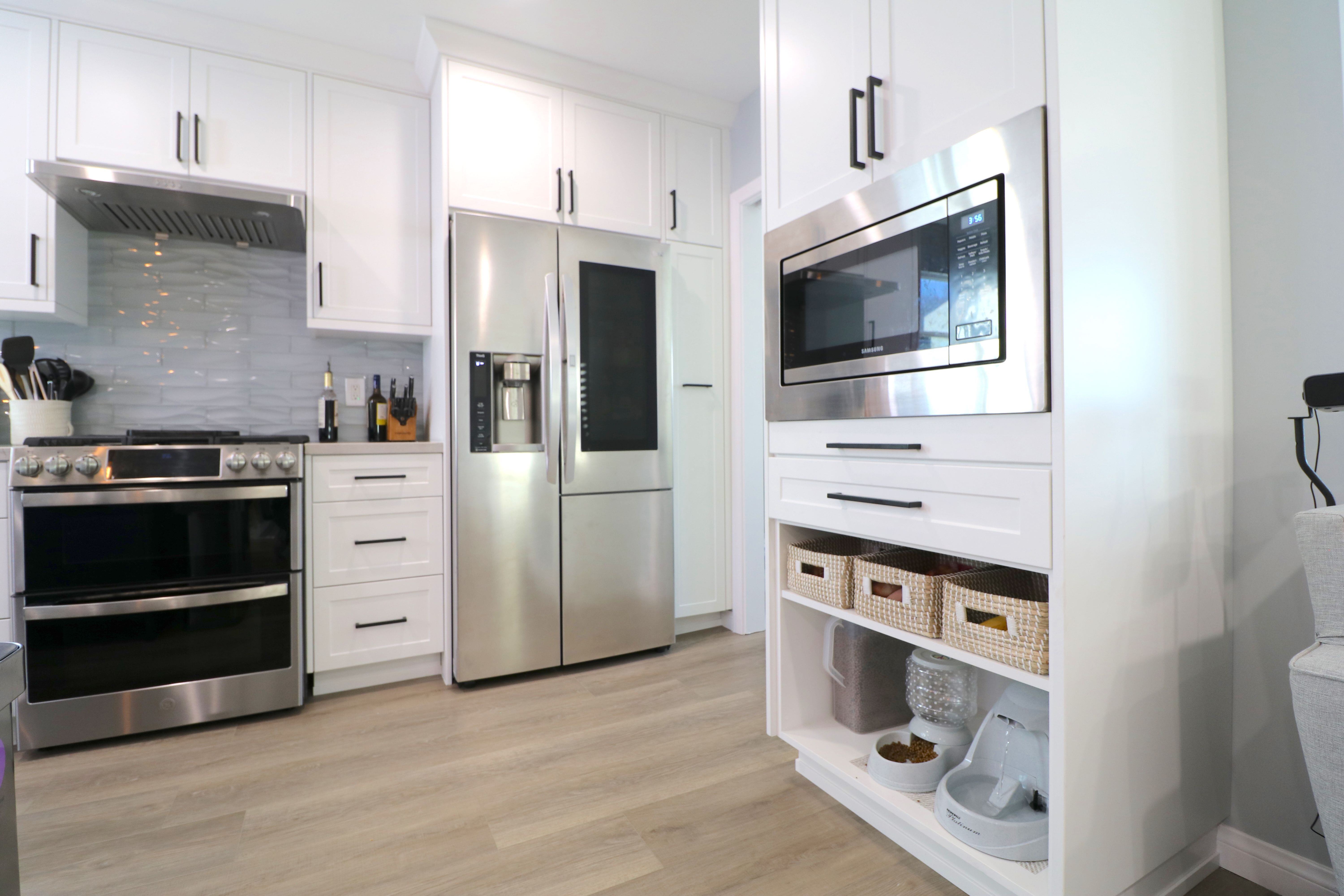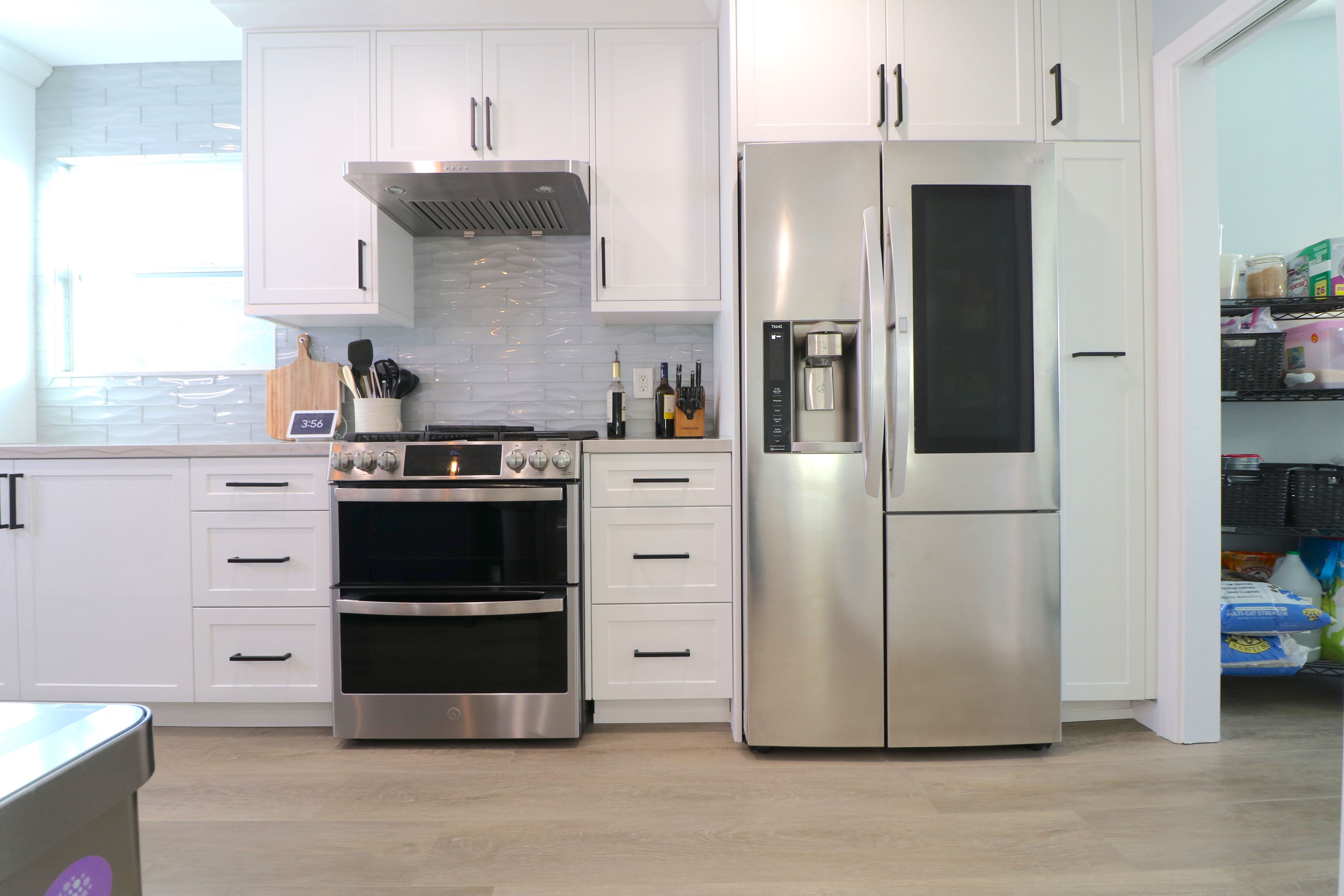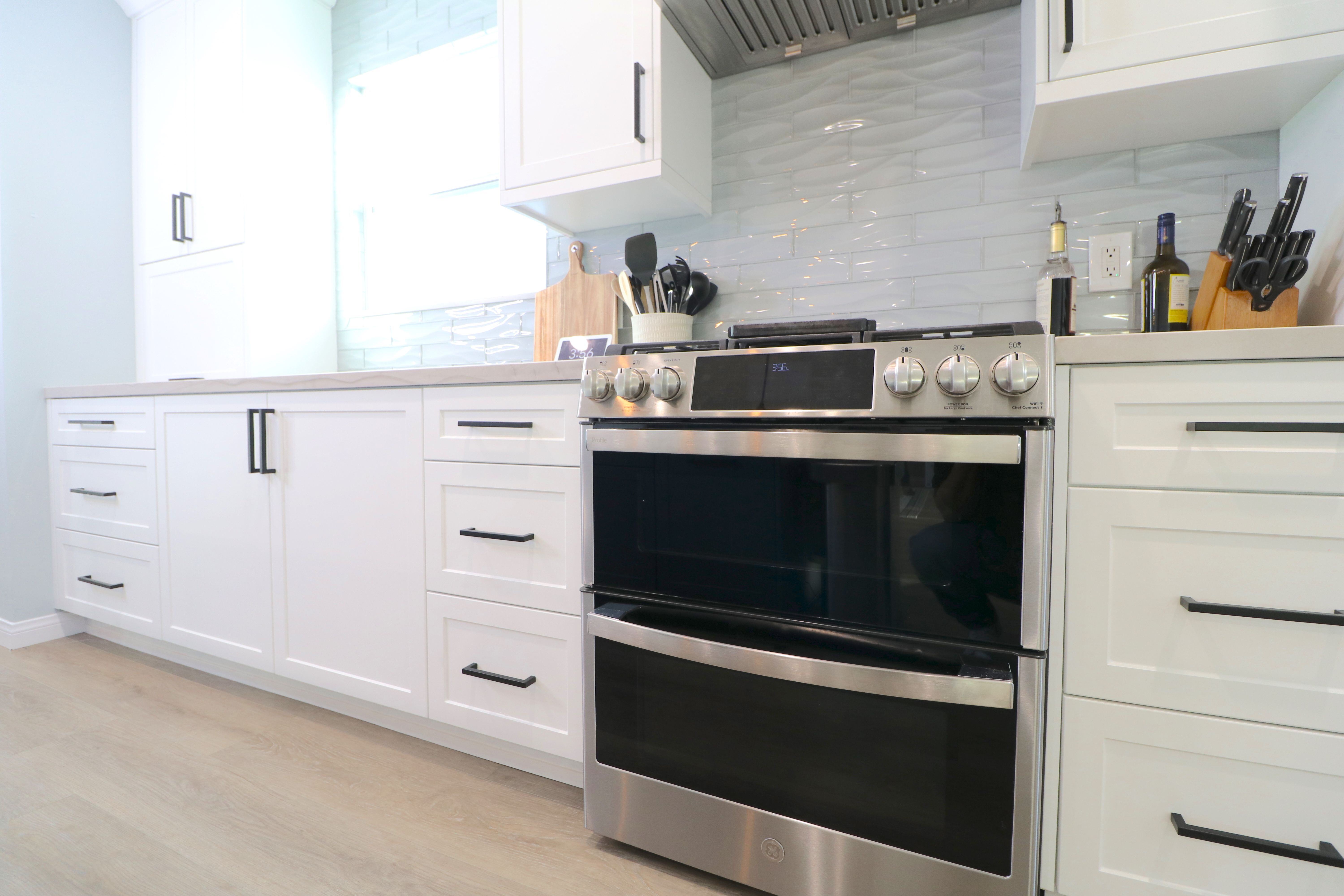 Learn more About Bay Cities Construction
Our team is dedicated to making your kitchen remodel dreams become reality. See who we are and how we do it.
See how it works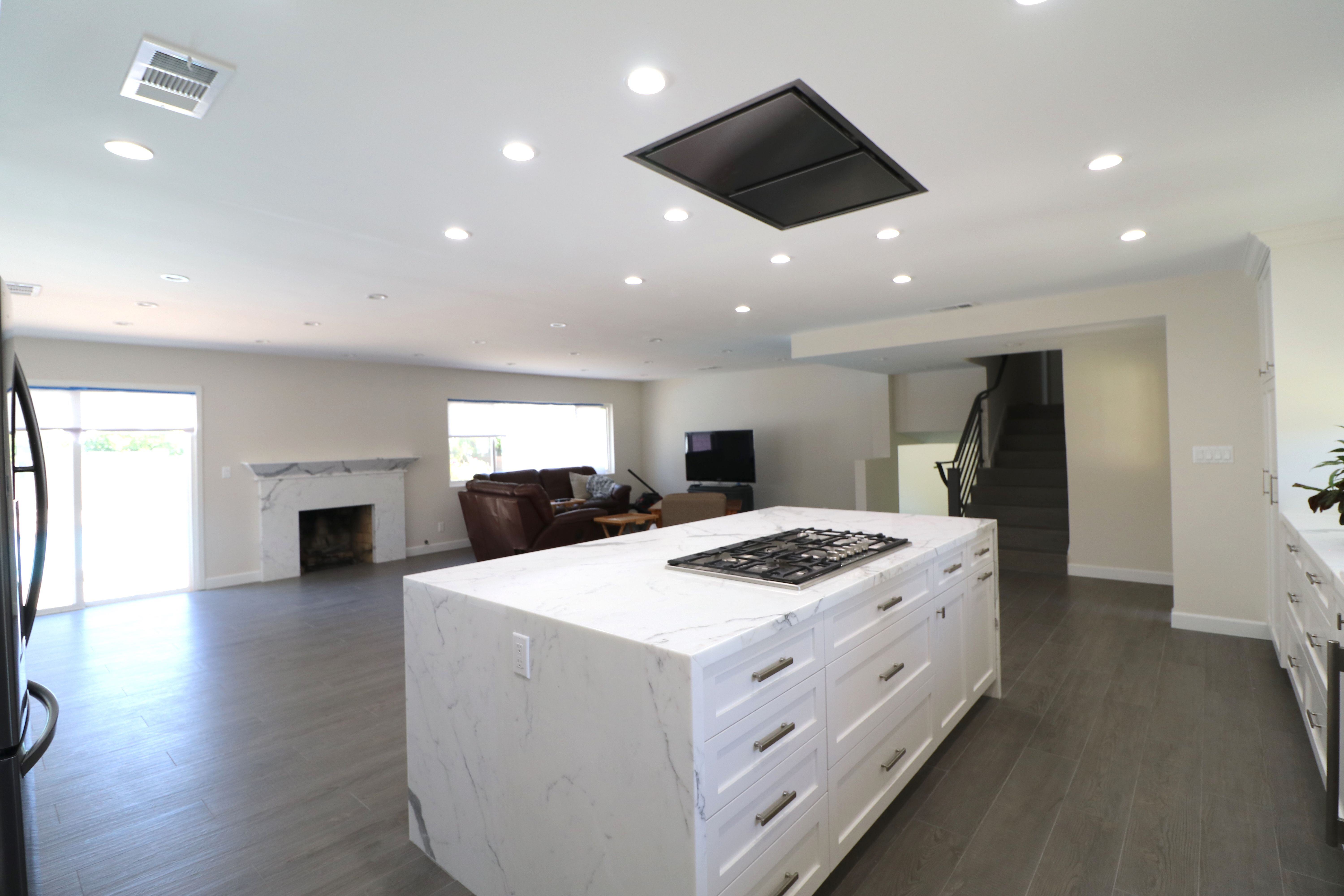 5. Optimizing Kitchen Storage
During this phase of your kitchen remodel, it's important that you don't forget you and your family's needs. Don't just choose new cabinets, with drawers, and pantry organizer, choose the right ones.
How Much Kitchen Storage?
Want to know how much storage space you really need to hold kitchen necessities, from dishes to groceries? Ideally, you would empty out your cabinets and drawers, arrange items according to "zones" (consumables, non-consumables, cooking, etc, and figure out what items you use all the time that requires accessible storage. Then, you'll get a true idea of how much cabinet space you need to store your stuff.
First, decide on the kitchen zones that suit your lifestyle. For example, cleaning, preparation, cooking, consumables and non-consumables. Think about who will use the kitchen and consider body heights, right- and left-handed cooks and the size of your household. What are your shopping habits? Do you tend to stock up on dry goods, shop at farmers' markets?
You may find it helpful to compile a list of the items, or categories of items, that you currently store in your kitchen. As you review your list, think about how you're currently storing each, and write down how you want to be able to store them in your new kitchen.
6. Hiring a Kitchen Remodel Contractor
A kitchen renovation isn't for most weekend warriors. It can take weeks or months to complete and might involve a general contractor, designers, plumbers or even architects.
How to Hire
Communication: During your initial meeting with the contractor, an important personality trait to consider is how he/she communicates with you. Ask yourself...
Ethics: Don't undervalue the importance of a contractor's ethics. A professional will put his client's interests as a top priority. Hiring an honest contractor is always less expensive than hiring a dishonest one. Be wary of an initially low price. An unethical contractor will hit you with subliminal costs that were not reflected in their original estimate.
Getting an Estimate: Have your contractor describe in detail the scope of work on the project. From visiting the job site, the contractor should have a solid idea of what it's going to take to achieve what you're looking for.
References: Ask for references! It's a good sign when the contractor invites you to see their completed projects.
Beware of Mechanics Lien Laws: If you don't pay the contractor, he/she can file a lien against your home. And if the contractor can't pay the sub-contractors, then the sub-contractors can also file a lien against your property.
Insurance: The contractor should have an additional liability insurance policy. This is just in case any workers get hurt at your home while on the job.
License: Make sure the contractor is licensed! In California you can check the contractor's license by going to www.cslb.ca.gov
Is this someone I can work with?

Do I understand what the plan is?

Does he understand what my needs and wants are?

Many times it pays to hire a contractor that comes in at a higher price if he/she does a better job at communicating with you. Better communication = a better end result.
Evaluating the bid: Avoid lump sum bids! These bids tend to not reflect the true cost of the project. An itemized bid with the labor and material breakdown is always best. The itemized bid should clearly spell out the scope of work that the home owner has requested and the costs required by the contractor to deliver.
Payment Schedule: Request that the contractor set up a payment schedule that fairly coincides with phases in completion schedule. You want to release funds as the progression of work occurs. A fair payment protocol should be negotiated with the contractor ahead of time.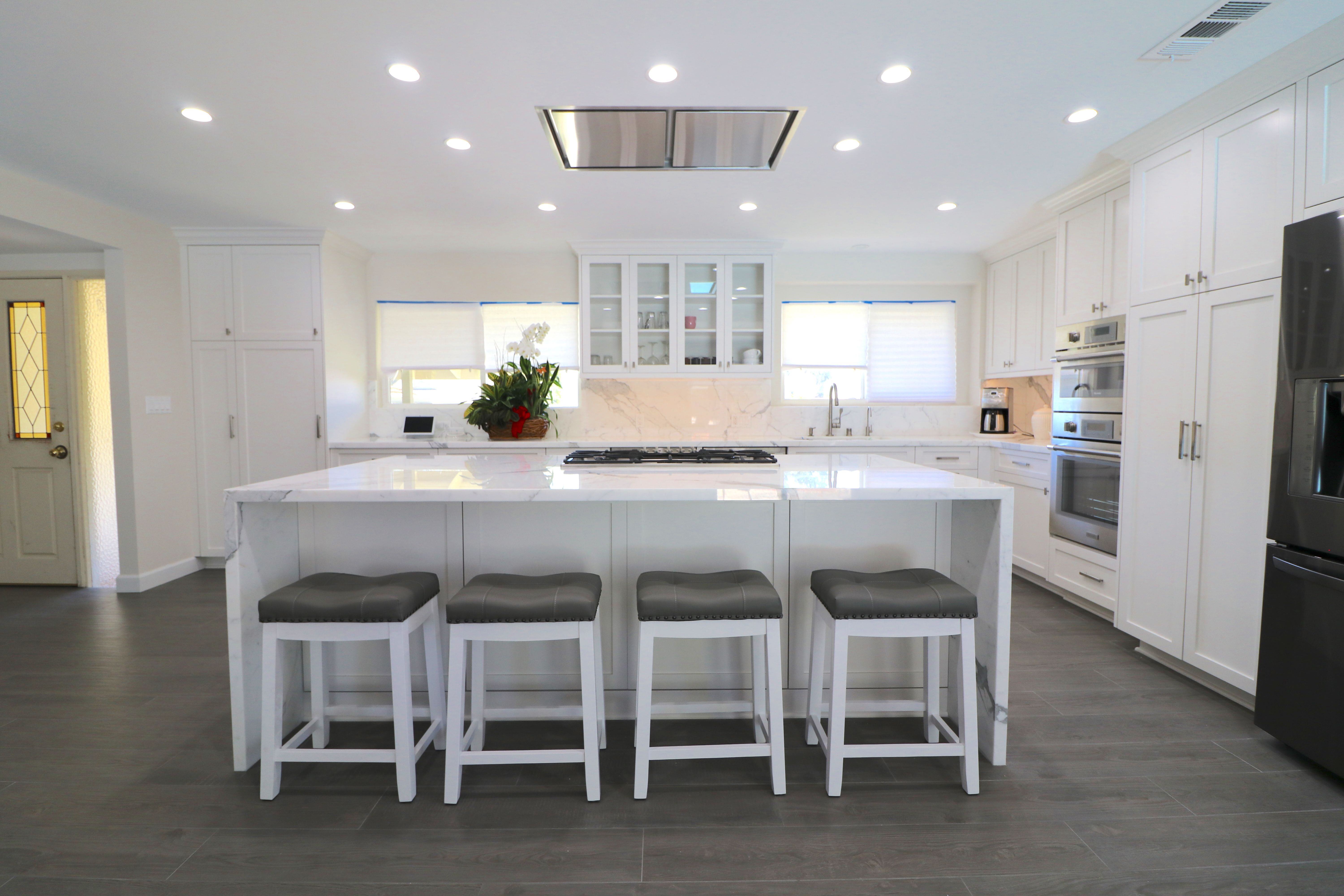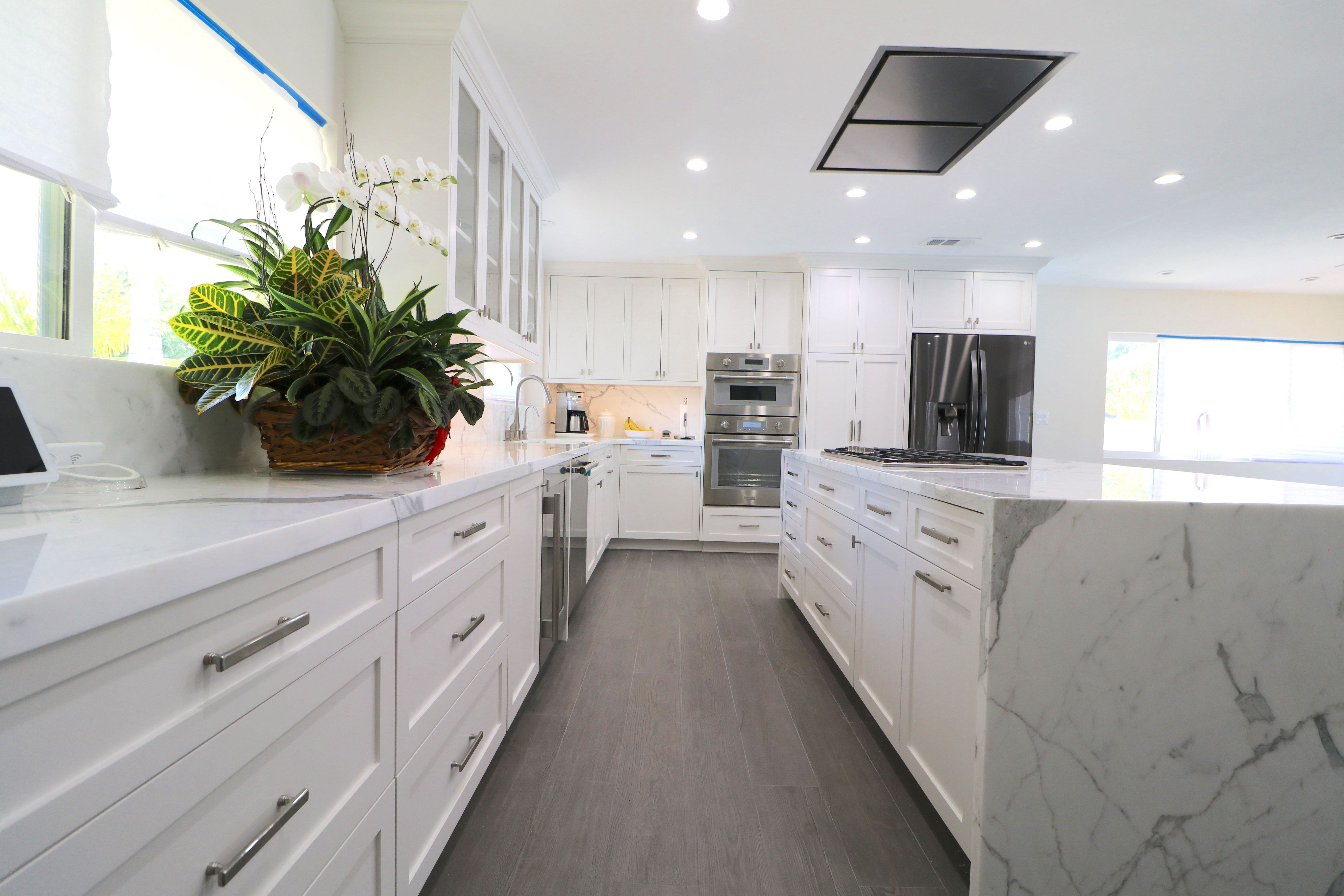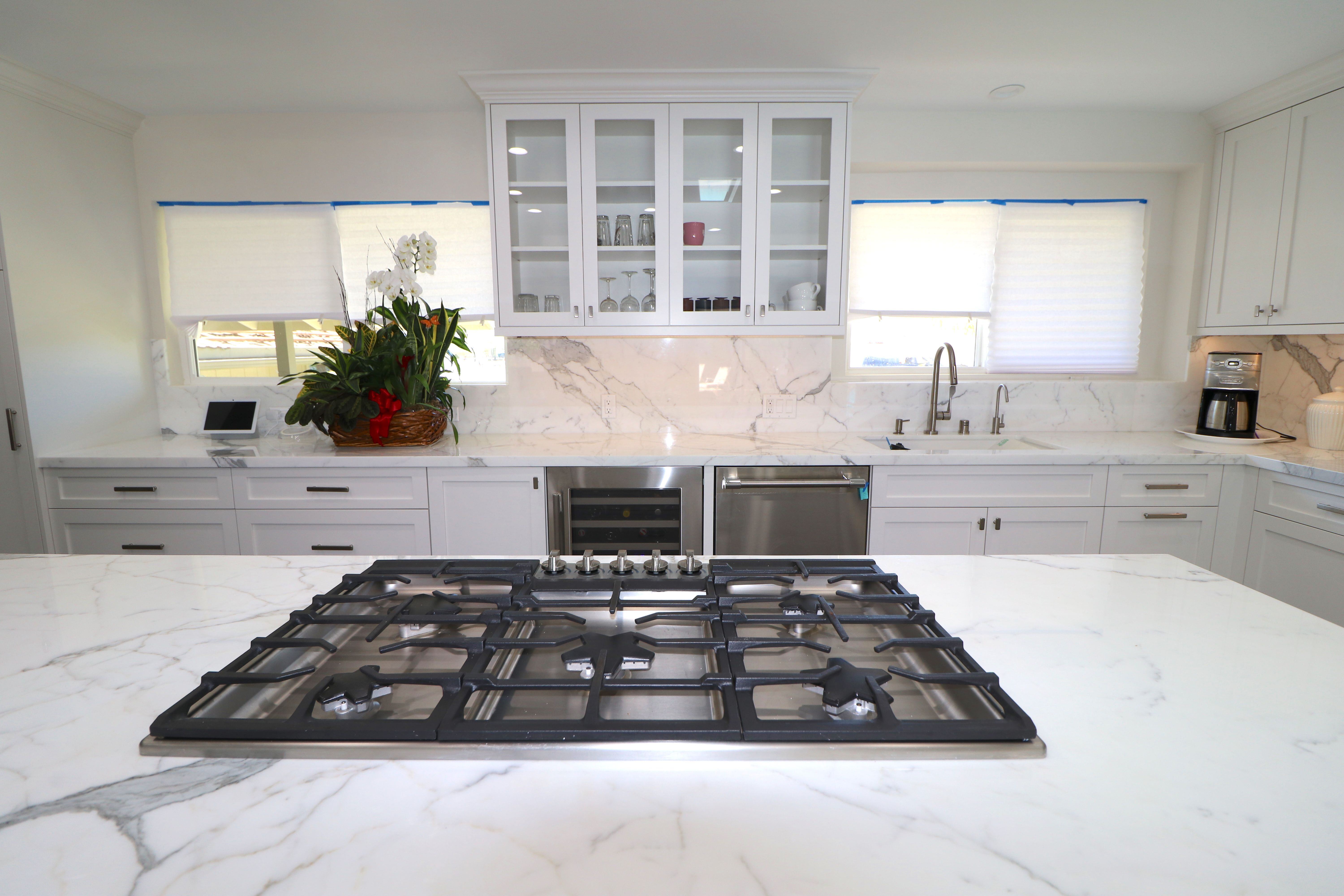 Construction Survival Tips
You've made all of the big decisions and settled on a budget. Now, it's demolition time and you've got to function in a home under construction. You'll realize the kitchen truly is the epicenter of the home when you have to live without this space, or at least work around the mess. But living in dust for a while is worth the reward of a new kitchen.
You'll be relying more heavily on take-out food and restaurant fare during your home renovation, but if you set up a makeshift kitchen, you can make basic meals for your family and save on eating out.
Designate a dust-free space as the temporary kitchen. Equip it with a microwave, coffeemaker, conventional toaster oven and refrigerator (mini or full-size.)

You'll need a little bit of counter space to work—this could mean a table.

Use paper plates and cups so you won't have to wash dishes.

Ask the contractor about setting up temporary plumbing and a utility sink on legs.

Cook meals on a grill outdoors if weather allows.
What's Next?
Still have questions about your Bay Cities Construction adventure. Then keep learning more.