4 min read
How Much Does a Kitchen Remodel Cost?
Different Budgets for Different Kitchens
The first question everyone wants to know is "how much will it cost to remodel my kitchen?" Explaining this has got to be one of the most difficult things ever.
2021 Update: The Pandemic & 'Texas Freeze' have caused material shortages and an increase in raw material prices. Everything from cabinets, flooring, concrete, paint, adhesives, and lumber have increased in price since 2019. Be prepared to pay 15% to 30% more for a remodel in 2021/2022. Source: Wall Street Journal

It's easy to envision your dream kitchen, but when money is tight and you start the remodeling process, your dream kitchen can easily assemble into something else. Make sure that you're in constant communication with your contractor to ensure that your material selections are in keeping within your budget. A good contractor will not let your kitchen develop into something you did not want. He/she should be competent enough to help you pick out the nicest and best materials while remaining within your budget.

There are many factors that will affect the costs of a kitchen remodel. Basic construction issues will always arise. Such as repairs, client selections for cabinets, appliances, tile/stone, adding space, as well as whether or not things need to be moved around. All of this becomes a factor in determining the price.
A kitchen remodel should always be done by a professional to ensure that proper permits have been pulled and the work is done correctly.
I have separated the kitchen remodel costs into three different budgets- basic, moderate, and luxury:
The Basic Kitchen Remodel:

Basic does not always have to be boring. You can spice up your kitchen remodel by paying attention to the details that go into it such as paint colors and backsplash. A basic kitchen remodel runs about $35,000 to $45,000 ($45,000 to $58,500 in 2021) when done by a professional.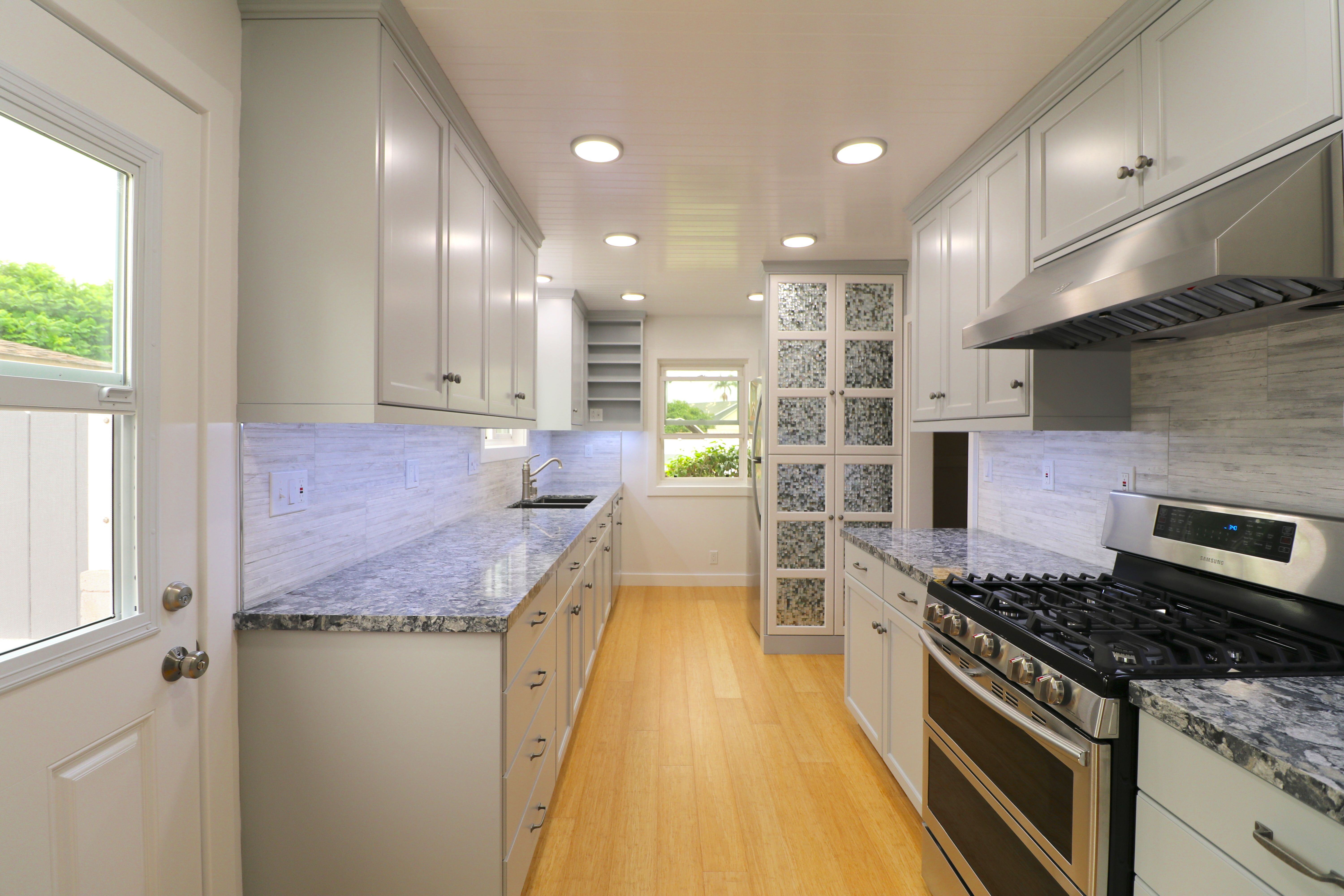 (Entry-level kitchen remodel in Torrance, CA)
Keeping the same structure of your kitchen- By leaving the appliances and fixtures in the same location and keeping the shape of your kitchen intact, there will be little to redo in the plumbing and electrical department.

Lighting- We all love recessed lighting, but the bulbs in that alone can be costly. Instead, select fixtures that will illuminate the space efficiently and within your budget.

Basic appliances- This means the oven and fridge. In this price range, there are no "add-ons". Such as built-in appliances, warming drawers, wine coolers, microwave drawers, etc...

Backsplash and flooring- This is where a decent portion of your money will go. Some contractors recommend generic tile and vinyl flooring. We on the other hand, would much prefer that you have something nice. We will help you pick out the best quality and within your price range. We understand that these are two very important factors which can make or break your happiness with your finished kitchen.

Refinished cabinetry- You can keep your costs down by reusing your existing cabinets. Examine your cabinets to determine their current condition. This will help you decipher if they're even worth refinishing. With refinished cabinets, you will be able to change the look of them to look different and brand new. Be sure to ask your contractor about options.

Stylish details- You can incorporate glass on your cabinet doors to give your kitchen a modern feel at minimal costs.

Countertops- Laminates have changed a lot in appearance over the years with several nice options. While laminate is not our favorite material, if your concern is to keep the price down, then this is probably your best option. Another low cost option is ceramic tile. However, the issue with ceramic tile is that during cleaning it is hard to clean in between the grout. Now a day, it's a lot easier to find affordable granite. So if you can afford it, granite is by far the best choice as far as looks and maintenance.
Moderate Kitchen Remodel:
Do you need to change the layout of your kitchen for more space or to add a kitchen island? This is will generally cost you between $55,000 to $75,000 ($71,500 to $90,000 in 2021).
Reshape your space-Everything in your kitchen will be gutted to make way for your new spacious kitchen. This includes moving existing plumbing and electrical

Appliances-New and professional appliances. Anything from a 48-inch built-in stainless steel refrigerator to a 48-inch cooktop with a grille and griddle, as well as the 30-inch double convection ovens. These kitchen appliances are made from those who love to cook and spend time in their kitchen.

Custom island- I love kitchen islands! They can be used for so many different things. For help choosing a style, check out our blog on designing a kitchen island.

Custom cabinets-Inset doors of your color choice with a custom stain and glaze in nonstandard sizes with all of the accessories that make for a beautiful and functional kitchen.

Designer hardware-Find nice knobs and fixtures that will complement the style you have chosen for your kitchen.

Flooring-Wood, tile, or a stone floor will be a little more costly but it will bring your kitchen together.

Stone counters and tiled backsplash- A quartz, or natural stone material such as granite will be slightly more expensive. However, the counter tops, backsplash, and flooring are what make the kitchen. Try to save most of your budget for this part of the kitchen remodel. Stones last a long time, so while it may be pricey in the beginning, you may never have to replace it.

Custom storage- Storage! Storage! Storage! Storage is so important. With custom cabinets your storage possibilities are endless. If you want cabinets designed to handle small appliances (such as a coffee maker or a microwave) with drop-down doors that give extra counter space, custom is your best choice.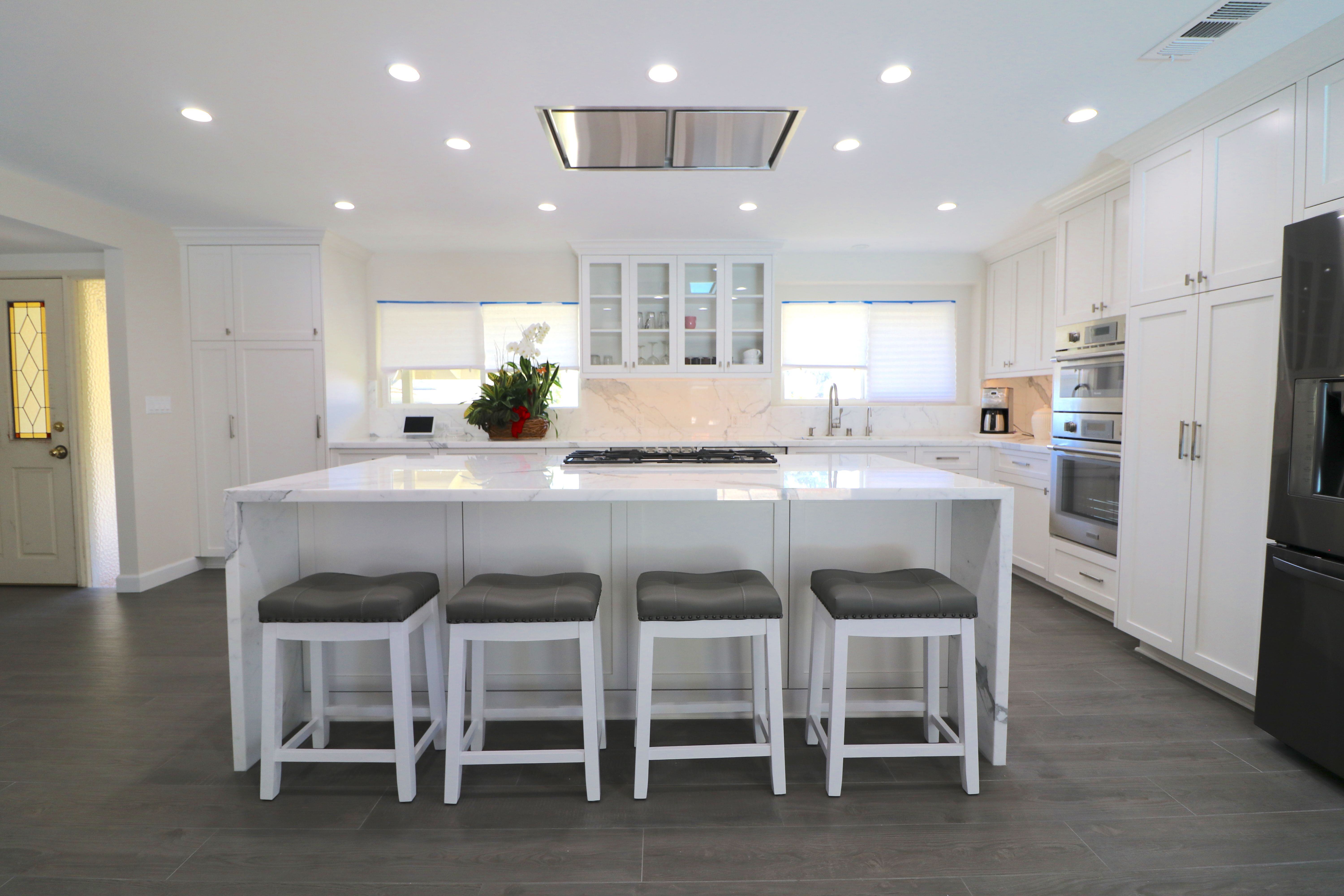 (Luxury level kitchen in Rancho Palos Verdes, CA)
Luxury Kitchen Remodel:
This type of kitchen has everything cooks dream of. If you like a chief's style kitchen, this is for you. While it will also cost you a pretty penny, it will be well worth it! This luxury kitchen remodel will cost you $90,000 and up ($115,000 and up in 2021).
Reshape the space- Similar to a moderately priced kitchen, a luxury kitchen remodel entails being gutted to accommodate more space, as well as changing the existing layout of electrical and plumbing to accommodate for new appliances.

Architecture-The architectural details that will complete this kitchen. Such as tall ceilings, crown moldings, and glass windows.

Materials and accessories-The options are endless when it comes to the quality of the materials used on this kitchen. Only the best of the best! This includes flooring, stone counters, lighting fixtures, plumbing fixtures, cabinet knobs, and so on.

Custom cabinetry – Every piece of custom cabinetry is made specifically for your kitchen and its corners. There is well-crafted cabinetry of every kind for storage and convenience.

Chiefs stove-They can be quite expensive, but they are a cooks dream. They are known for style and excellent functionality.

Backsplash- This is not just a generic backsplash. This is beautiful mosaic piece that goes behind the cooking area and draws attention to your kitchen. However, be careful in the piece that you select; it can either make your kitchen look larger or smaller.

Appliances- In wall ovens and custom cabinetry to conceal the larger appliances like a microwave, coffee maker, etc.

The Details- The details are in the sink style, the stone edge style, the door knob style, and the faucet. While, these are the smallest things out of your entire kitchen remodel, they are also the finishing touches to your dream kitchen.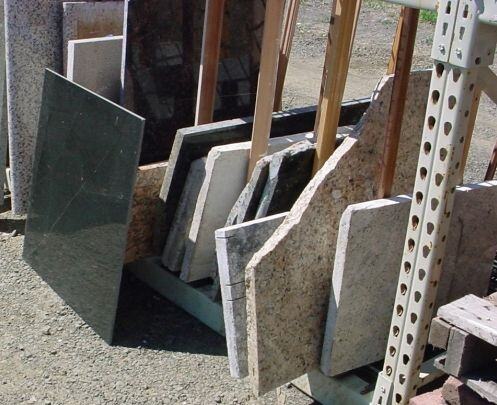 25 min read
Kitchen counter tops is one of the most important material in your home, so it makes perfect sense why it's so common for homeowners to spend hours...
Read More