Kitchen islands have evolved over the last years. The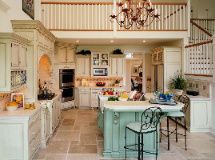 y have taken on new shapes other than the original rectangle. They have transformed into different functions and styles as people seek to improve their kitchens' functionality and express their personal style. Not every kitchen layout will allow for an island, and not every homeowner wants one, but they generally add a lot of character and performance to almost any kitchen design.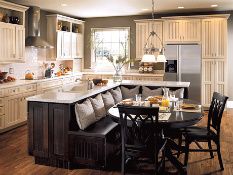 As center islands have increased in popularity, they have helped change some of the most fundamental aspects of kitchen design. For example, the old rule that the sink must be centered under a window no longer has to apply. Now it is common to see sinks located in the center island so the cook can engage with guests more easily. People also put a cook top on the island for the same reason. In either case, it cooking is no longer seen as a solitary activity, but more of a social event.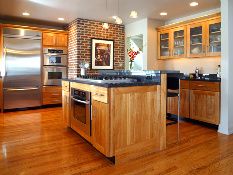 Islands can be quite simple or complex in their design. The simplest islands are usually rectangular masses with flush countertops. More sophisticated islands might feature work surfaces at varying heights, large overhangs to accommodate seating and unusual shapes to add visual interest. Either or, every island will benefit from thoughtful lighting. Kitchen islands should be lit appropriately to ensure that people will be able to see well, but also to distinguish certain areas of the island. The most common lighting for islands is pendants of a chandelier. The visual cues help set the island apart.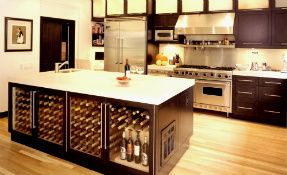 When planning a kitchen island, here are a few things you might want to consider:
Do you want to have seating at the island?
Would it be beneficial to have a secondary raised countertop?
What shape would best fit your kitchens layout?
Do you want a simple island or complex one?
Do you want to incorporate display space?
Would you like to add handy appliances to your island?
What kind of lighting would you like for your island?