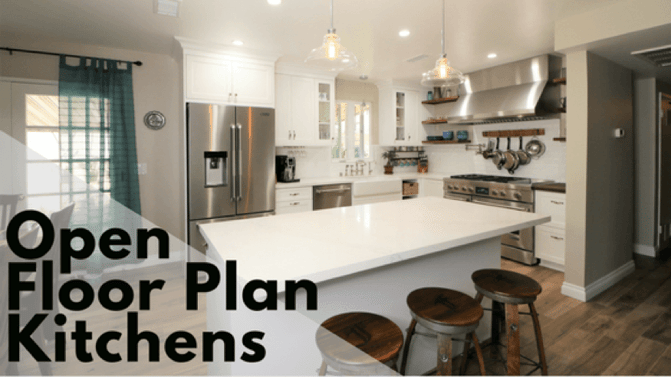 Open floor plans for the kitchen are extremely popular today. It is the most requested design we see during our kitchen remodeling consultations, it is high on everybody's wishlist. An open kitchen layout creates a less segregated and more welcoming environment. It also creates the illusion of more space which is great for entertaining. It is the perfect layout for Sunday brunch or family get togethers. If you're remodeling your kitchen and want to create and open kitchen, there are several ways you can do it. The majority of open layout kitchen remodels require engineering plans (due to the removal of walls) and that can increase the total price of the project quite a bit. Not every option will work for your kitchen, but that's why we've provided several options. For the best advice on creating an open kitchen floor plan, you should contact our contractor or check out our construction calculator.
Wall removal
Wall removal is a great place to start is you want to open your kitchen. It immediately creates an open space. It's important that you consult with a contractor and designer to see if removing a wall is even possible. The reason for this is because sometimes walls may be load-bearing or may be concealing important electrical, plumbing, or venting, that can be extremely costly and difficult to remove. When you remove a wall it can weaken the structure, this is why it's necessary to add additional reinforcement to the surrounding structure. New and bigger framing is required to support the open kitchen structure. Structural & Engineering plans are required to build an open layout kitchen. The local building and safety department will not authorize any construction permits without any engineering plans.
(Drywall has been removed to eliminate shear wall)
Remove upper cabinets & peninsula
Kitchens in the 80s and 90s were designed with upper cabinets directly above a peninsula. While this may be good for storage, the design is not very practical for creating an open environment. It is basically the equivalent of a solid wall, which creates an illusion of a small kitchen. The easiest way to fix this, is by removing the upper cabinets, this will then extend your line of sight and make the room feel larger. Open layout kitchens feature islands that also incorporate storage. So even though you are removing some upper-cabinets, the new center island can incorporate drawers and cabinets, while also adding new counter space. You will not lose any significant amount of storage space when removing upper-cabinets during your open floor plan kitchen remodel.
Eliminate soffits
Soffits completely undermine the purpose of open layout kitchens. Soffits interrupt the natural flow you are trying to create with an open layout, they make the ceiling look low, which makes the room feel smaller. If you can, remove the soffits. Replace cabinets that extend from the floor to the ceiling, this will your kitchen some space. It all depends on your home layout, some soffits are kept in order to allow hvac ducts to remain in the same general area. In kitchens with ceilings higher than the standard 8 feet, small soffits will be kept above the wall cabinets in order for them to flow better and not seem out of place.
More Lighting
A bigger space needs more lighting, so you'll also need to keep this mind if your kitchen does not have large windows. Homeowners often choose to integrate recessed lighting when installing new windows is not an option. The more natural light that reaches a room, the more open it will feel. Knocking down a wall may give your kitchen more access to light. But like we mentioned earlier, sometimes you can't take a wall down due to beams and other structural constraints. You can also install a skylight, but you should do some research before deciding on that choice. Skylights are not as popular as they once were. Always consult a contractor before making a final decision. They can help you select popular options or options that fit within your budget.
Do I Need Plans?
Once you have selected the right contractor for your kitchen remodeling project you'll need a set of engineering plans. Why do you need engineering plans? Any time you are removing walls or adding square footage in your home you'll need building permits. Your local municipality has a building and safety department and they will require engineering plans for large projects like building an open layout kitchen. Think about it, removing a walls will weaken the structure of your home, so you need to reinforce the surrounding frames to support the new open layout kitchen. The large beams needed to support the new structure are big and heavy, will require a significant amount of new framing and reinforcement. You can hire a general contractor and a structural engineer separately, but it will be expensive. The most reputable general contractors will include engineering-plans when you hire them for your kitchen remodeling project.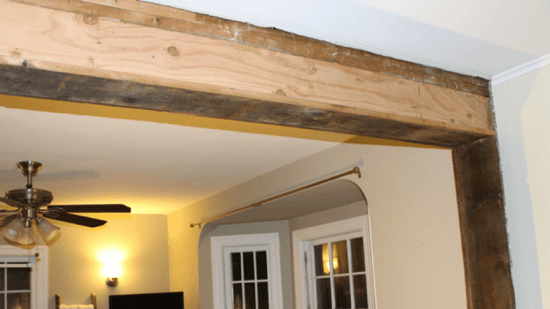 (New beam installed for an open layout remodel)
---
Want to Learn More?
If you want to learn more about kitchen & bathroom remodeling I have over 200 articles for you to learn the ins-and-outs of home remodeling in the South Bay. Here are some articles that I think you will find useful.
For over 15 years Bay Cities Construction has helped hundreds of homeowners with their kitchen remodeling projects, helping them transform their house into a home they love. Our team has the experience and expertise to help you with home remodeling, kitchen remodeling, bathroom remodeling, home additions, soft-story retrofits, and home additions. When you hire Bay Cities Construction you don't just hire a contractor, you also hire an entire team of Pros. With several years of experience, our team has the expertise to help you with Interior Design, Architectural and Engineering Services, City Representation, Permit Processing, Construction Project Management, and Construction services. If you think Bay Cities Construction is the right team for you, contact us today.
Ready to take the next step? We're certain that Bay Cities Construction is the best general contractor for your project, you can Schedule an Appointment by clicking HERE. We offer a complimentary 1-hour consultation at our office so you can meet our team and we can discuss your home remodeling project. Our team of Pros can help you design and build the kitchen of your dreams. If you have been disappointed by other contractors, it's time to call one of the best home remodelers in the South Bay.