4 min read
Los Angeles Kitchen Trends: What to Expect in 2020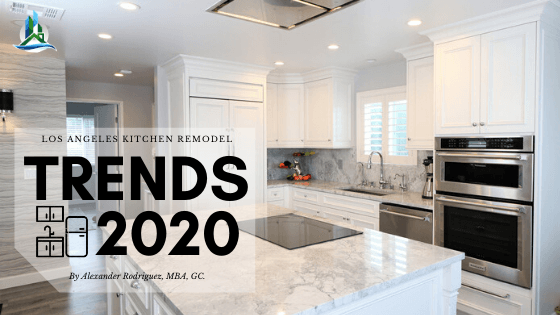 Happy New Year, as we enter a new decade, homeowners are considering ways to give their kitchen a new look.

Kitchen remodels are very popular this time of year – January is the best time to start the process of remodeling your kitchen. But how should you remodel your kitchen? What look do I want? How do I get the perfect look? In this short article we will cover some of the latest trends in kitchen designs and kitchen trends we expect to see more of in 2020.


Southern Californians have particular tastes. Angelenos walk to the beat of a different drum, and the same goes for kitchen styles. Kitchen remodeling in the South Bay (El Segundo, Manhattan Beach, Hermosa Beach, Redondo Beach, Torrance, Palos Verdes Estates, Rancho Palos Verdes, and Rolling Hills) is no different, the Beach Style kitchen is among the most popular looks we build in the South Bay, It's more than a trend, it's a lifestyle. The design trends we've identified in this blog will look great in any kitchen.
New Kitchen Trends in 2020
Solid Slab Backsplash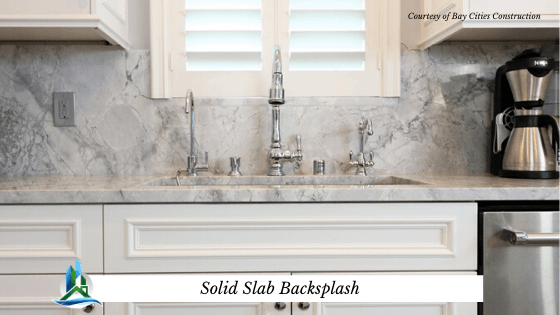 What is a solid slab backsplash? A slab backsplash is a full backsplash made of a single, continuous piece of stone. The solid surface gives the entire kitchen a different visual effect than tile. A big & bold look that is perfect for large kitchens. This backsplash trend is making a comeback. Why? Global stone prices are expected to drop this year. Upscale slabs that would ordinarily be sent to Europe & Middle East will instead be shipped to the United States. You'll have no trouble finding exotic stones at your local slab yard. Mother nature is a talented artist and has crafted amazing works of art in ancient stone. Expect to see more solid slab backsplashes in 2020.
Floating/Cantilever Island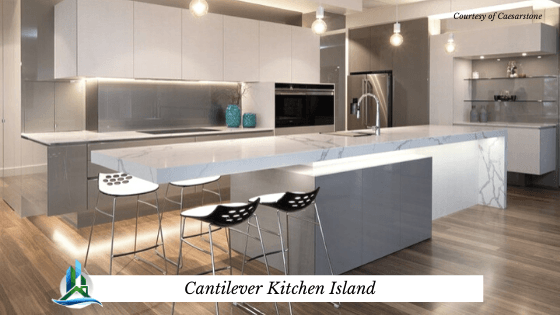 Often reserved for more luxurious spaces due to their complex design, cantilever kitchen islands are gaining popularity. Hectic lifestyles have influenced this open countertop design. Making more countertop space has always been a challenge for designers, but some families are willing to trade cabinet space for ample legroom. Floating/Cantilever Islands are both impressive and unique and create the illusion of a suspended bench top surface. You should expect to see more Cantilever Islands in 2020.
Bold Cabinet Colors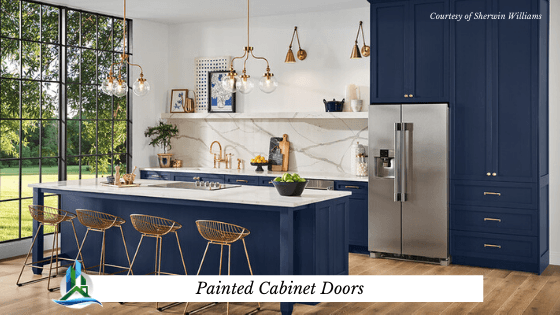 White shaker cabinets have been a staple of modern kitchens, but bold colors are quickly becoming a trend. Bright colors are in demand and companies like Sherwin Williams have listened – no more bland and ordinary white cabinets. Homeowners with adventurous tastes can choose to paint their cabinets in complimentary colors to give their kitchens a bigger visual impact. Painted cabinets are becoming a highlight in kitchens with lots of natural light. You can expect to see more painted kitchen cabinets in 2020.
Slab Cabinet Doors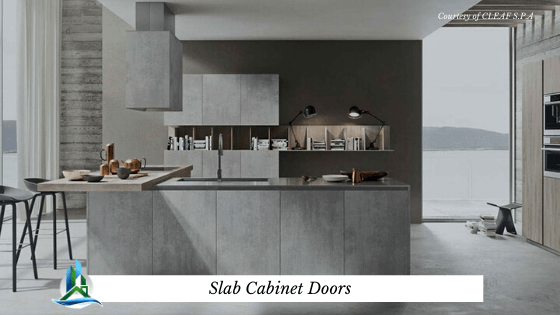 Homeowners with a flair for the dramatic will opt to forgo traditional cabinet styles by choosing slab cabinet doors. A slab door is a flat door with no frame or panel (or even pulls), it is simple and elegant. Textured laminates from companies like Italian design CLEAF S.P.A are all the rage, they have introduced really stylish options. Slab cabinet doors are perfect for ultra modern kitchens. They are low maintenance and easy to clean, and are usually more affordable than solid wood, a good option for custom kitchens. You should expect to see more of this slab door trend in 2020
Luxury Laminate Flooring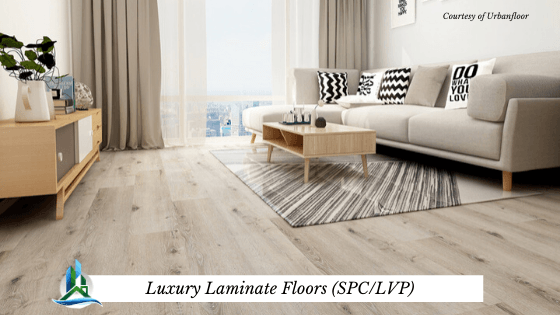 I never thought I would say this, but laminate is back with a vengeance.This isn't your grandmothers laminate. Luxury laminate options like SPC (Stone Polymer Composite) and LVP (Luxury Vinyl Plank) are giving hardwood a run for its money. High quality laminate floors can give your home a luxurious look without breaking the bank. These laminates are virtually waterproof and come with 10-Year warranties. Manufacturers like Urbanfloor are constantly introducing new color options. These luxury laminate products are stylish, durable, and affordable. You can expect to see more luxury laminate floors in 2020.
Current Kitchen Trends
Open Concept Kitchens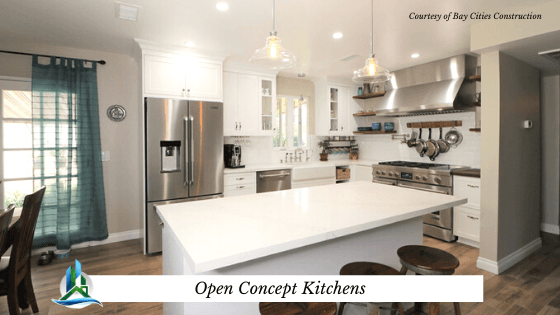 Open concept kitchens continue to be the most popular style of kitchen in Los Angeles, CA. Open concept kitchens are big & beautiful but come with a hefty price tag (expect to pay upwards of $80,000). Open Kitchens create a seamless transition between the kitchen and dining area by removing existing walls (often load-bearing). They help increase the function and aesthetic of the kitchen by creating a space that is perfect for entertaining guests and family. Expect the open kitchen trend to stick around for 2020.
Shaker Cabinet Doors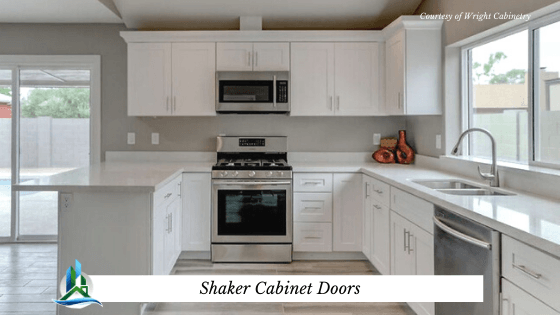 There's a reason why Shaker style cabinet doors are popular – they are simple and elegant. Shaker doors are characterized by a five-piece door with a recessed center panel. They pair well with both modern and traditional kitchen designs, a timeless style that is versatile. This style of door is available for prefab cabinets and custom cabinets. Shaker cabinet doors are here to stay so you can expect to see this style in kitchens beyond 2020.
Wood-Look Porcelain Tile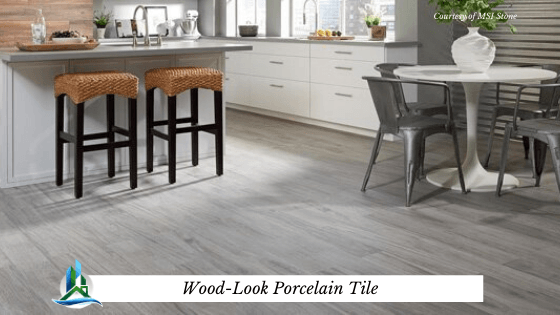 Several homeowners have trouble choosing between the warm look of wood floors and porcelain tile floors – now you can have the best of both worlds with Wood Look Tile. Wood look tile is porcelain tile with a printed and embossed layer to give it the look & feel of wood flooring. This style of floor began to trend in 2018 and has gained popularity since then. These tile floors offer the durability and look of wood without the susceptibility to water damage in kitchens and bathrooms. New styles and colors are being introduced every season by companies like MSI Stone, so we expect to see more homes with wood look tile installed in 2020.
There you have it - these are the top 8 trends in kitchen remodeling we expect to see more of in 2020. Do you agree with our list? Make sure to leave a comment below with your thoughts.
---
Want to Learn More?
Remodeling kitchens is our passion and we've written over 500 blog articles to help homeowners like you make the right choice. Want to learn more about kitchen remodeling? Check out these awesome articles below
For over 15 years Bay Cities Construction has helped hundreds of homeowners with their kitchen remodels. When you hire Bay Cities Construction you don't just hire a contractor, you hire an entire team of Pros with several years of experience. Our team has the expertise to help you with Interior Design, Architectural and Engineering Services, City Representation, Permit Processing, and Construction services. If you think Bay Cities Construction is the right team for you, contact us today. We will help you design, engineer, and build your dream kitchen.
Ready to take the next step? We're certain that Bay Cities Construction is the best general contractor for your project, you can Schedule an Appointment by clicking HERE. We offer a complimentary 1-hour consultation at our office, so you can meet our team and we can discuss your kitchen remodeling project. Our team of Pros can help you design and build the kitchen of your dreams. If you have been disappointed by other contractors, it's time to call one of the best home remodelers in the South Bay.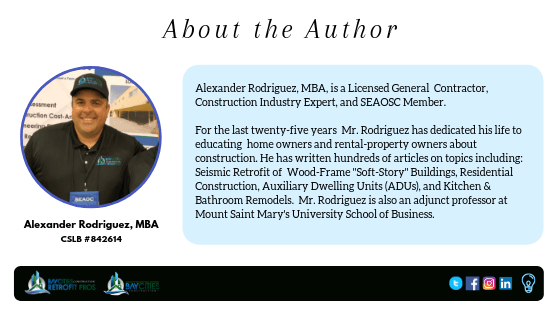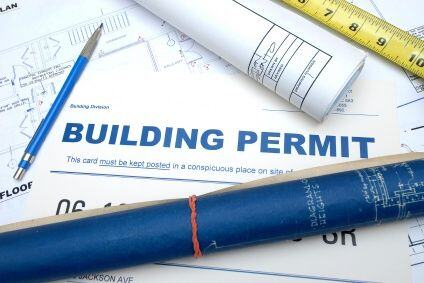 2 min read
I have to address the issue of permitting because it is a question that I run across weekly from prospect clients. When it comes to permitting there...
Read More