You've come to a crossroads in your kitchen remodeling project "should I get custom cabinets or semi-custom cabinets?" You're about to spend a decent chunk of money on cabinets, the last thing you want is to choose the wrong ones! Perhaps you aren't even sure what the difference is?
Never fear, Bay Cities is here! We have helped hundreds of our clients navigate in finding their perfect cabinets. However, because we come across this question so frequently, we've decided to write an article. We hope you're you find it helpful enough in making the decision on which cabinets to get. Let's begin…. When looking at the difference between custom cabinets and semi-custom cabinets, it is in reference to the production method used to make them, not the quality of the cabinets themselves. Whether you're beginning a kitchen remodel, or are in the process of one, the amount of options for details is almost endless.
This breakdown of custom and semi-custom cabinets will hopefully help you narrow down your decision on which cabinets to use for your kitchen remodel.
Semi-Custom Cabinets
Semi-custom cabinets are exactly how it sounds. They are prefabricated cabinets with options for extra detailing. A leading manufacture of these cabinets is Kraftmaid Cabinets. The value propositions are, they are a lower cost alternative to custom cabinets and they can offer a limited number of custom features. In some cases they can be customized to meet your aesthetic and functional requirements. Basic cabinetry sizes still apply. However, you have the option to change certain dimensions, such as resizing cabinet drawers, door fronts, or increasing the depth.
Quality: There are features that are standard. When it comes to semi-custom, the statement "you get what you pay for" couldn't be

any truer. The least expensive will be made out of materials such as medium density fiberboard (MDF) and will be covered in a

veneer; it's not the highest quality, but it is still much better than prefabricated materials.
Cost: The cost for semi-custom cabinets will vary greatly depending on the materials that are used, and the amount customization.

However, since the customization options are limited, and are relatively easy for the maker to add, it should not result in a

substantial expense. You can expect to spend 15%- 30% less than custom cabinets.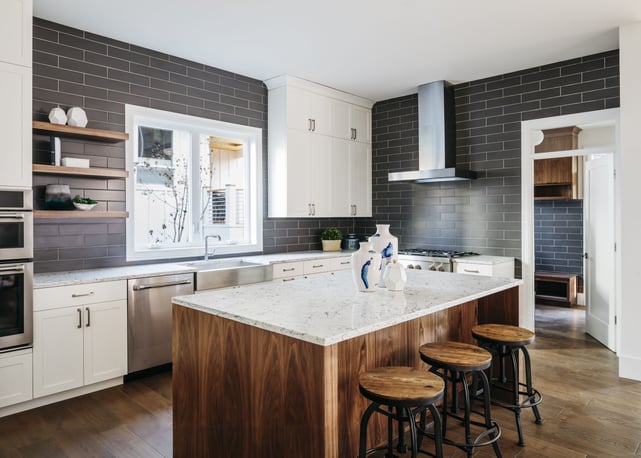 When you should choose semi-custom cabinets…
When your existing cabinets can be refaced to look brand new.


When you don't want to make changes to the existing layout of your kitchen.


When you're working with a small kitchen remodeling budget.


When most of your budget has been allocated toward a different aspect of your kitchen.
Custom Cabinets
Custom cabinets are created to your design and specifications. In other words, you can have whatever you want! Because someone is creating your cabinetry vision, custom cabinets are generally more expensive because it is labor-intensive and built off-site by a skilled cabinetry carpenter. It is also important to note that custom cabinets take anywhere from a few weeks to a couple of months to complete.
Quality: Custom cabinet makers will generally go above and beyond to ensure that all of the materials being used are of the best quality, and will properly assemble it in its entirety before they are installed in your kitchen.

Cost: The cost of custom cabinets can be frightening. In fact, when you decide to go custom, the contractor will specify about what percentage of your budget should be allocated for this portion alone. There is no set cost. We have remodeled hundreds of homes. You can expect to spend 20% of your budget on mid-grade custom cabinets. If you have a lot of custom hardware and gadgets to your cabinets, expect to spend 25% -30% of your remodeling budget on the cabinets. It is really up to you and how you wish to design the layout and aesthetic feature, as well as how much custom storage you wish to add.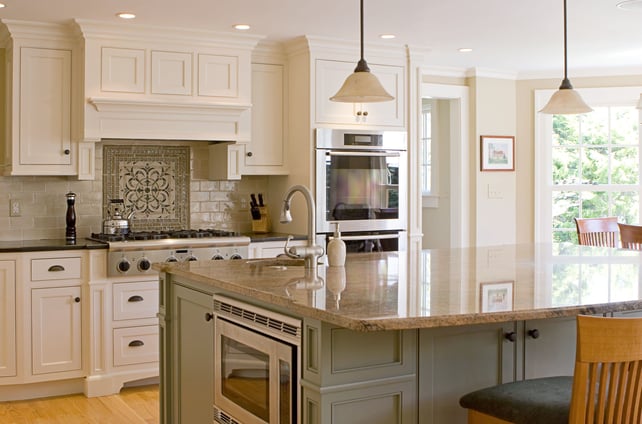 When you should choose custom cabinets…
When your house is worth more than $500,000.


When you're gutting your entire kitchen and starting from scratch.


When you've decided to change the existing kitchen layout and need custom storage for specialty items.


Your existing cabinets cannot be refaced.
How to Choose Between Custom and Semi-Custom Cabinets
Whether you choose semi-custom or custom cabinets, it really depends on how much you're willing spend and how much customization you need/want. I would recommend custom cabinets under the following 3 conditions:
1. You house is worth more than $500k.
2. You can afford it and you plan on staying in the home for more than 5 years.
3. You need and/or want the customizable storage.
At Bay Cities Construction, we pride ourselves on guiding our clients through the selection process. We are in Torrance, CA so keep in mind that California costs are higher than in other parts of the country. That is why when we talk about cost, we talk about percentages of budgets. That way the information is actionable in other parts of the country. As a course of business, we help clients decide on which cabinets to select.
I cannot over-emphasize the importance of designing towards a budget. Know what total budget makes sense. Every week we have come across plans and designs, draft by outside 3rd parties that are way too expensive for the budget of the client. We have written a cost guide article on kitchen remodeling. Follow this link to learn more about kitchen remodeling costs in Los Angeles, California region.
---
Want to Learn More?
If you want to learn more about kitchen & bathroom remodeling I have over 200 articles for you to learn the ins-and-outs of home remodeling in the South Bay. Here are some articles that I think you will find useful.
Clients will oftentimes ask designers, engineers, and contractors for a "ball park cost." This is one of the most dangerous question you can ask! Please read this article to avoid the pitfalls of a Quote vs. Estimate. Consider subscribing to our blog articles they are informative and relevant. Please share your comments below. Is there anything in this article that we missed? Some of our best article ideas come from you so don't be shy let us know what questions you need answered. Our Youtube channel has some cool videos about remodeling your home. Please share this article with someone that you think will benefit form it's content.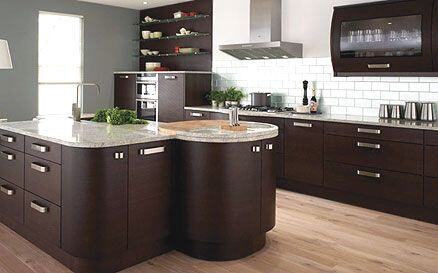 3 min read
Is your kitchen in need of new cabinets? Making the decision of what brand and style of cabinets can be difficult. We will discuss the difference...
Read More