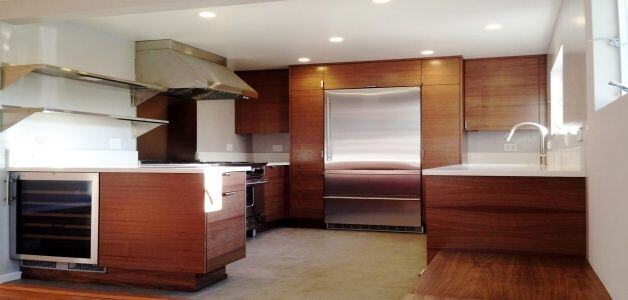 Custom kitchen cabinets or prefabricated kitchen cabinets, that is the question? This is a tough question for those remodeling their kitchen. Custom cabinets offer quality and craftsmanship and customization, while prefabricated cabinets are a less expensive option. In this article we will give you the pros and cons of both cabinetry styles. We hope that this information makes kitchen cabinetry decision easier.
Price
Pro: Prefabricated cabinets are generally the less expensive option if you're not doing too much with your kitchen.

Con: Prefabricated kitchen cabinets vary in price range, from affordable to expensive. Like anything else, you get what you pay for; prefabricated is no exception to that rule. If you're looking for quality, you're going to have to pay for it. In this price range, you have the option of both custom kitchen cabinets or prefabricated cabinets.
Time
Pro: Prefabricated cabinets delivery orders are pretty speedy.

Con: Custom kitchen cabinets can sometimes take a while, but then again, time is beauty.
Customization
Pro: Custom cabinetry will allow you bring out your style in the cabinets. You can customize everything from storage, color, layout, and finishes.

Con: You don't have as many options of customization in terms of storage or finishes with prefabricated cabinets.
Finishes
Pro: Custom cabinets you'll have a wider variety of different finishes. Whether it be a farm style crackle, glossy, or a rustic look, the cabinet maker will strive to give you what you want.

Con: Prefabricated cabinets are usually offered in clean white, glossy brown, natural wood, or homey burgundy.
Layout
Pro: If you have a unique kitchen with unusual sizes and angles, you may find that custom cabinetry will be a lot easier. The cabinetry maker will able to come in and get precise measurements for a perfect fit.

Con: Prefabricated works well with a generic shaped kitchen that doesn't need a lot of modification.
---
Want to Learn More?
If you want to learn more about kitchen & bathroom remodeling I have over 200 articles for you to learn the ins-and-outs of home remodeling in the South Bay. Here are some articles that I think you will find useful.
You'll have to shop around to find quality custom cabinets. However, your contractor will more than likely do this for you. For prefabricated, you can go directly to a home improvement store or a leading manufacturer. Last but not least… REMEMBER, whether it be custom kitchen cabinets or prefabricated kitchen cabinets, make sure it comes with a good warranty!