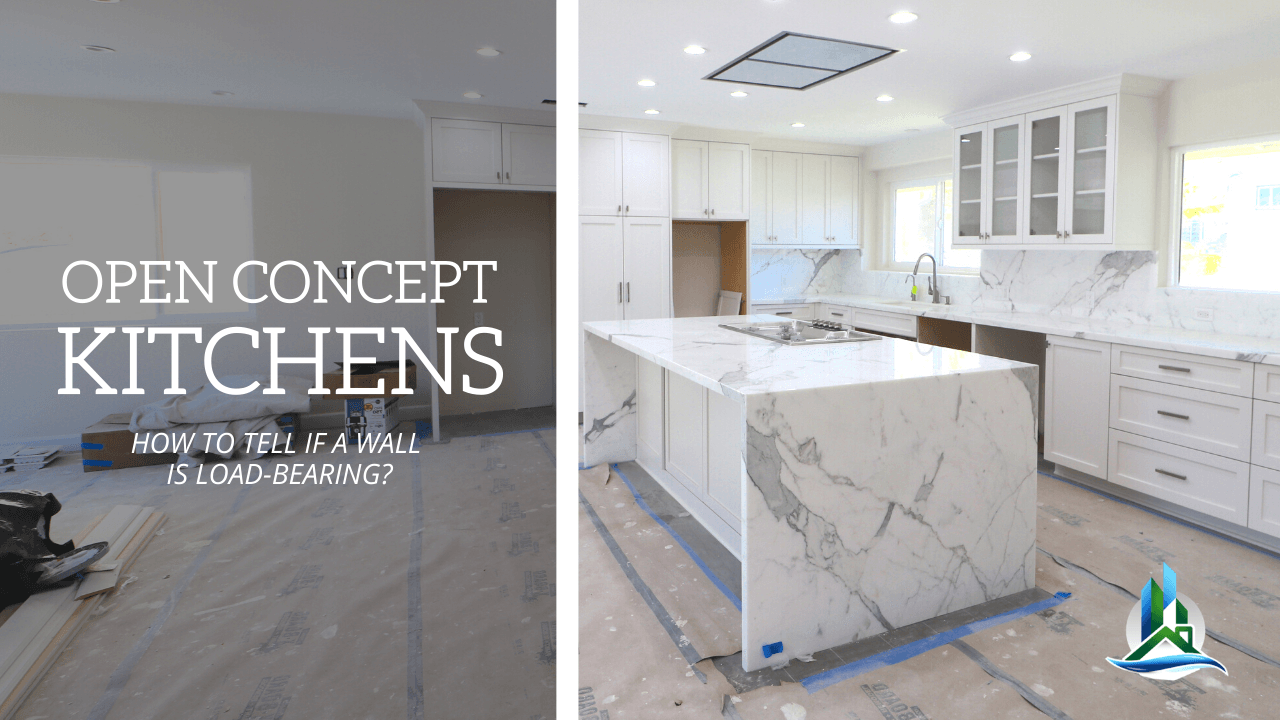 One of the most popular trends in kitchen remodeling in Los Angeles over the last 5 years has been to expand the size of the kitchen by removing walls to create an open concept kitchen.
That usually involves removing shared walls between the dining and living rooms. Many homeowners worry that these walls to be removed are load bearing, which is why you need professional help. More often than not, kitchen walls are load bearing, and if you remove them you can run into serious problems. In this article we will cover how we deal with load bearing wall during a major kitchen remodel and what you need to do to create an open concept kitchen.
I have been a kitchen remodeler in Torrance, CA for over 20 years and I want to share some of the things I have learned over the years. If you live in the South Bay and want to remodel your kitchen, I think you'll really enjoy this article about open concept kitchens.
What is a Load-Bearing Wall?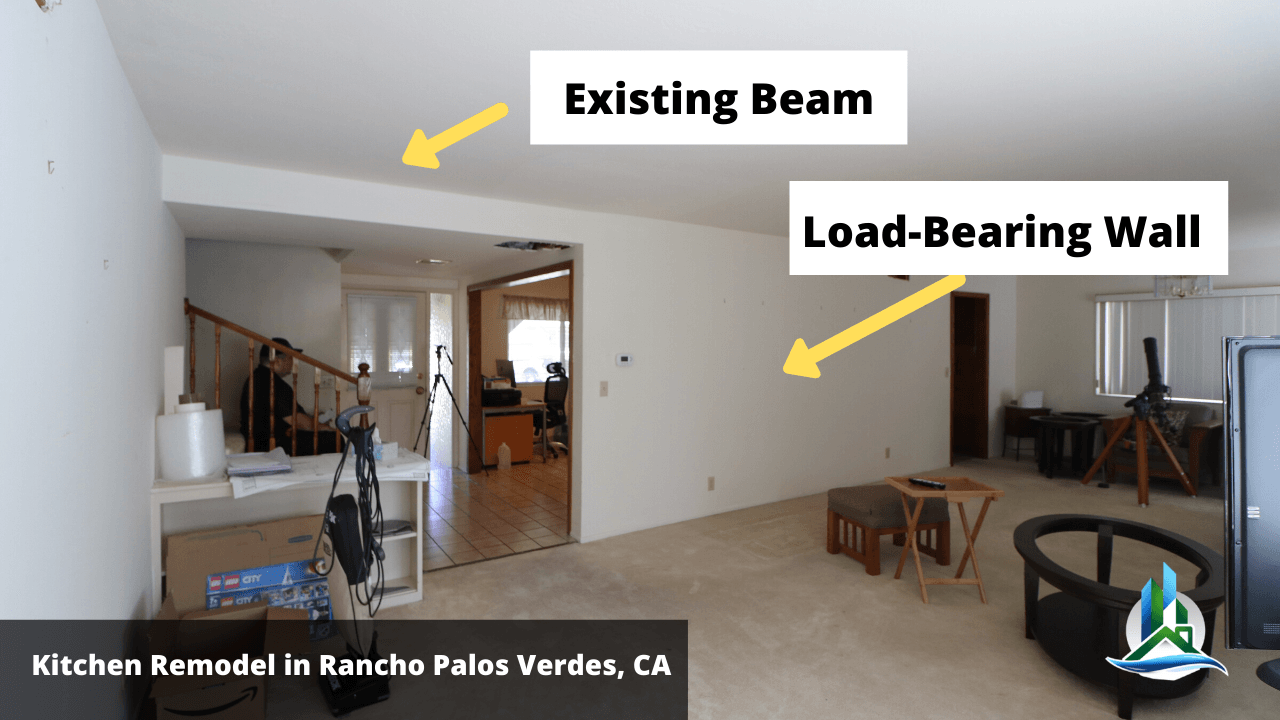 A load-bearing wall is any interior wall that is an active structural element, meaning , it carries load (weight) from the floor above or roof structure above to the foundation bellow. It is an essential part of the home's foundation, and is something that needs to be addressed as part of an open concept kitchen remodel. In the picture above, a load bearing wall is located in the center of the room, directly underneath the ceiling joist framing system.
What Load do Load-Bearing Walls Hold Up?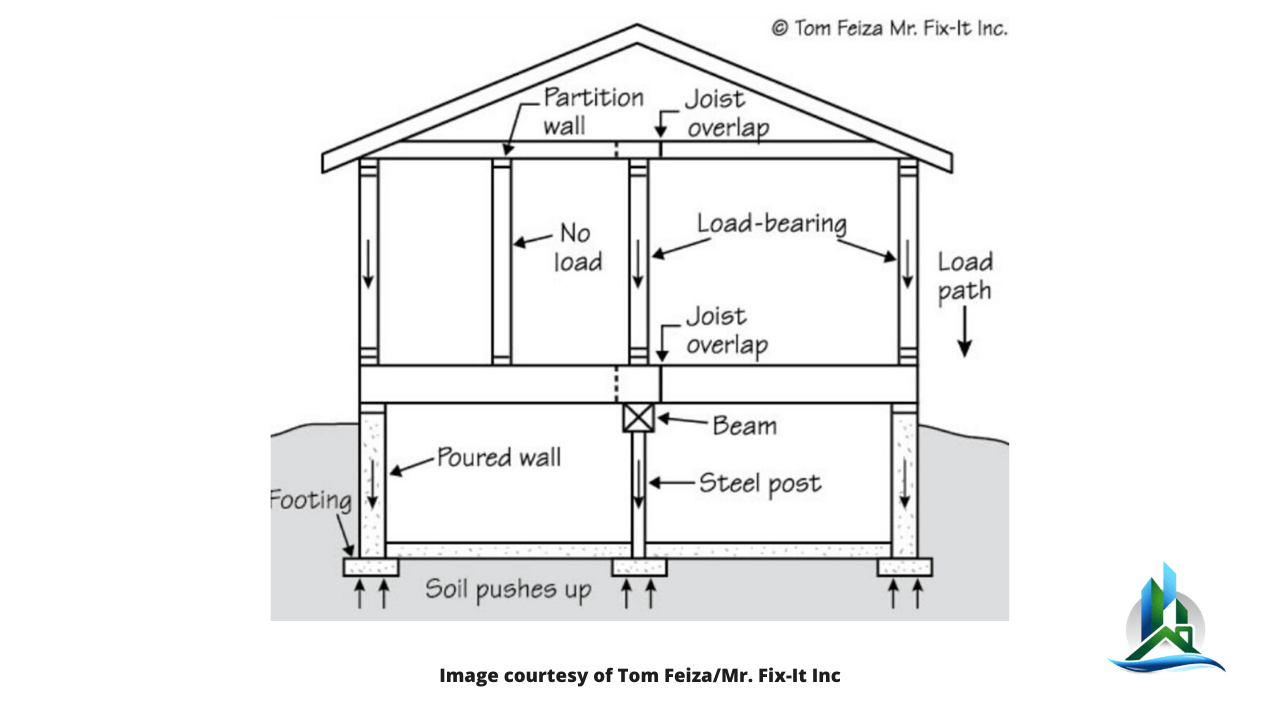 In single story houses, load bearing walls hold up the ceiling joists and gravity loads from the roof rafters. These rafters transfer the roof's weight to the the load bearing wall. In two story construction, load-bearing walls support both the floors above and the roof. In the illustration above you can see that load bearing walls are near the center of the structure, and "carry" the load from the roof above to the foundation bellow.
Is Removing Load-Bearing Walls Expensive?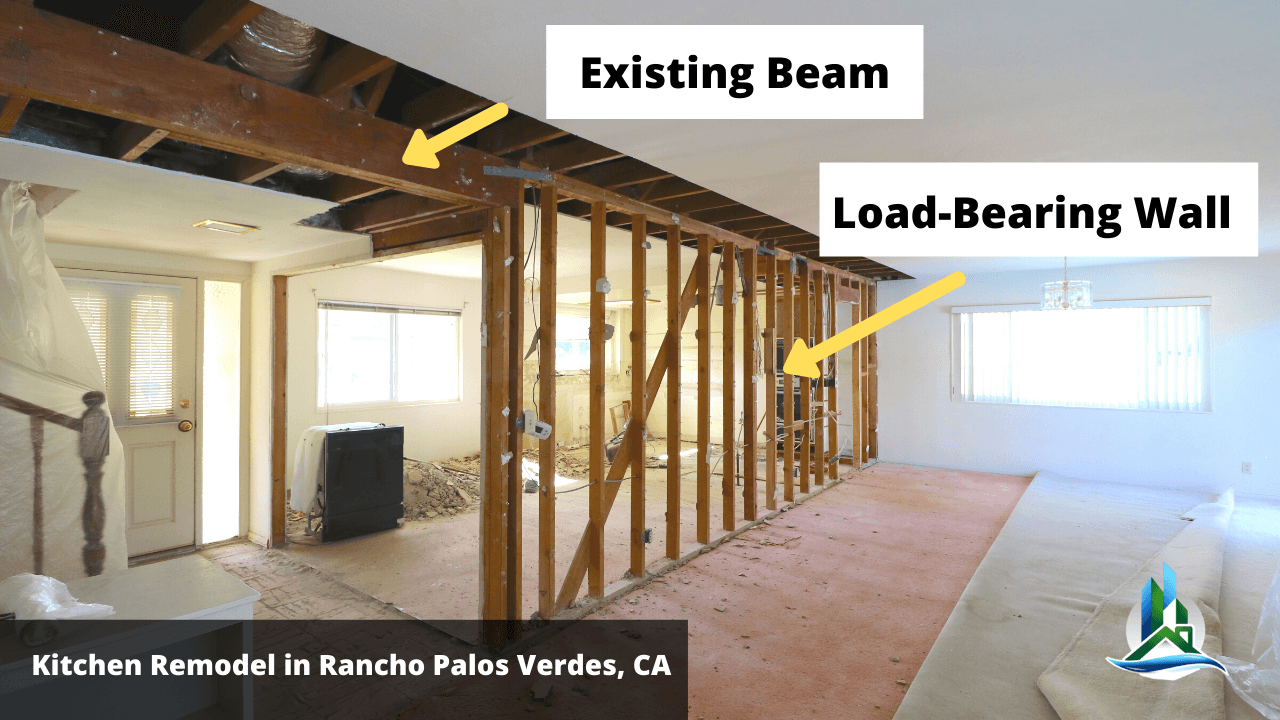 Most South Bay homeowners are concerned about the price tag, so how much does moving walls affect construction costs? Removing a load bearing wall requires the installation of a heavy beam, which in turn requires an engineered solution. A licensed structural engineer will help design a solution to ensure the integrity of the structure. A new framing solution has to be designed to adequately transfer the gravity & structural load along the newly replaced beam. In most cases removing a load bearing wall and installing a beam will cost between $10,000 to $20,000 depending on the the length of the wall. Longer walls will require PSL beams that can cost as much as $5,000. Engineering plans may cost between, $5,000 and $8,000 depending on the size of the building. Condos and apartment buildings have a greater liability and as such will require more work at a higher price tag.
Is Moving a Load-Bearing Wall Worth It?
Open-concept kitchens are beautiful but they can be expensive. It is important for you to design a project that you can afford to build. A major kitchen remodel can is a serious investment that can increase your property value significantly (depending on your neighborhood). If you have a robust construction budget then you should seriously consider removing a load bearing wall as part of your kitchen remodel. The overall function and layout is greatly enhanced when you remove a wall, it creates a smooth transition between the kitchen space and dining area.
What Will I Need to Pull my Kitchen Remodeling Permits if I Plan to Remove a Load Bearing Wall?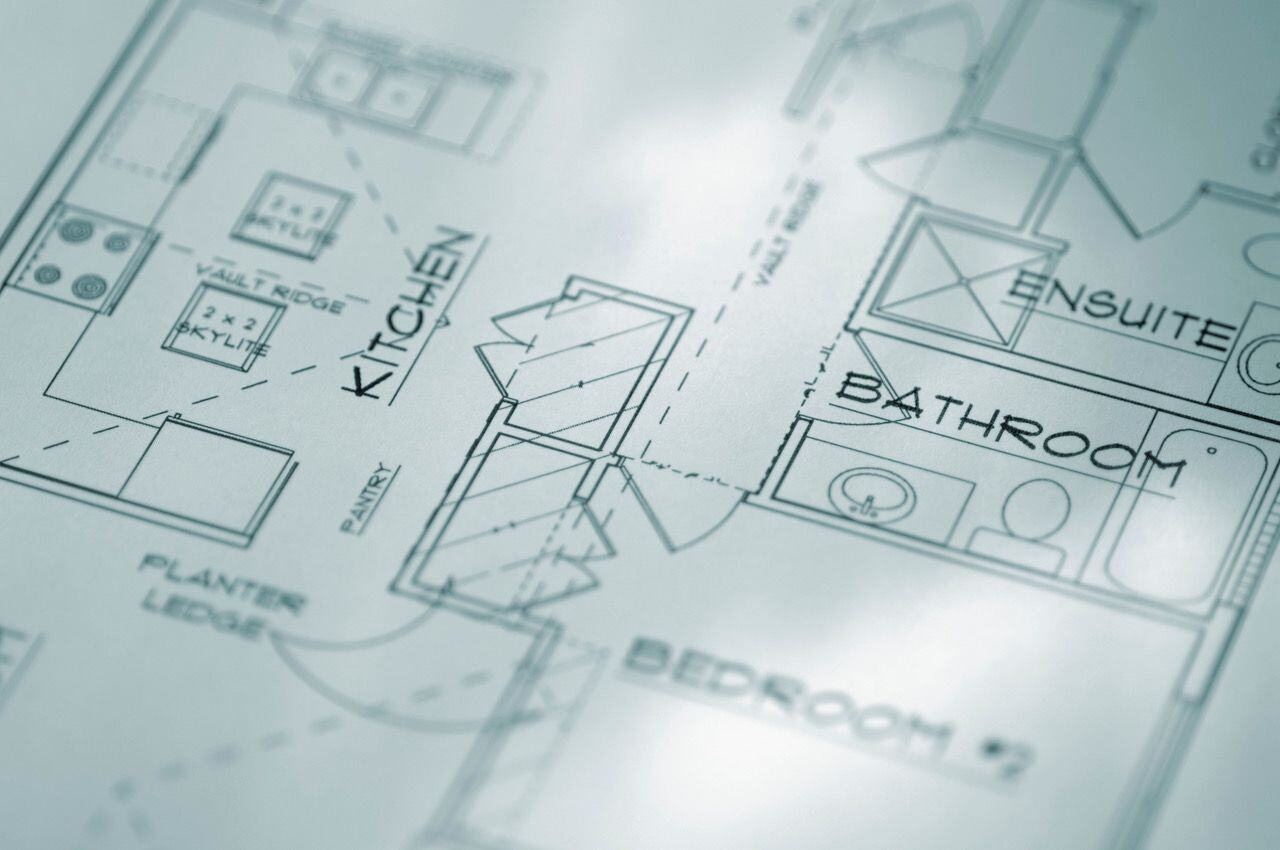 If you plan on removing any load-bearing walls you are going to need a set of engineering plans. A structural engineer, or general contractor who has an engineer on staff can help you with this requirement. You will need a complete site-plan that shows the entire property in relation to the yard, that shows what the house currently looks like, and what your proposed remodel will look like. An engineer will also need to design the structural drawings detailing the size and dimensions of the beam and framing that will be required to create an open space. The engineer will also need to detail the new foundation pads that will be installed under the new posts holding up the new beam. The design will need to be accompanied with structural calculations defending the design and its load capacity, these plans will be reviewed
Open Concept Kitchens in South Bay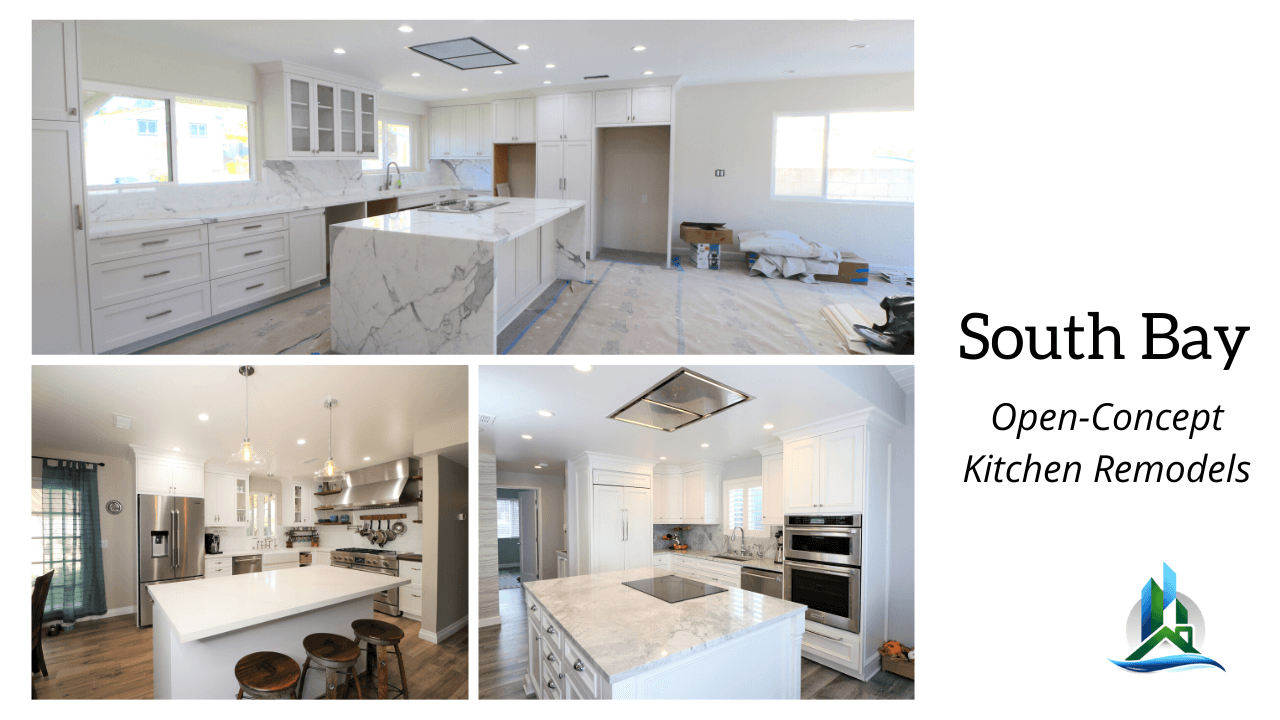 In the last 20 years we have built over 12 open-concept kitchens in the South Bay, many of them in Redondo Beach, CA. Here are just some of the open-concept kitchens we have built in the South Bay.
Tall & Skinny in Hermosa Beach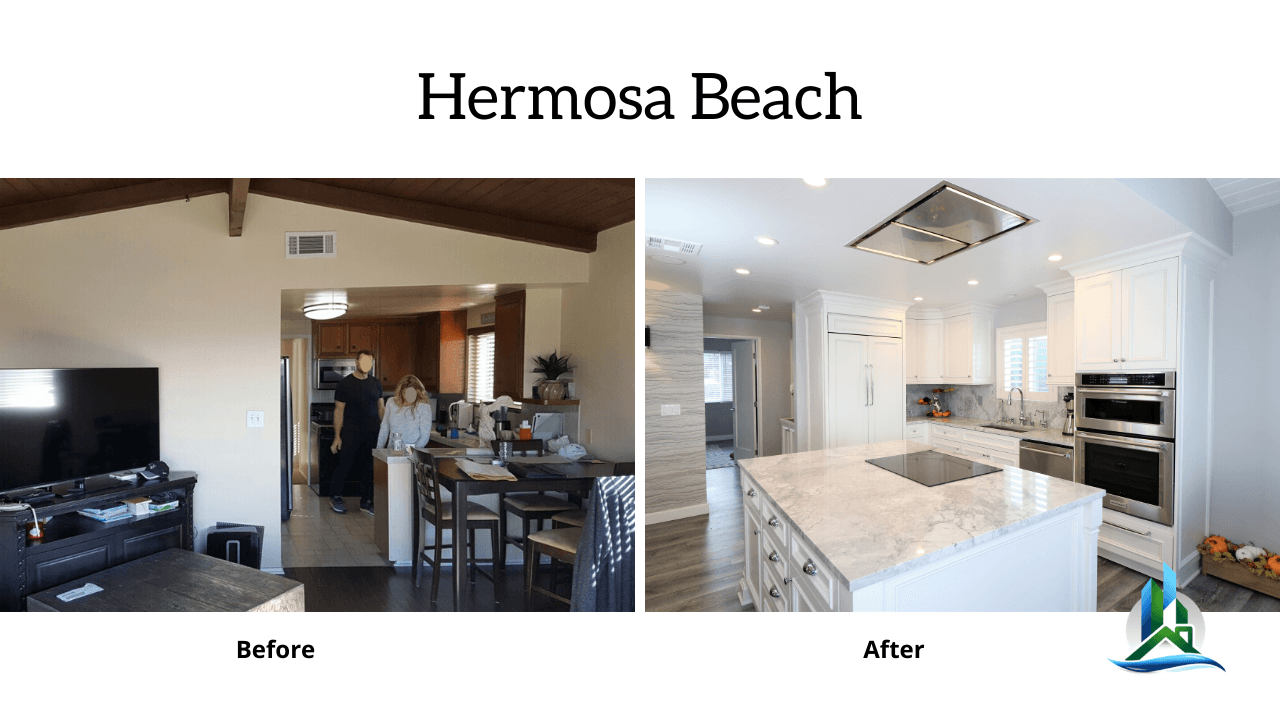 The most common type of home in Hermosa Beach, Manhattan Beach, and Redondo Beach is a 'Tall & Skinny", and if you own a tall and skinny, removing a load bearing wall will be required 95% of the time. Because of it's rudimentary design, nearly every wall in a tall & skinny is load-bearing. In the picture above you can see how two load bearing walls were removed to create an open space. A large beam was installed to handle the load that was once carried by the existing walls.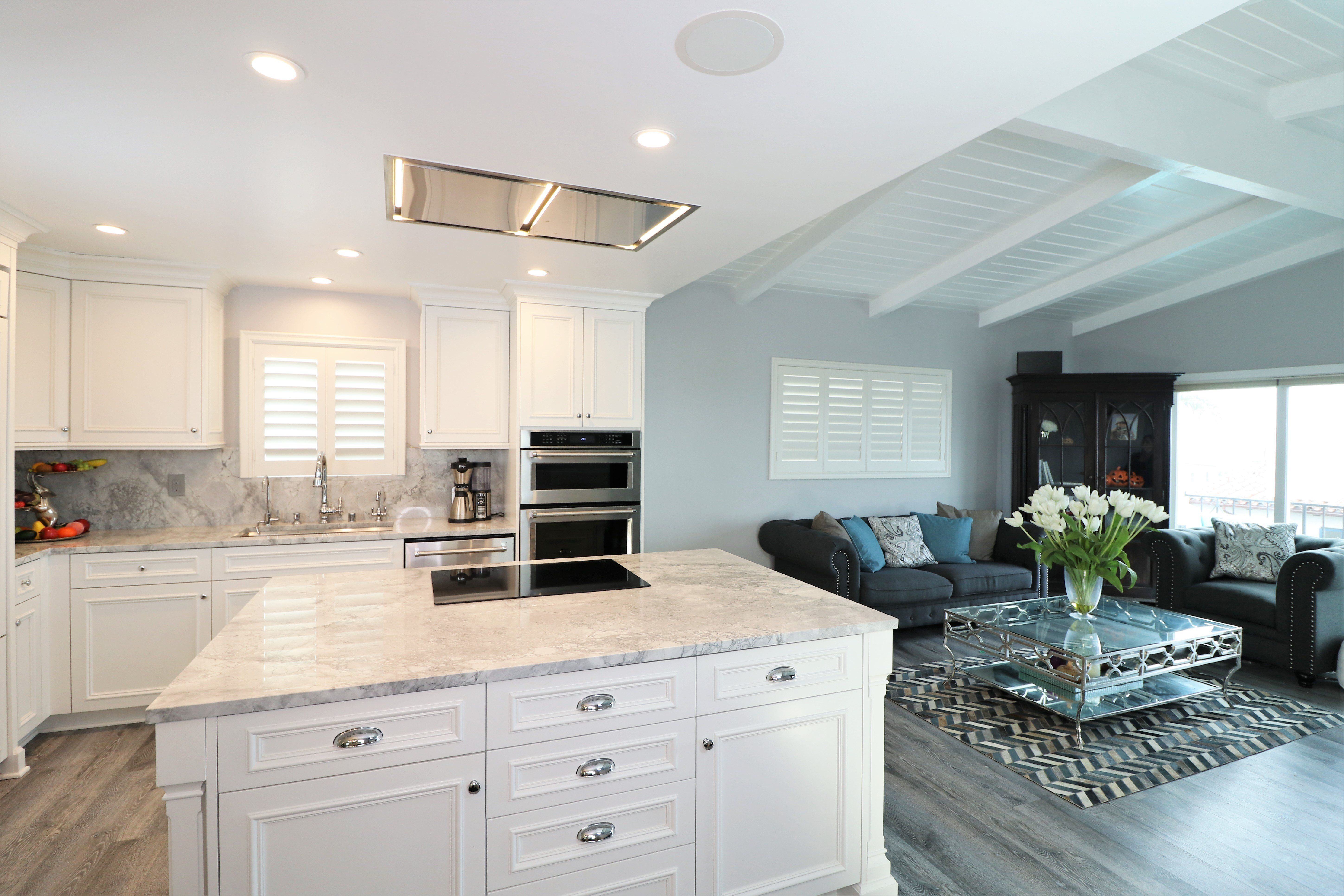 The original kitchen was small and narrow, so our designers got to work and removed a walk-in closet in order to increase the footprint of the kitchen. You can see that the size of the kitchen more than doubled, allowing us to install a large center island with an induction cooktop from WOLF. The new layout is much more functional and also features ocean views.
If the kitchen is on the second floor, the structural load must transfer to the concrete footings at the foundation. This can be expensive because lots of drywall must be removed throughout the first floor and the foundation must be also be retrofitted.
Open Kitchen in Torrance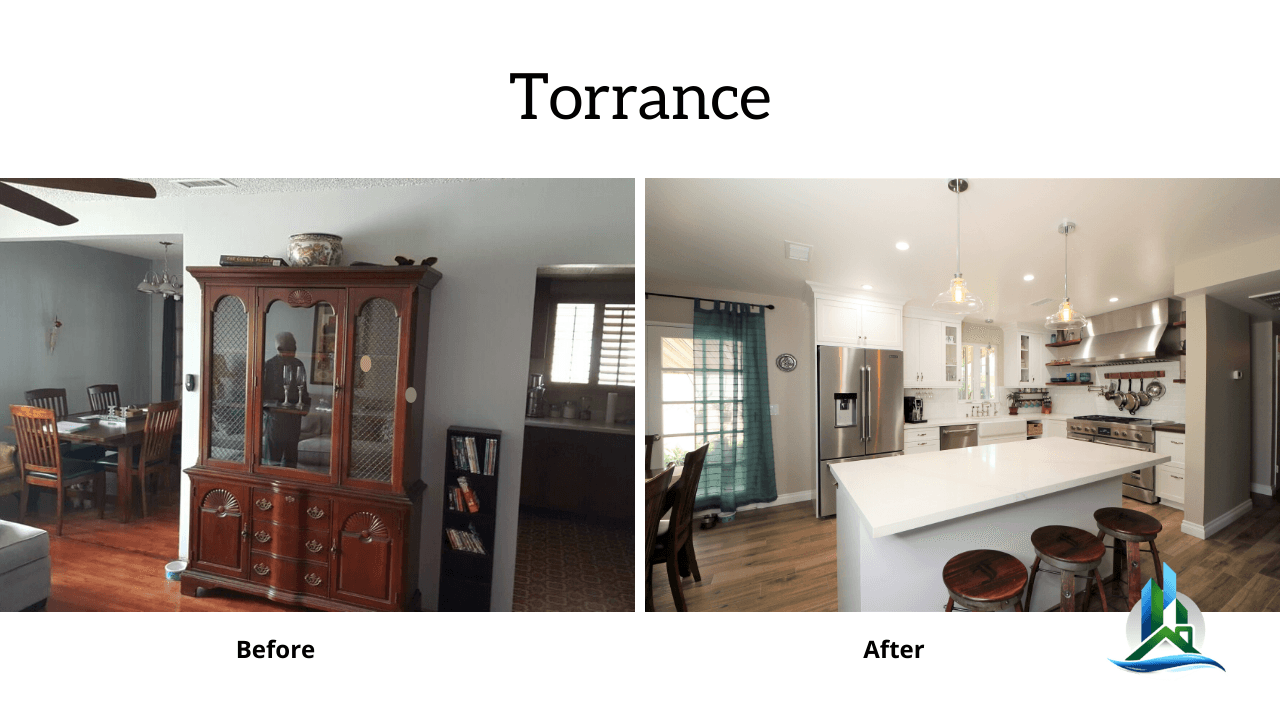 As you might have guessed remodeling a kitchen in a single-story house is much easier than in a two-story house. We remodeled this kitchen in Torrance to give it better flow and tons more space. The homeowners are grandparents to a large family and love hosting a Sunday Brunch every weekend - with this in mind our team designed a new "L" style kitchen that flows better than the old galley kitchen.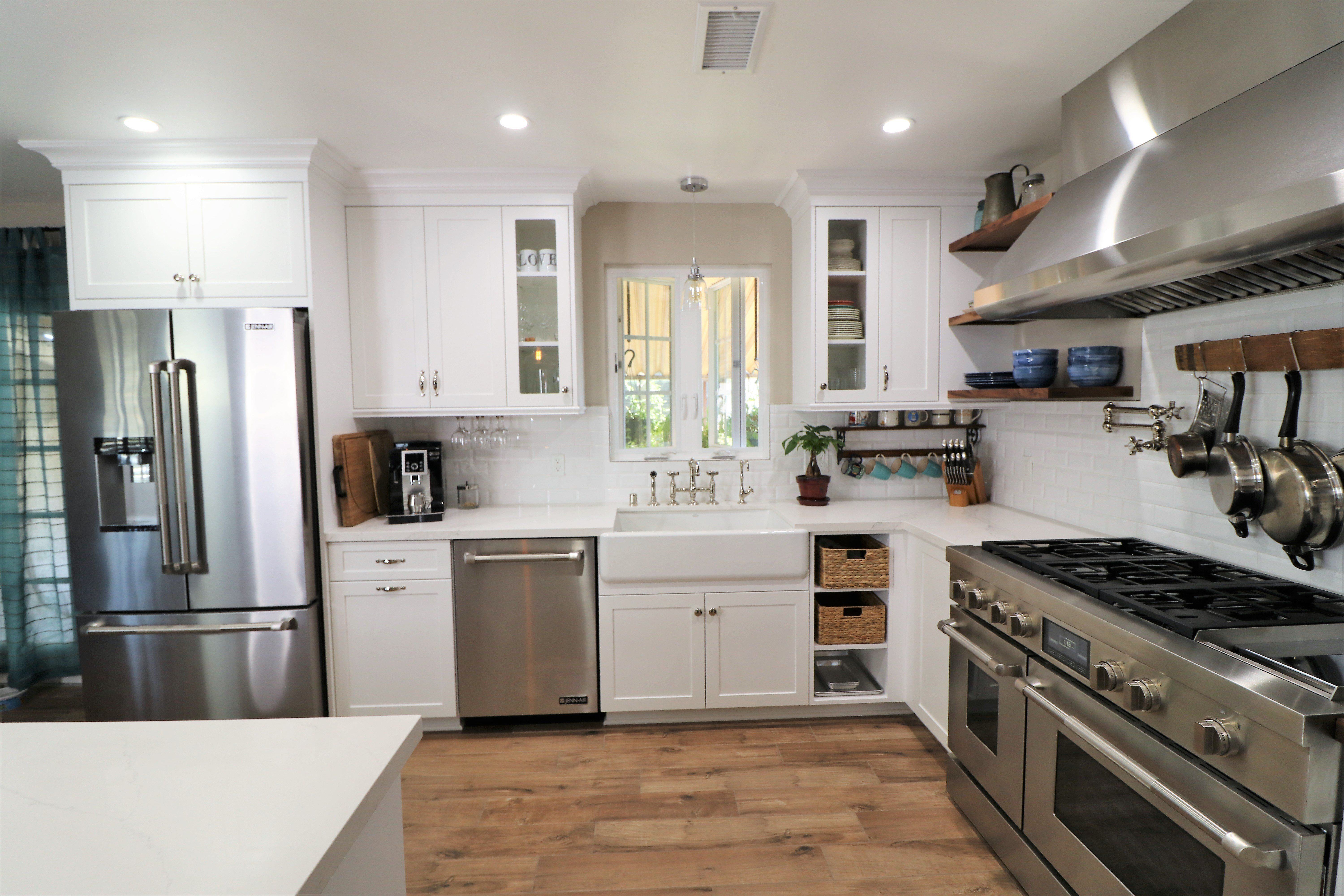 You can see in the picture above that the kitchen had an existing beam running across the kitchen and dining room, but we replaced it with a larger beam to be installed flush to the ceiling to create a truly seamless transition. By removing the wall we created a bigger footprint for the kitchen; the L layout offers more storage and the space to install a large center island with a cantilevered edge for additional seating. We increased the form and function of both the kitchen and living room.
Open Concept in Rancho Palos Verdes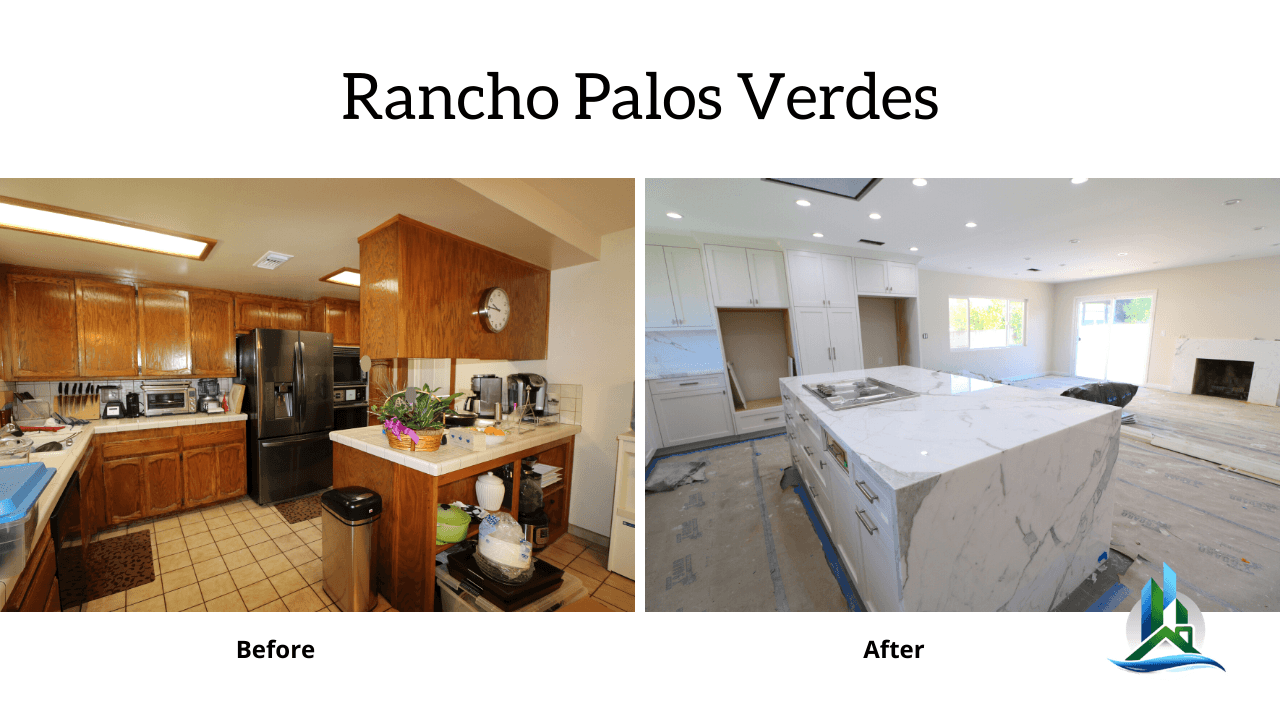 The typical Rancho Palos Verdes kitchen is big but stuck in the 1960's (that's when most Rancho Palos Verdes homes were built). Building an open concept kitchen in the 1950's was nearly impossible or cost prohibitive, but modern building techniques allow us to design open designs in older homes, and thats exactly what we did in this RPV Kitchen Remodel.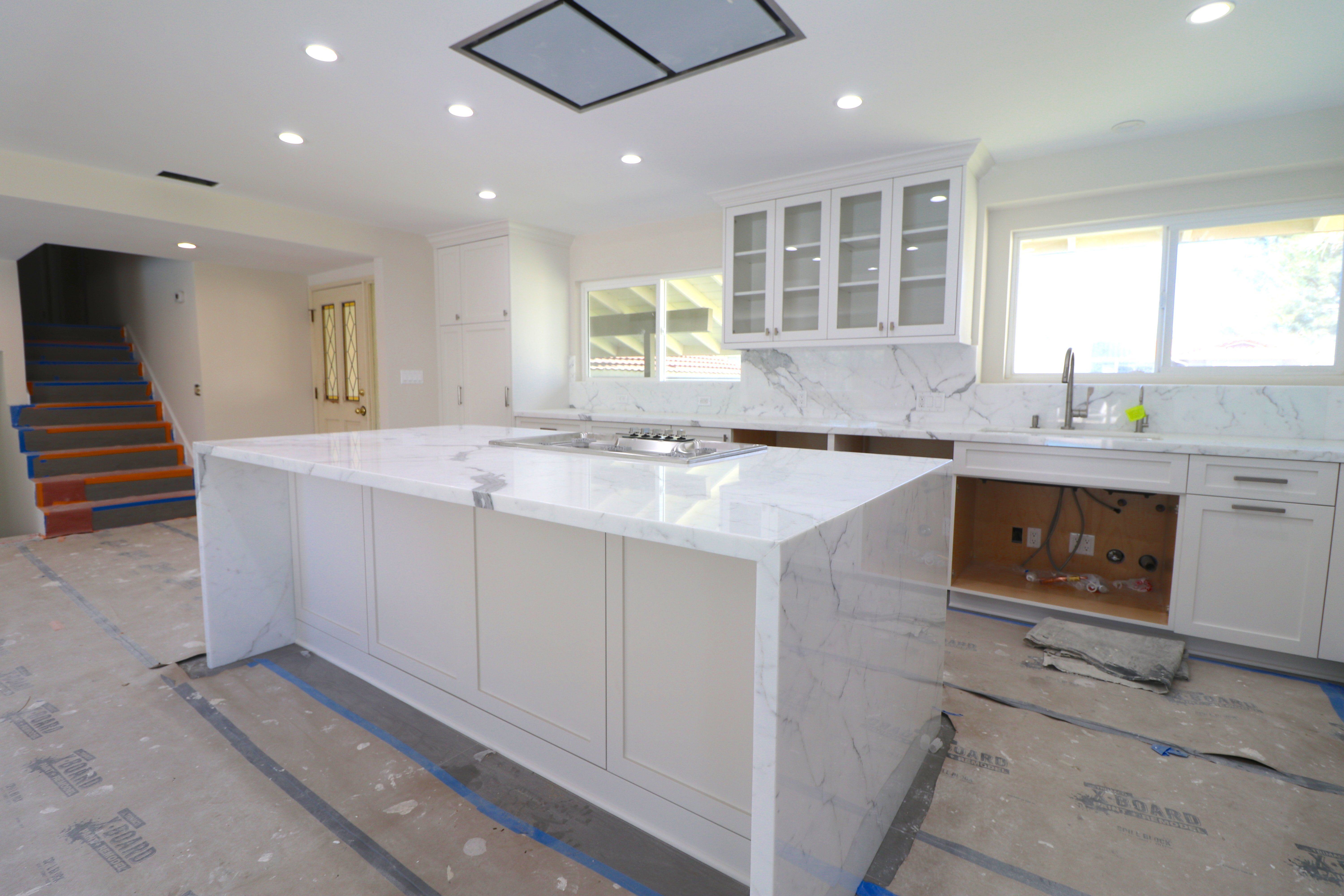 The original kitchen felt small despite it's large footprint. The galley style layout was the wrong choice and partition-wall between the kitchen and living room made it seem even smaller. We knew there was tons of potential to create a grande space by simply removing the load-bearing wall and giving the kitchen a new layout. As you can see in the picture bellow, the kitchen now features plenty of storage thanks to its new layout. There's additional (secret) storage in the center island as well.
Open Kitchen in Palos Verdes Estates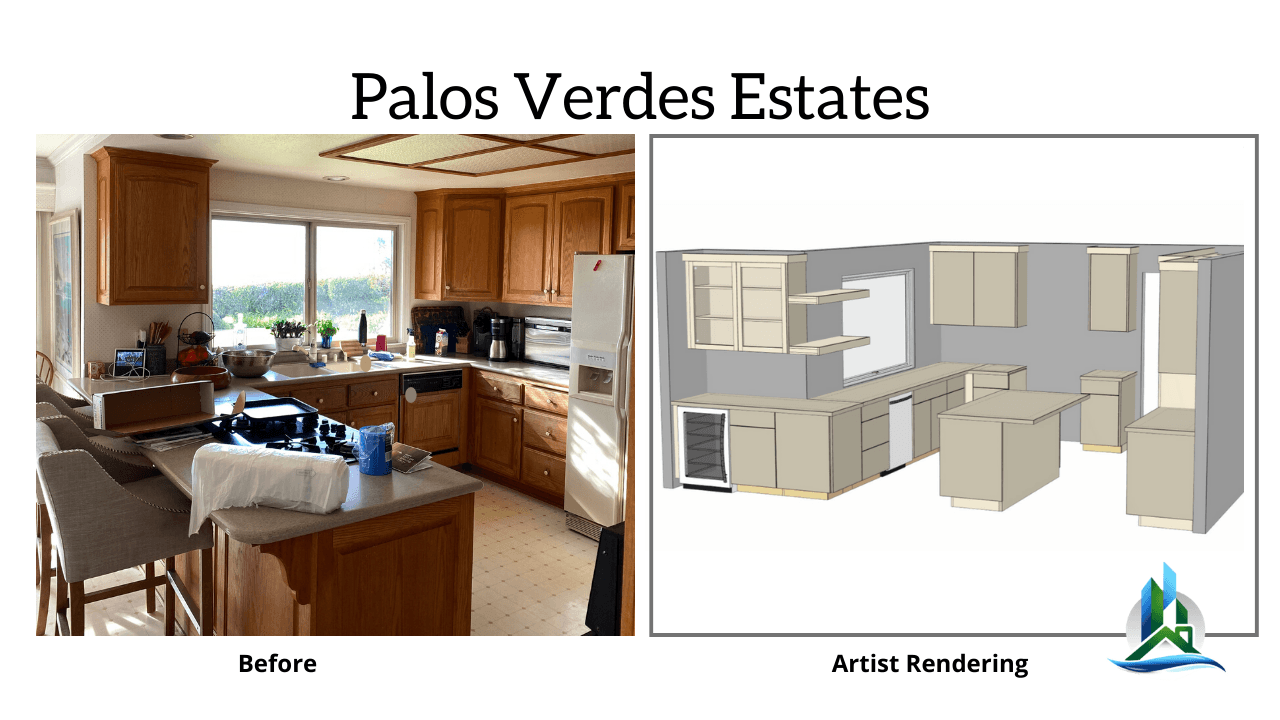 This kitchen is Palos Verdes Estates is our latest open kitchen remodel project. This two-story PVE home requires more thought and consideration because of the larger dead lodes carried by the frame (the second floor is heavy), so removing a critical wall requires special attention. Our plan is to create an open kitchen by removing two walls, the project will require a new beam to carry the load of the second floor.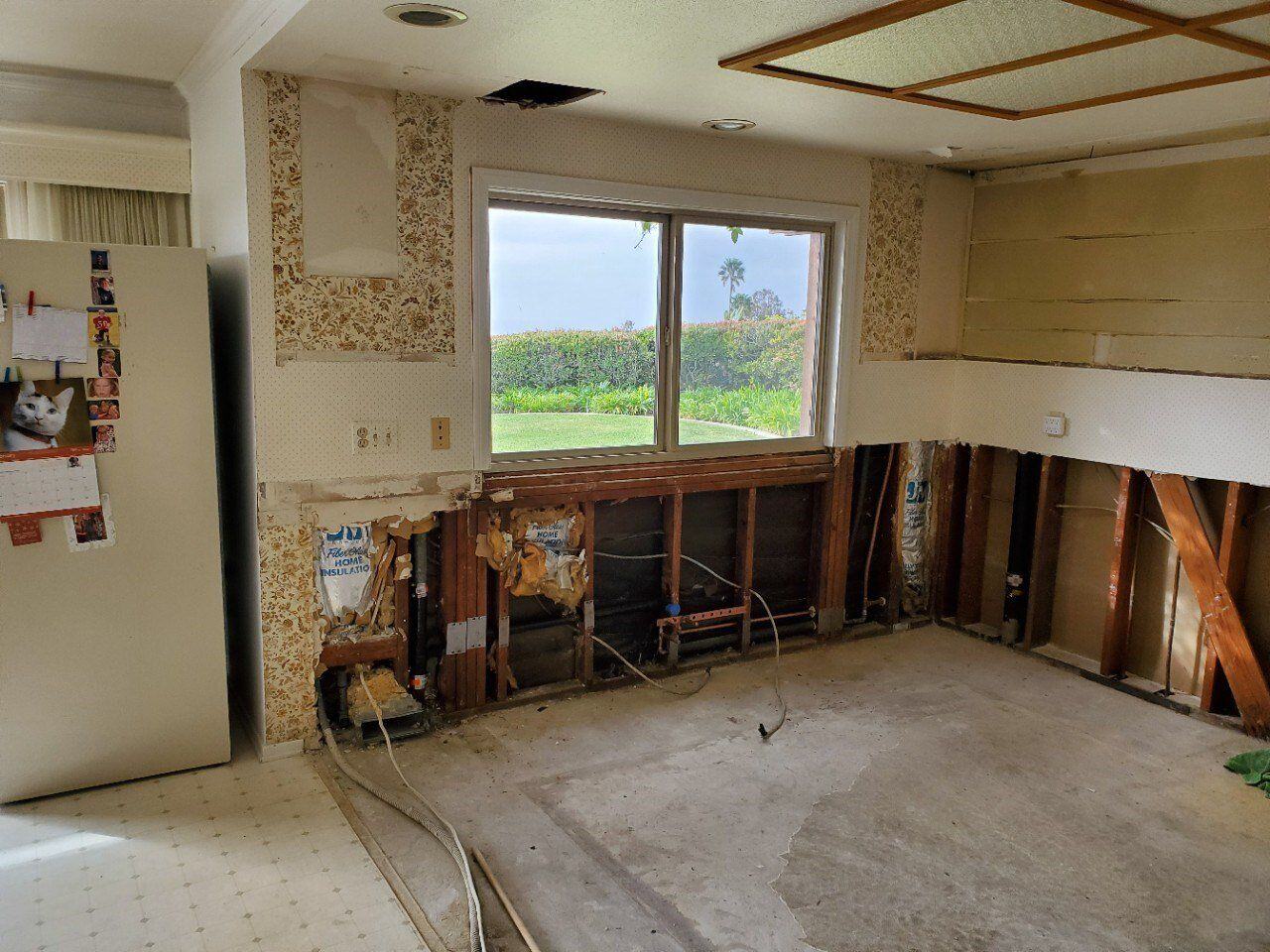 Our first step at this project was to remove stucco in certain areas to expose the framing, forensic demolition allow us to 'see what we are working with' and design for those field conditions. We encountered floor joists that changed direction several times, but our engineers designed a framing solution that takes this into consideration. Since we'll be concentrating new loads on the foundation we will need to reinforce the slab with new footings where we plan to install new posts. These are are all conditions that drive up the cost of the remodel (remember: 'more work = higher price') but you won't need to worry about things like this if you own a single story home. We are currently building this kitchen, but you can expect to see more pictures of this kitchen on our social media channels.
Watch Our 'Open Concept' Webinar:
---
Want to learn more?
If you want to learn more about kitchen & bathroom remodeling I have over 200 articles for you to learn the ins-and-outs of home remodeling in the South Bay. Here are some articles that I think you will find useful.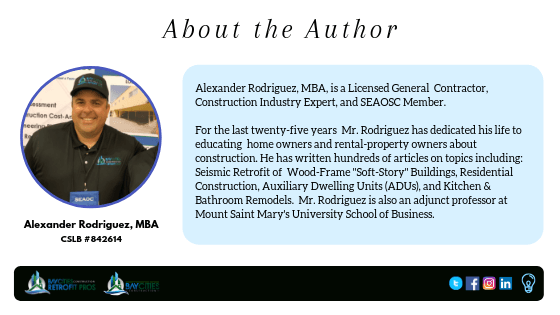 Download our free Kitchen Remodel Calculator below.