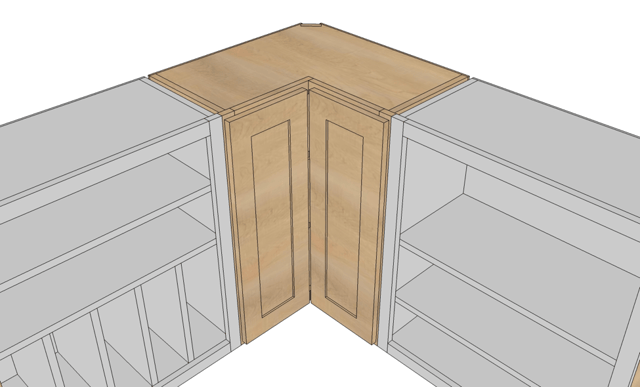 Anyone who has remodeled their kitchen recently will tell you there is one dirty-secret nobody talks about … blind corners! This problem is quite common in older homes when homeowners replace old kitchen cabinets. Blind corners are a result from two cabinet frames adjoining together at a corner generating a space that is oddly shaped and sometimes hard to utilize. You can see from the sketch below how this intersection creates a large space that is hard to pair with a cabinet door or drawer.
For over 15 years our team has helped hundreds of homeowners across the South Bay region of Los Angeles with their kitchen and bathroom remodels. Our experience with several types of kitchen layouts allows us to write this article with real world experience; our team has helped design kitchens that include the installation of these blind corner cabinet solutions. This article is designed to help you choose the best blind corner solution for your upcoming kitchen remodeling project. If you need expert advice with interior design, architectural & engineering services, construction project management, and construction, Bay Cities Construction is ready to help you with your home remodeling project.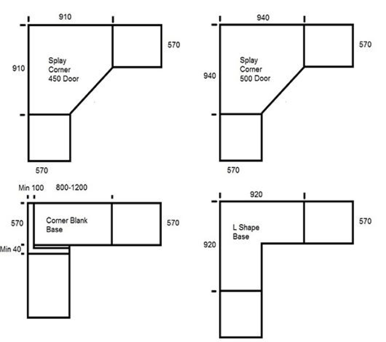 Cabinets situated on the corner are usually the least used cabinet because of their irregular shape. You can also find blind corner cabinets in the bathroom. Although the space is awkward there is still hope, there are some solutions to help utilize blind corners in a more efficient manner. Our quick little article will help explain why blind corners aren't so bad after all. We will cover the most popular solutions you can consider when dealing with a blind corner.
Lazy Susan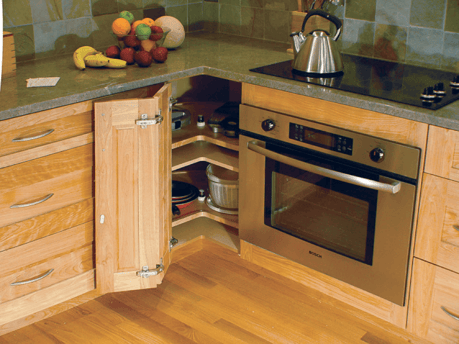 One of the quickest and simplest ways homeowners deal with blind-corners is by installing a revolving tray, commonly known as a "lazy Susan". Believe it or not, this simple gadget can help you make better use of the corner cabinet. There are also different kinds of lazy Susan's you can choose, but they all involve a rotating platform. A cabinet-carousel is similar to a lazy Susan, but they are supported by a central pole. Lazy Susan sit atop shelves within the cabinet. If you want a no-frills solution to your corner cabinet debacle then a lazy Susan is the right bet for you and your new kitchen.
Half Susan/ Half Moon Shelves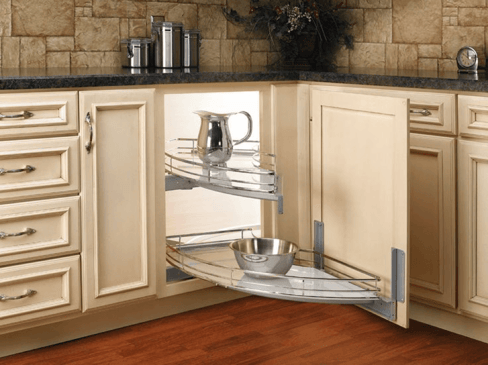 Lazy Susan's are simple, but they are not without flaws. Half-Susan's, commonly known as "half-moon" cabinet shelves are larger and swing out for easier access. When a cabinet is opened, half of the shelf extends outward. Circular lazy Susan's are not the best solution for large spaces because they waste valuable corner space within the cabinet. This is one major advantage against regular lazy Susan's. These half-moon cabinets rotate and swing out. If you want an upgrade from a regular lazy Susan, then this half Susan/half-moon shelf design is definitely for you.
Diagonal Cabinet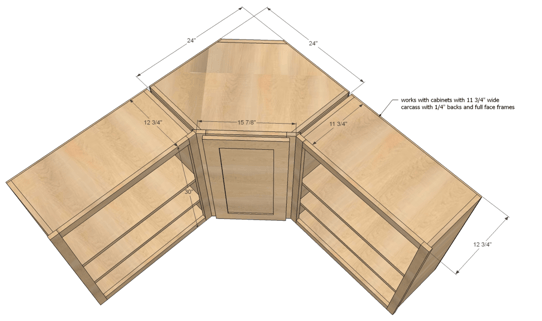 Diagonal cabinets are another option you have when dealing with blind-corners. The large cavernous space remains the same, but the cabinet door sits diagonally between both corners. This design trick hides the problem in plain sight, the corner is quite literally eliminated. Diagonal cabinets are a simple way to hide corners, but their only drawback is that the cabinet door is smaller than the cabinet itself, many homeowners pair diagonal cabinets with lazy Susan's. Installing a diagonal cabinet is one of the easiest and simplest ways homeowners, interior designers, and general contractors deal with blind corners. If you want your kitchen to have seamless cabinets, then a diagonal cabinet in the corner is the right choice.
Corner Pull-Out Drawer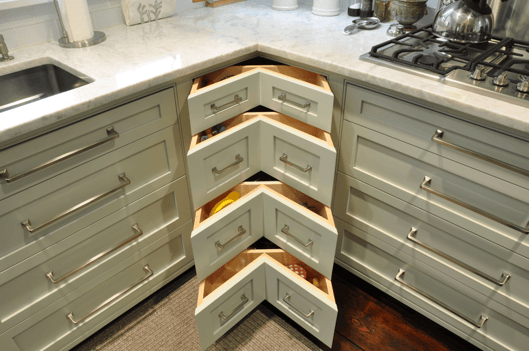 Did you know that you can completely forego installing a base cabinet in the corner and instead choose to install corner pull-out drawers? They have an odd shape, but otherwise they are just like regular pull-out drawers. In fact, corner pull-out drawers are longer and can fit more items that regular drawers. But keep in mind that this is only an option for base cabinets. Choosing corner drawers can showcase bold design and creativity on your part. Corner pull out drawers are available from all major cabinet manufacturers.
Magic Corner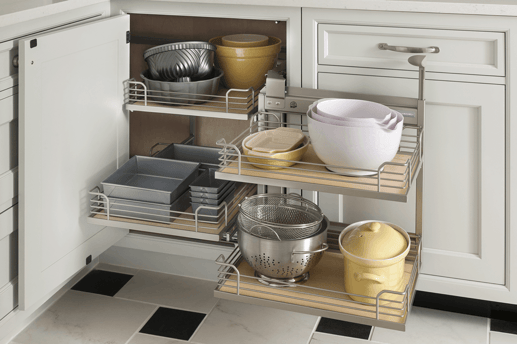 If you have ever seen a magic corner, you'll know why they are called "magic corners". Magic corners are interior hardware that allows metal-rail shelves to swing completely out into the open. Some manufacturers also call them pull-out trays. They are available in two tiered and three tiered models and are available for right or left-handed openings. If you plan on storing heavy pots and pans in your corner cabinets, this is your best bet. But you'll want to leave installation up to a professional, installation of magic corners can be "tricky" (pun not intended).
Watch: Custom Cabinets vs Semi-Custom Cabinets. What's the Difference?
---
There you have it, these are the most popular solutions homeowners choose when dealing with a blind corner. Blind corners present unique challenges, but with the right solution you can make good use of the space. Planning and organizing a kitchen remodel can be stressful if you aren't sure where to start. If your project is large and complex, you'll really benefit from hiring a professional. But did you know that hiring a team of pros is better than hiring an interior designer and general contractor separately? Our team at Bay Cities Construction has helped hundreds of homeowners across the South Bay with their home remodeling projects.
Bay Cities Construction is a California Licensed Contractor that provides interior design services, architectural & engineering services, project management, and construction services. Our team has the expertise to design and build your next home remodel project.
Are you ready to take the next step? We're certain that Bay Cities Construction is the best licensed general contractor for your project, you can Schedule an Appointment by clicking HERE. We offer a complimentary 1-hour consultation at our office so you can meet our team, and we can get to know your project and needs.