4 min read
Keep Your Kitchen Organized: Popular Cabinet Features from Rev-A-Shelf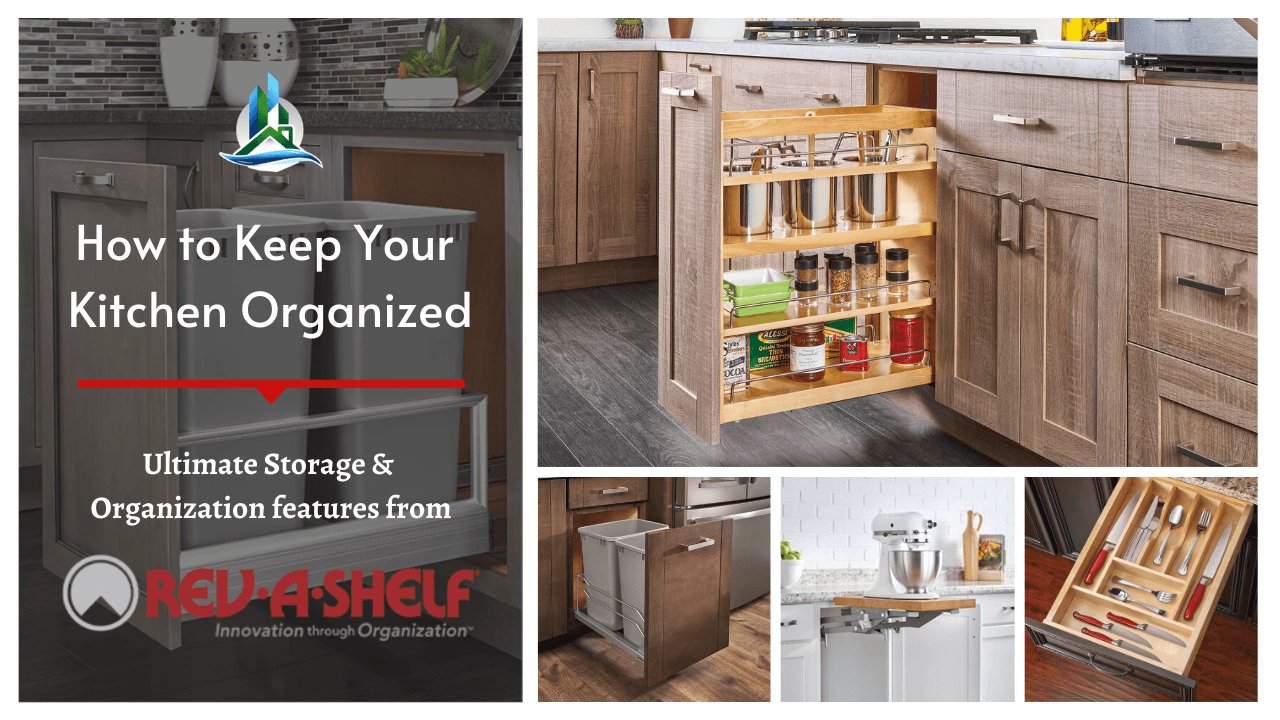 The right storage & organizational features in your home can make your life so much easier - so choosing the right one for your specific needs is important.
If you are remodeling your kitchen using custom, or semi-custom cabinets, you can design your dream kitchen with special pullouts for things like trash bins and even pots and pans. There are plenty of cabinet pullouts and drawers to choose from, so how can you make sure you're getting the right one? We have over 20 years of kitchen & bath remodeling in the South Bay area of Los Angeles we want to share what are the most popular kitchen cabinet features we install, and which ones are worth spending a few more bucks on.

What are Cabinet Storage & Organization Features?
Cabinet storage & organization features are specially designed inserts, pullouts, and containers that are installed and built-in your brand new cabinets to help keep your items stored away neatly. The most widely known type of built-in storage solution is the Lazy Susan found in blind-corner cabinets. Pull-out shelves can bring new life to your often dreaded corner cabinet, and can allow you to access things more easily.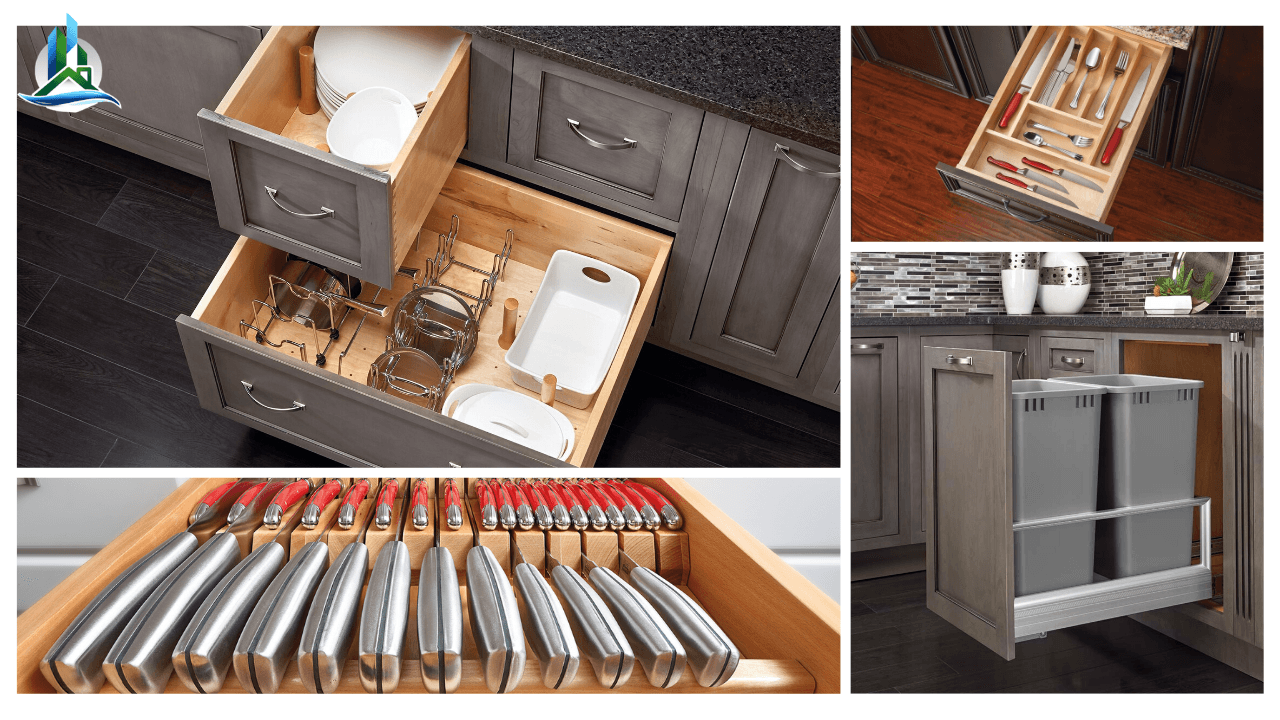 There are drawer inserts for organizing flatware, cookware, and even spice containers. One of the most trusted names in cabinet storage solutions is Rev-A-Shelf, since 1984 they have produced over 500 different storage solutions. Pictured above are some of the most popular drawer inserts that we have installed on custom cabinets over the years.
Popular Storage Features
Trash Bin Pullout
The right storage & organizational can make things easier to find - or in some cases, easier to hide. By far the most popular pullout that we install in our kitchen remodels is the trash bin pullout. If smelly trash is getting on your nerves, these convenient and easy to use trash pin pull-outs allow you to keep odors in check, and trash bins out of view under the sink!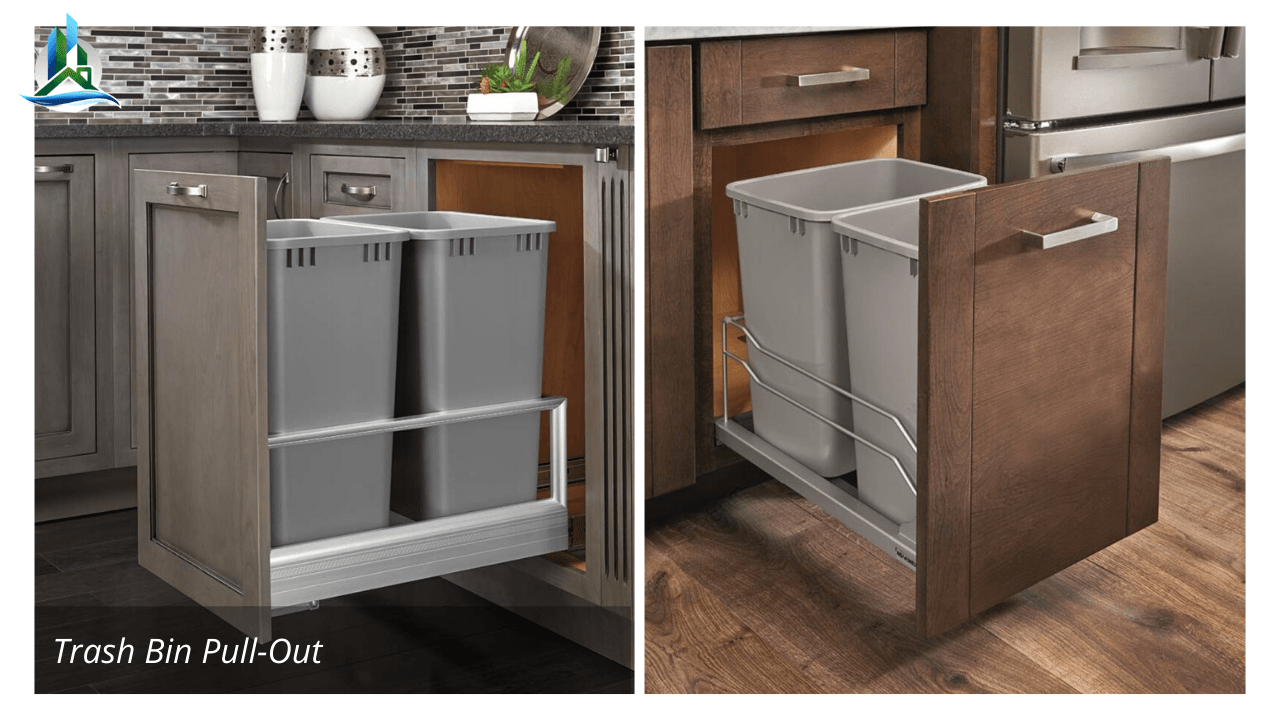 There are plenty of variants to choose from including stainless steel waste containers or simple polyurethane trash bins that makes sorting between trash and recyclables easy!
Blind Corner Pull-Outs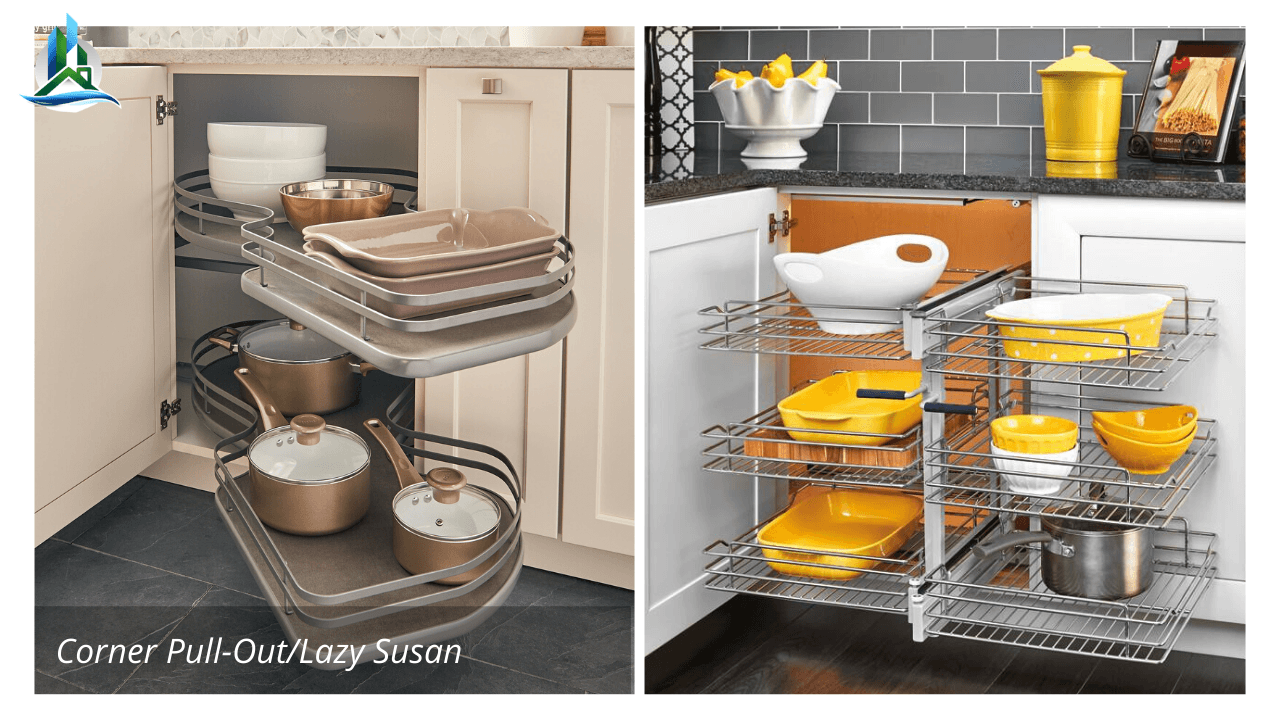 A common problem that homeowners run into when designing their new kitchen is the dead-corner. Cabinets situated on the corner are usually the least used because of their irregular shape, they often end up as a pit of despair. But there is hope. Companies like Rev-A-Shelf make revolving shelves and Lazy Susans that can be installed in the corner cabinet to maximize its' use.
Vertical Pullout with Peg Board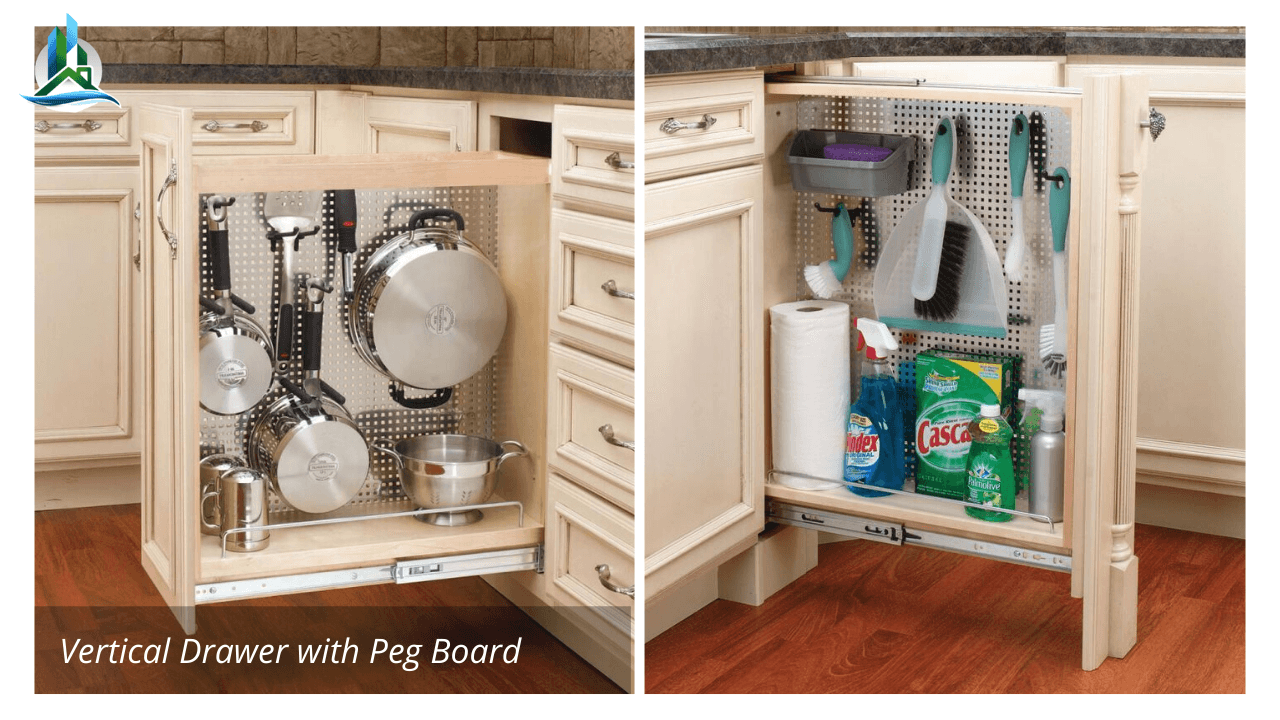 In a well designed kitchen you'll find a balance of base cabinets and drawers. Drawers are great for small items but did you know they can also be used for things like pots and pans? A vertical base cabinet pullout with stainless steel panel can let you store frying pans and sauce pans with a breeze. These organizers let you use a variety of accessory hooks to give you quick access to almost anything.
Pantry Pull-Outs & Swing-Outs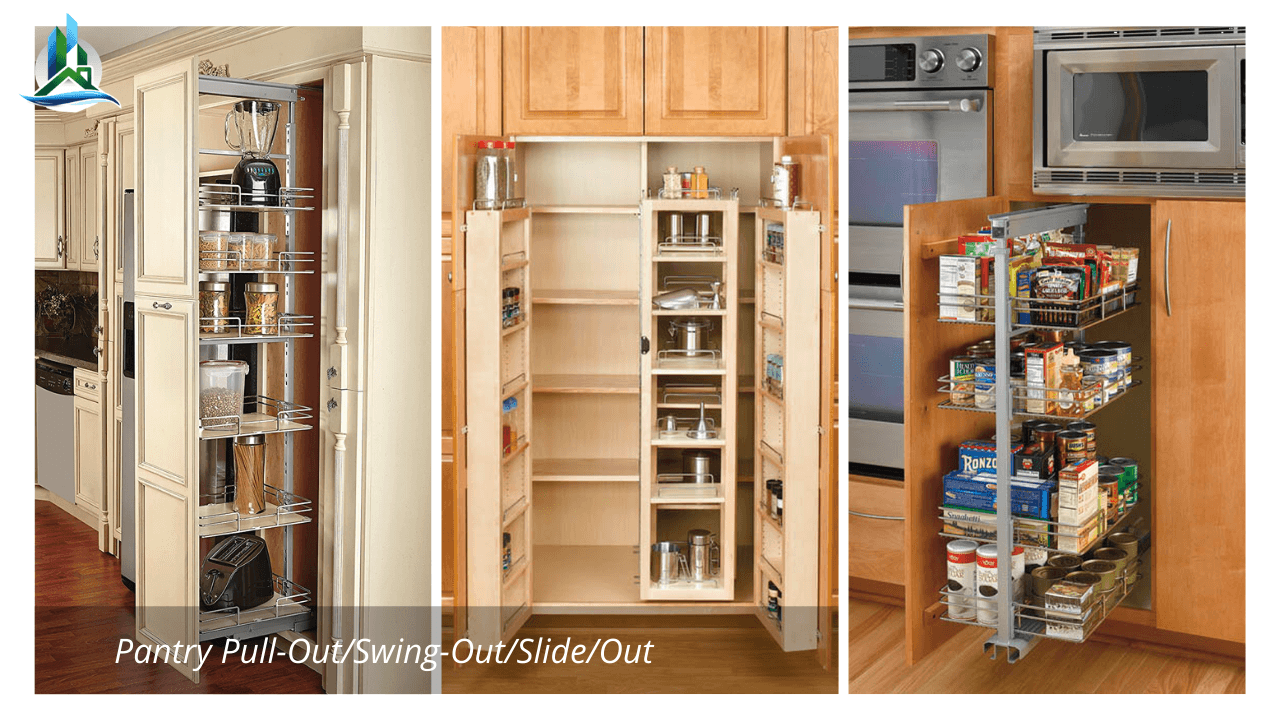 If your kitchen is large enough to have a pantry you can enhance its functionality and elevate it to a whole new level. Depending on the size of your pantry cabinet, you can get tall slide-outs and shelves that swing out. These drawers give you easy access to all your pantry staples without the hassle.
Trim/Filler Pull Out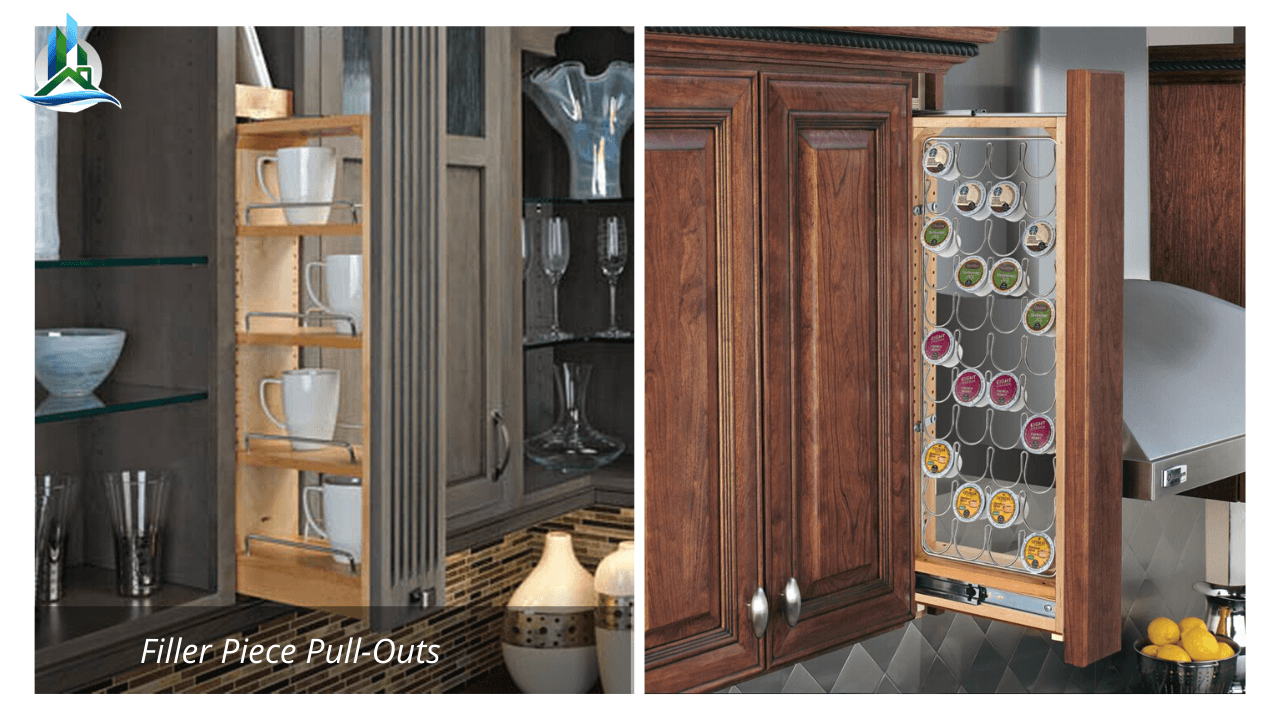 Normally a "filler" or extra space on the cabinets are simply covered up with a decorative front - but these sliding units from Rev-A-Shelf turns an otherwise waste of space into a handy space. Available in 3" and 6" widths, these sliders help you put away small items like mugs, canned goods, or even small containers. The perfect time to get these sliding fillers installed is during a new kitchen remodel since this unit cannot be retrofitted to older, pre-existing cabinets.
Drawer Inserts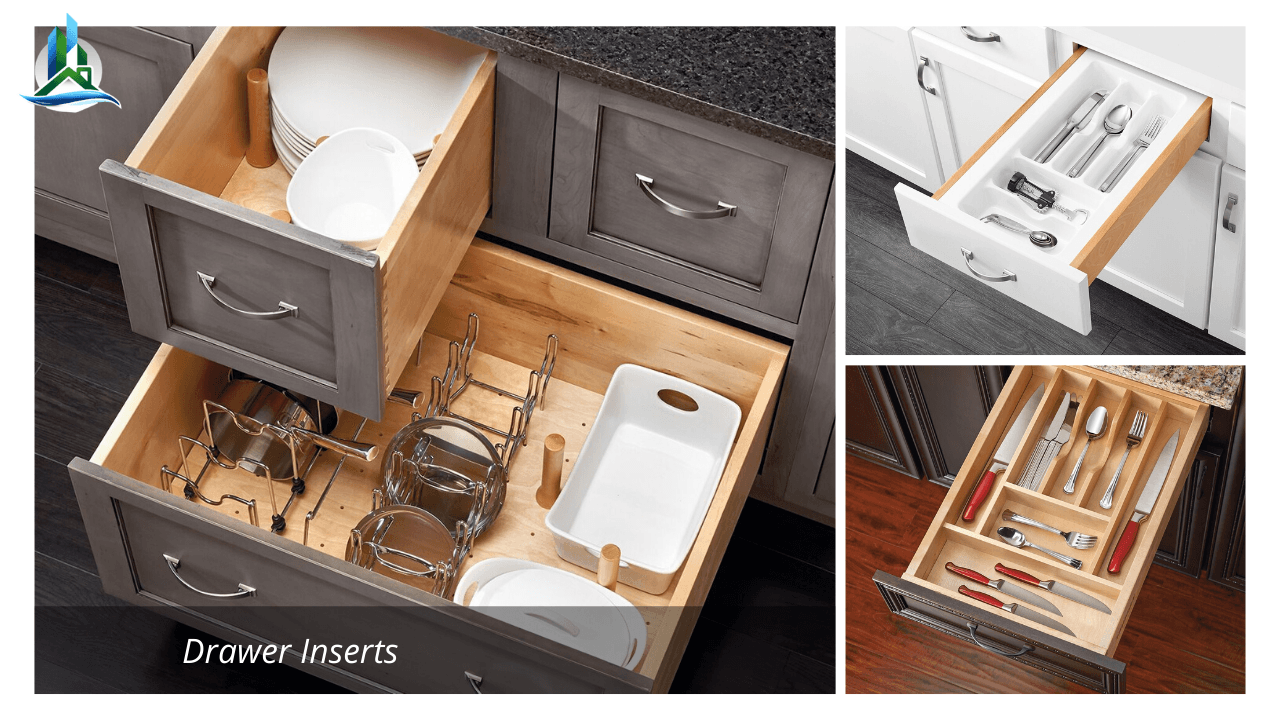 Drawer inserts are an easy and affordable way to get your kitchen organized in a breeze. There are inserts available for nearly everything - these are just some of the most popular inserts we have seen over the years. You can conveniently store all your cutlery, utensils, and knives by installing this organizational insert. Do you have a knack for cutlery? Theres an insert for that. A double knife block, like the one pictured bellow can help keep your knives organized and within easy reach.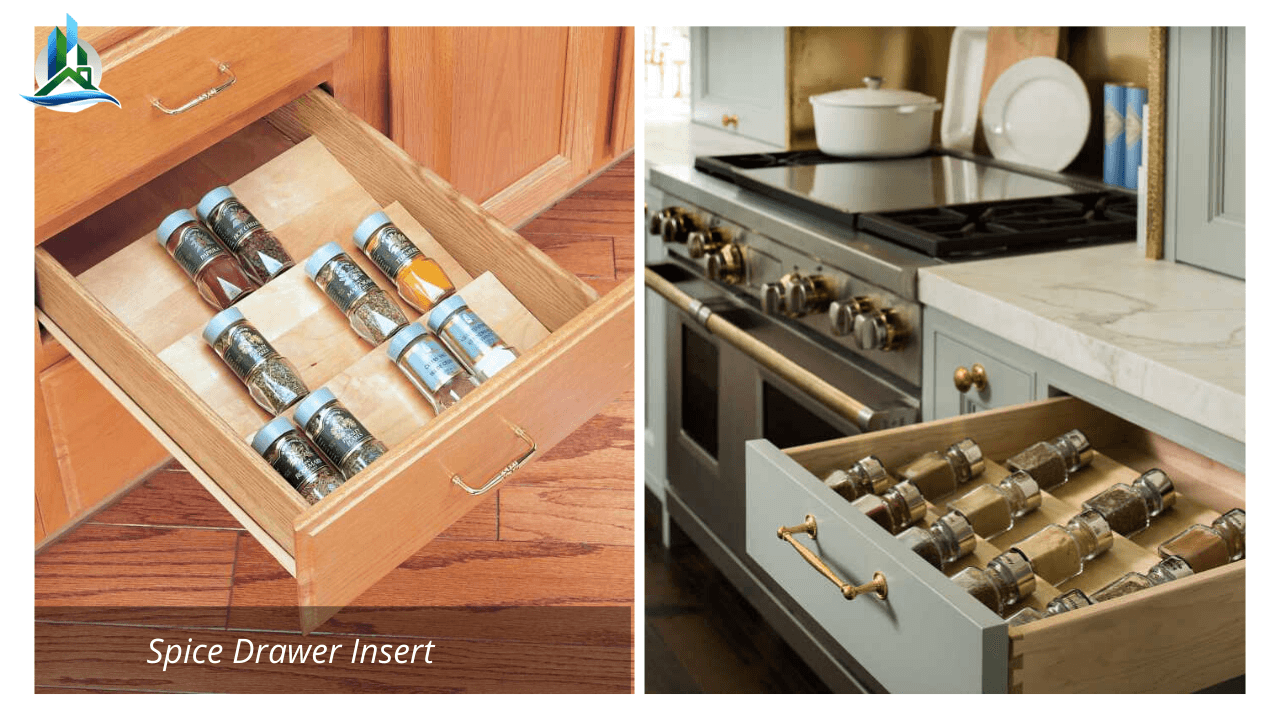 No kitchen is complete without a spice drawer insert - this easy to install insert keeps spices stored away in a drawer near the stove, freeing up valuable counter space. With a tiered configuration, you can clearly see the front label of each container for easy access.
Charging Drawer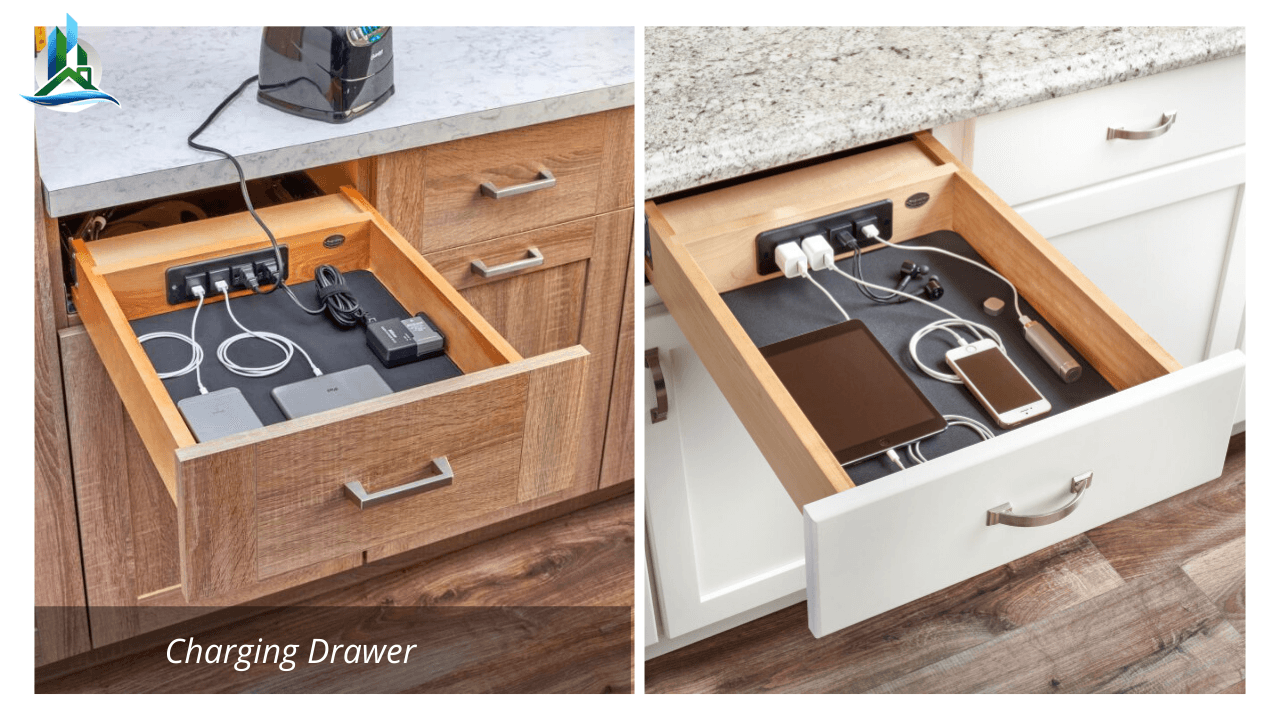 Charging drawers are all the rage in new remodels - with a specially designed power strip, a charging drawer lets you charge all your electronics together in a single location. These drawer inserts come with multiple outlets that allow you to charge all your gadgets. Your phones, tablets, cameras are charged up while remaining out of sight. Large families often fight for outlets - but with this charging drawer you'll have no problem finding an outlet.
Mixer Lift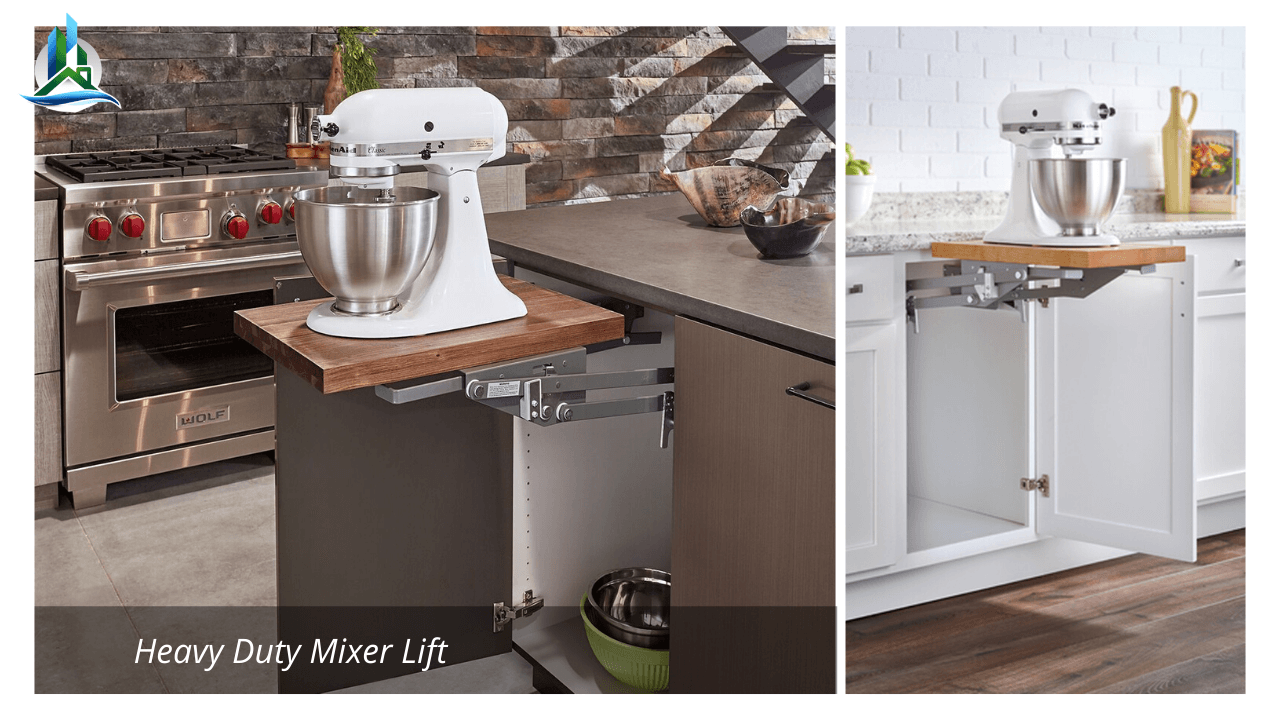 Bakers rejoice - if you love to bake but hate taking out your heavy mixer, this mixer lift is what you've always wanted. These heavy duty lifting shelves can hold up to 60 lbs! This spring assisted mechanical lift does all the heavy lifting - all you have to do is open the cabinet, and gently lift the mixer to cabinet height. No baker's kitchen is complete without this heavy duty mixer lift.
Who is Rev-A-Shelf?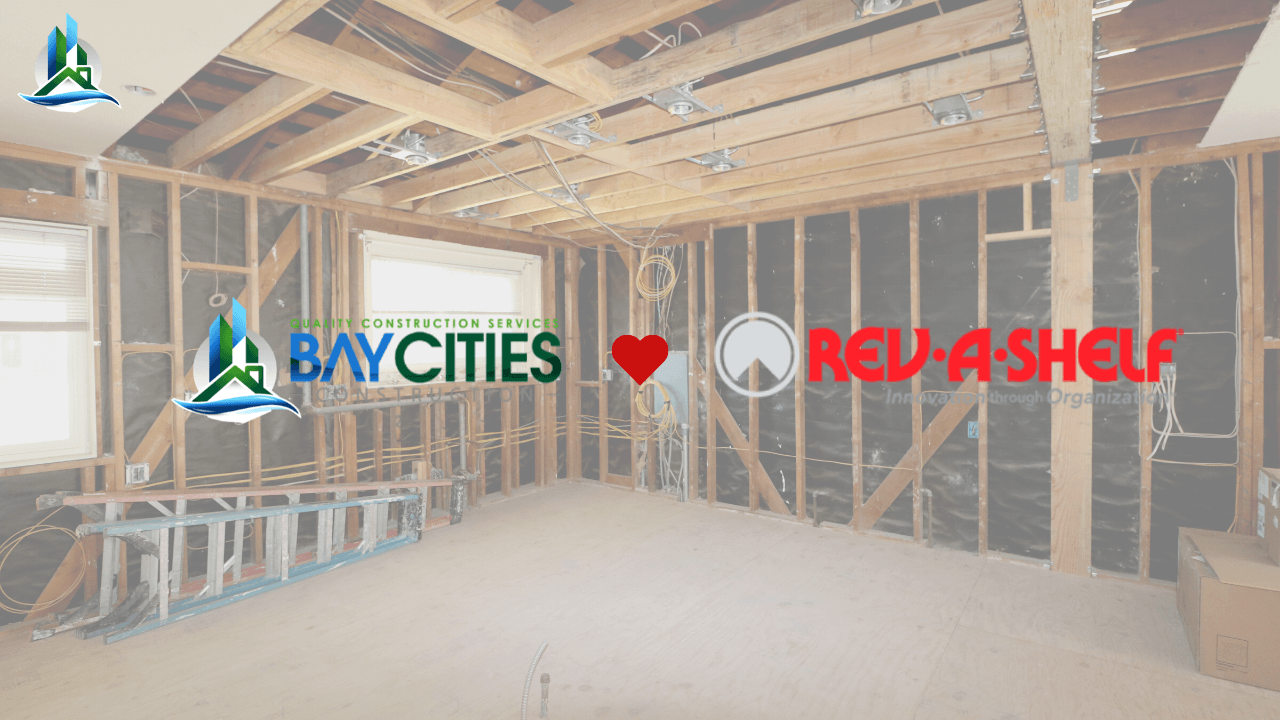 Rev-a-Shelf is a world leading manufacturer of kitchen storage & organizational products. Founded in 1984, they first began manufacturing metal and polymer components for Lazy Susan's. Since then, they have since grown into a market leader of innovative cabinet storage & organizational products.
We love using Rev-A-Shelf products for our custom kitchens because they are made of high-quality components and are made in USA. Want to get your kitchen organized with any of these products? We can help!
---
Want to Learn More?
Watch The Construction Show Ep 39 - Ultimate Cabinet Features
Did you like this article about kitchen remodeling? Let us know what you think in the comments bellow. For the last 20 years I have been remodeling kitchens & baths in the South Bay and I am proud to serve the Greater Los Angeles area. I have built this website to help you learn about kitchen & bath remodeling and home improvement - so I invite you to visit my Remodeling Blog. I have over 300 articles to help you learn everything you need to know! I look forward to hearing from you!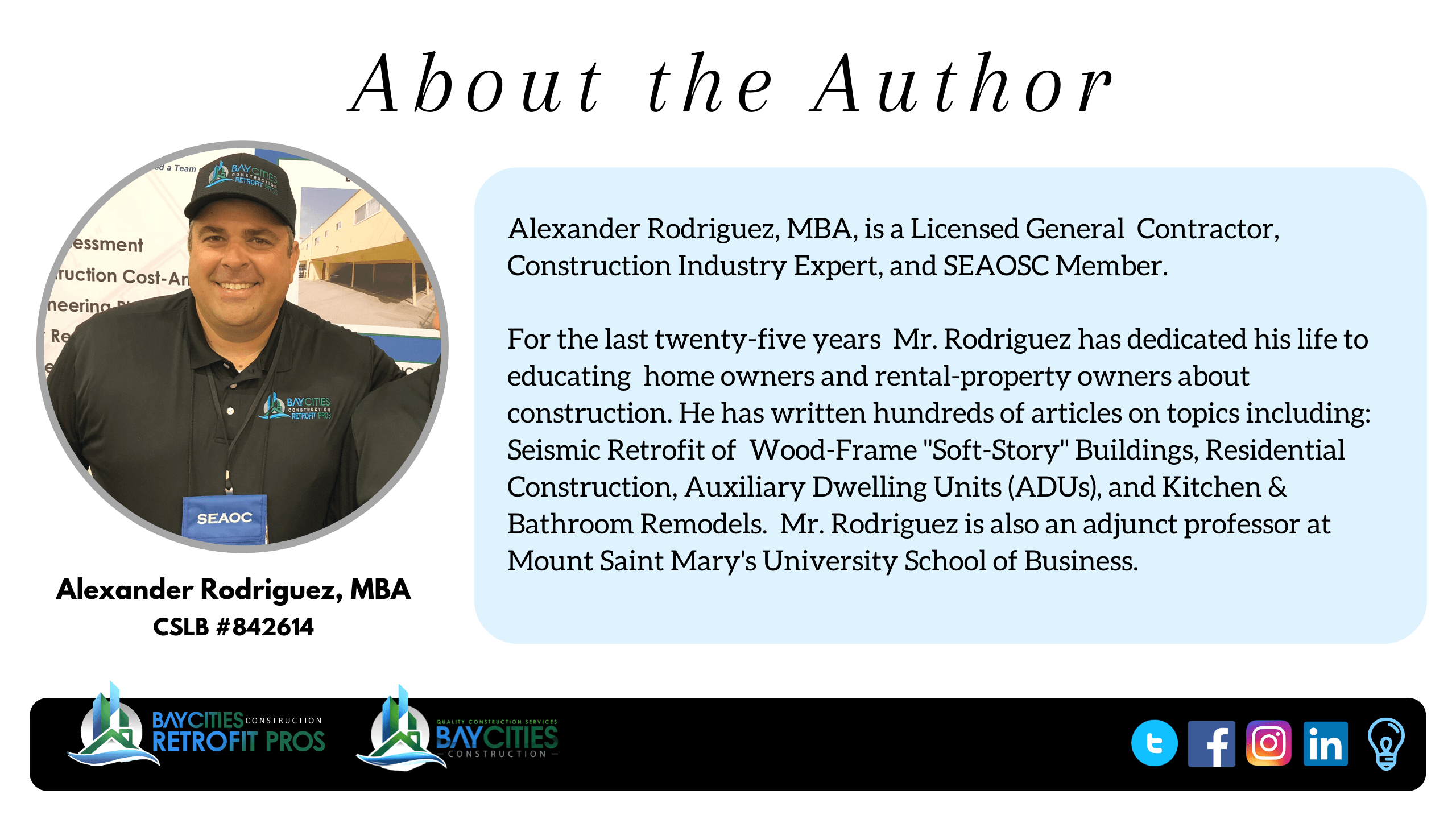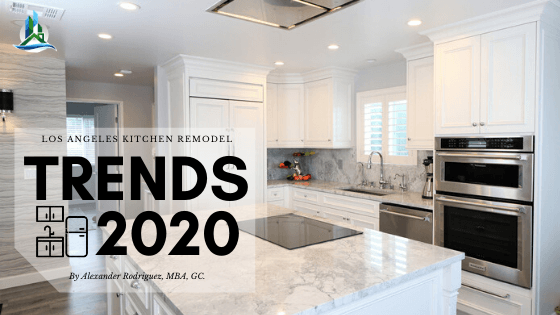 6 min read
Happy New Year, as we enter a new decade, homeowners are considering ways to give their kitchen a new look.
Read More