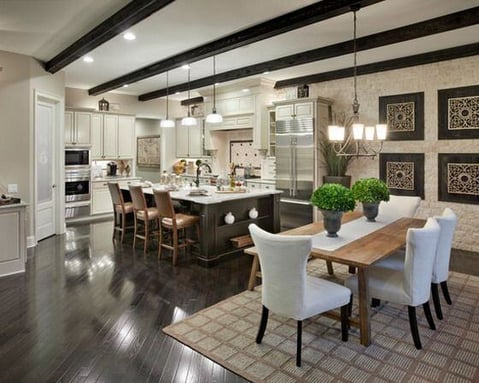 Open kitchen layouts are extremely popular today. Many people use their homes for entertaining or
during the holidays. It creates an environment that is more welcoming and communal, and as an added bonus it creates the illusion of more space!
If you're remodeling your home and want to create and open kitchen floor plan, there are several ways that you can go about it. Not every option works well for every kitchen.
Wall removal: Wall removal is a great place to start, because it immediately creates an open space. It's important that you consult with a contractor and designer to see if removing a wall is even possible; sometimes walls may be load-bearing or may be concealing important electrical, plumbing, or venting, that can be extremely costly and difficult to remove.


Remove upper cabinets & peninsula: Kitchens in the 80s and 90s were designed with upper cabinets directly above a peninsula. While this may be good for storage, the design is not very practical for creating an open environment. It is basically the equivalent of a solid wall, and unfortunately creates the illusion of a small kitchen. The easiest way to fix this, is by removing the upper cabinets, this will then extend your line of sight and make the room feel a lot larger.


Eliminate soffits: Soffits make the ceiling look low, which can then make the room feel smaller. If your budget allows- remove the soffits, replace cabinets that extend from the floor to the ceiling, this will give your kitchen some added space.


Add natural light: The more natural light that reaches a room, the more open it will feel. Knocking down a wall may give your kitchen more access to light. But like we mentioned earlier, sometimes you can't take a wall down due to beams and other things. Your other option is to add a window or widen an existing window. You can also install a skylight (but you should do some research before deciding on that choice).
While these are just a few techniques that a contractor may use to create an open kitchen layour, the best is to call a contractor. They will come out to your home and assess your project. They will then be better able to gauge exactly what needs to be done and how much it will cost to get your open kitchen.