Los Angeles is a different type of place, especially when it comes to home remodeling. Glitz and glamour are not just reserved for the red carpet, you can find high-end touches across Southern California homes. According to KPCC the average home price in California is above $600,000 so spending more than $50,000 on a kitchen remodel is not unusual. Just in case you hadn't noticed, prices for a home remodel in Los Angeles are higher than the national average. HomeAdvisor reports that the national average for a kitchen remodel is $22,359, much lower than a kitchen remodel in Los Angeles. If you venture into affluent neighborhoods like Brentwood, Pacific Palisades, Rolling Hills, Malibu, Santa Monica, Manhattan Beach, Redondo Beach, or Palos Verdes Estates, you'll have no problem finding a kitchen worth over $100,000 alone. Afraid of the high cost? There's no doubt that you can renovate your kitchen for under $10,000 but it will be more of a cosmetic makeover than a true remodel. So what does it take to remodel a kitchen in Los Angeles? We've written this short article to get your kitchen renovation project started on the right foot.
Design to Build
The first thing you want to do for any home remodeling project is to set a budget you can work with. Your home remodeling budget should be large enough to address all your needs within the kitchen, while being small enough to afford. If you are planning on selling your home in a couple of years and want to get top dollar for it, then investing in a kitchen remodel is not a bad idea.
This is where an Interior Designer can help; a designer can help you establish a budget, while helping you select materials like tile, paint, and countertops that are within your budget. A professional Interior Designer will make sure you steer clear of any materials that might be out of your reach, thus possibly blowing your entire budget. In our experience customers can be shocked by the total price to build their project, but it's because people often forget about the labor costs involved in building a kitchen. This is especially true in Los Angeles where residential construction costs tend to be significantly higher than the national average. Hiring a professional makes the entire process easy and hassle-free because you'll know that all your selections fit within your budget. Sure, a homeowner can choose to do all the material selections by themselves, but it might take twice as long, or the materials might not be of good quality. During our complimentary consultations we often get asked if we allow customers to purchase their own materials, and the answer is no. Why? When customers purchase their own materials they often choose the cheapest options, which can end up being more expensive in the long run. Inferior quality materials tend to brake or fail more often than not, and we cannot offer any type of warranty because we did not purchase these materials on your behalf.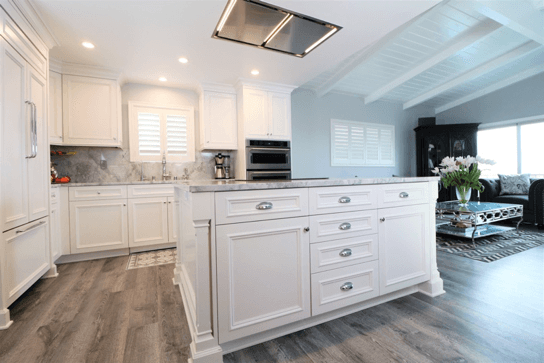 (Open Concept Kitchen in Hermosa Beach)
Los Angeles Style Kitchen
One of the most popular remodeling trends in Los Angeles is the Open Concept Kitchen. An open layout kitchen creates a seamless transition between the kitchen and dining, or living space. Once you step foot into an open kitchen you'll know exactly why everyone loves an open kitchen. If you love to entertain at home, then you should really consider this kitchen remodeling style. It will give you enough prep space in the kitchen and large enough space for guests in the dining room. As a general contractor we see all types of kitchen remodels, but an open kitchen is what most homeowners want to build. But keep in mind that this type of kitchen remodel is expensive because it requires walls to be moved, along with electrical, and plumbing lines that may be present within the walls. Whenever walls or moved, load-bearing or not, it will greatly increase the costs of your remodel. Additionally, if you have an older home, a kitchen remodel might trigger upgrades like re-piping, or electrical panel upgrade. Some professional contractors will suggest an "exploratory demolition" before starting your remodel for peace of mind. The exploratory demolition serves as an inspection to assess the state of the walls and the pipping behind it.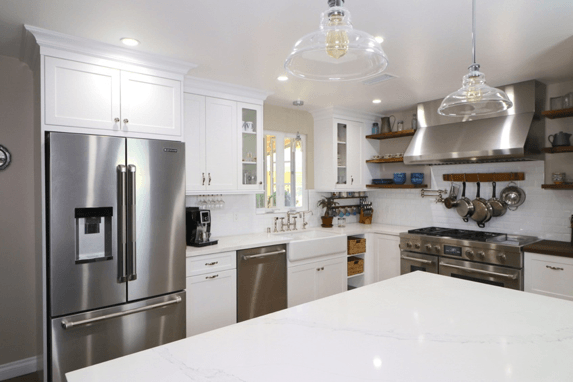 (Los Angeles Style Kitchen Remodel)
The typical Los Angeles kitchen remodel includes a fully tiled backsplash, stone countertops, porcelain sink, and fashionable plumbing fixtures. They also feature high-end appliances to complete the look of luxury, but we will be talking more about appliances in another section.
White cabinets continue to be the most popular cabinet color. They are clean, modern, and liked by all. Custom cabinets are perfect for large kitchens; pre-manufactured cabinets are best suited for smaller kitchens. At higher price points you can begin to incorporate designer features like faucets and cabinet pulls.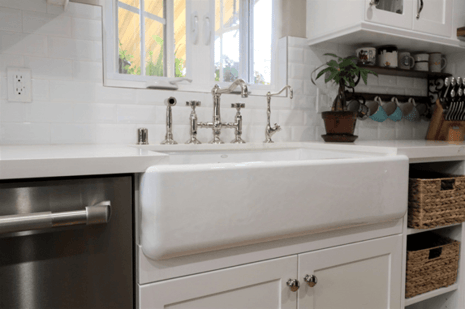 (Porcelain Apron-Sink)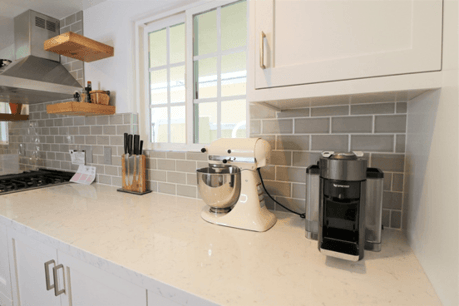 (Subway Tile Backsplash)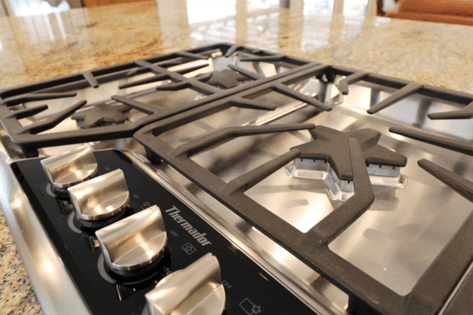 (Thermador 5-Star Gas Cooktop)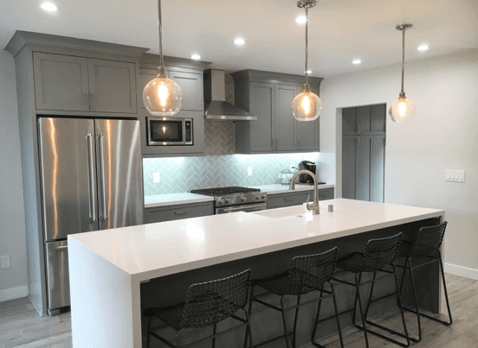 (Large Island with Waterfall Countertop)
What You Can Expect to Pay
Our team has been remodeling kitchens in the South Bay region of Los Angeles for over 10 years and we have truly seen it all. From small 10x10 kitchens, to large open concept kitchens, we've worked with all types of kitchen remodeling projects. Just as we mentioned earlier in the article, kitchen remodeling prices in Los Angeles are higher than the national average. So you can expect your renovation project to land within the three price-points below.
($) Basic but Beautiful – Expect to pay anywhere from $30,000 to $45,000 for a basic kitchen remodel. Your layout will remain the same, but you'll get prefabricated cabinets, lighting, countertops, sink, and modest plumbing fixtures.
($$) Bigger and Better – Expect to pay between $50,000 to $70,000 for a better kitchen. At this price point you can move things around, like the location of the sink, and your appliances, or even a center island. You'll get custom cabinets, better countertops, tile & paint selections, and better plumbing fixtures from brands like Kohler.
($$$) Best Kitchen on the Block - Expect to pay upwards of $75,000+ to be the envy of the whole neighborhood. At this price point you can remove walls to create an open layout. Your center island and backsplash can feature natural stone, and your custom cabinets can feature built-in appliances. Built-in appliances like wall-ovens and paneled-refrigerators give your kitchen a look of pure luxury.
Appliances
Believe it or not, appliances play a major role of completing the look of your kitchen remodel. Most homeowners tend to forget about appliances when remodeling their kitchen. A brand-new kitchen won't look as good with old appliances. You'll want to add allocate some of your remodeling budget for new appliances. Although we do not sell or install appliances, the majority of our customers buy new appliances when they remodel their kitchen. Our friends at Ferguson Bath, Kitchen & Lighting Gallery take very good care of all our customers, helping them select the best appliances for their kitchens. Top brands like KitchenAid, Sub-Zero Wolf, Jenn-Air, and Bosch elevate the total look of the kitchen remodel. Check out the images below from some of our recent kitchen remodels where the homeowners also installed new appliances.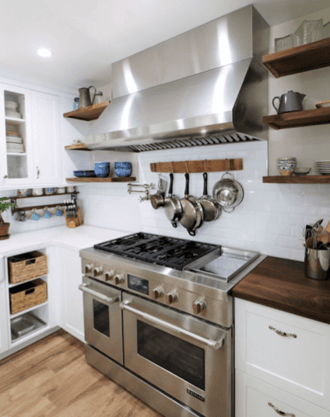 (Jenn-Air Professional Gas Range)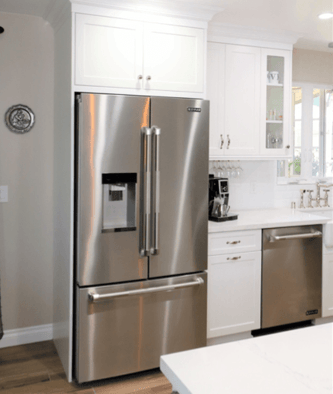 (Jenn-Air Professional Refrigerator)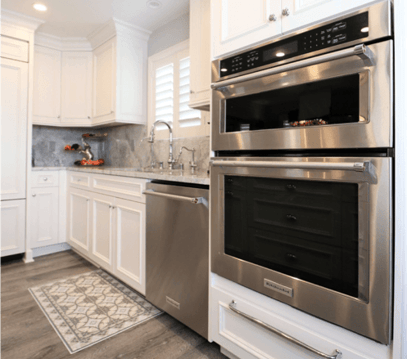 (KitchenAid Dishwasher, and Electric & Convection Wall Oven)
---
Want to learn more about kitchen remodeling? Check out these awesome articles below

For over 15 years Bay Cities Construction has helped hundreds of homeowners with their kitchen remodels. When you hire Bay Cities Construction you don't just hire a contractor, you hire an entire team of Pros with several years of experience. Our team has the expertise to help you with Interior Design, Architectural and Engineering Services, City Representation, Permit Processing, and Construction services. If you think Bay Cities Construction is the right team for you, contact us today. We will help you design, engineer, and build your dream kitchen.
Ready to take the next step? We're certain that Bay Cities Construction is the best general contractor for your project, you can Schedule an Appointment by clicking HERE. We offer a complimentary 1-hour consultation at our office, so you can meet our team and we can discuss your kitchen remodeling project. Our team of Pros can help you design and build the kitchen of your dreams. If you have been disappointed by other contractors, it's time to call one of the best home remodelers in the South Bay.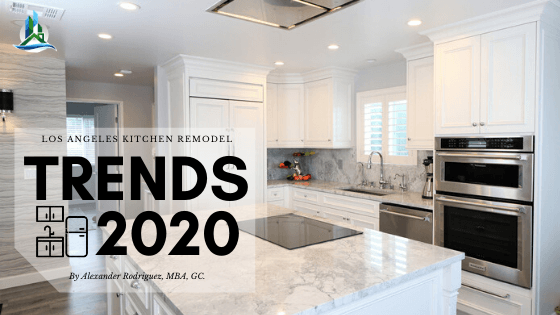 6 min read
Happy New Year, as we enter a new decade, homeowners are considering ways to give their kitchen a new look.
Read More