1 min read
Bathroom Remodel Ideas: Bathroom Fixtures and Accessories
If you are thinking of bringing change to your home, the best place to start is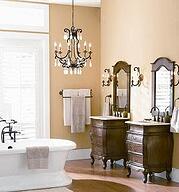 with a bathroom remodel. There are a decadent array of bathroom fixtures, lighting fixtures and accessories to choose from that will impress family and friends.

Antique fixtures are currently making a comeback. You can be sure to find a variety in antique vanities, toilets, bathtubs and mirrors that will create a bathroom fit for royalty.

If you are seeking a more contemporary look, there are so many beautiful design ideas featuring clean lines, tempered glass and brushed finishes. The contemporary look can often feel cold, to

warm it up and make it friendly with a vanity made of woods with brushed nickel hardware.

Frameless showers are skyrocketing in popularity. People do not want to deal with mildew and mold buildup on the frames.

Make sure to purchase bathroom fixtures that are size appropriate to your bathroom. So many times, people buy fixtures that are too large; this makes the space look small and enclosed.

The next important thing is lighting. Lighting will bring your bathroom together and will help create any perfect mood that you seek. If you want a relaxing sanctuary, the last thing you need are bright overhead lights glaring your eyes. If you want a multi-tasking bathroom, one that gets you perfectly ready in the morning and that turns into a relaxing space at the end of the day, you should have a set of vanity lights and also overhead lighting with dimming capabilities.
While shopping for drawer knobs/pulls, faucets, shower fixtures and light fixtures, we suggest that you keep the finishes consistent to bring together a coordinated look.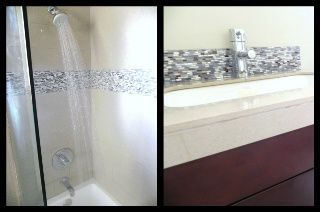 2 min read
Bathrooms can be a very special place in the home.They can act as a sanctuary were homeowner go to wash away the stress of life. They provide us...
Read More