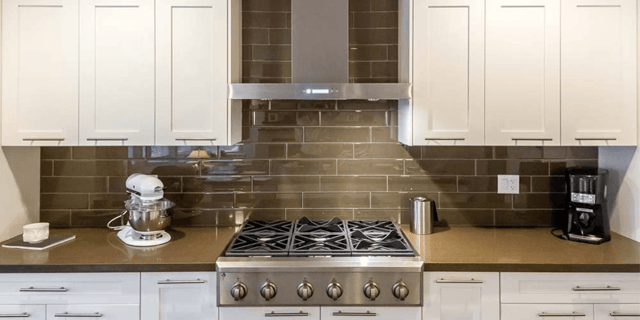 For homeowners that love to cook, the range and convection oven get a lot of use. But there's a kitchen appliance that often gets overlooked; the Range Hood. That "thing" that sits on top of your range you know? You might know it by another name, they're also called: extractor hood, ventilation hood, fume extractor, or exhaust plume. This appliance is one of the most unappreciated and underutilized tools in the kitchen. You would be surprised how many homeowners have never used the range hood. Once you get in the habit of using the hood range you'll hit yourself in the head for not having used it before. Range hoods offer several benefits, so if you are planning a kitchen remodeling project in the upcoming months you should consider installing or replacing your range hood.
Benefits
Range Hoods come in many shapes and sizes, so you will have no trouble finding one that fits the look of your kitchen. Traditionally hood ranges are tucked discreetly inside cabinets, but modern hoods take a bolder approach, they stand alone and are designed to grab your attention. If selected carefully, the range hood will serve as an integral component of your kitchen design.
The primary function of the range hood is to extract air. When activated it can extract smoke, steam, and odors. If you tend to forget things on the range or occasionally burn food, the hood range will become your new best friend. Another great feature of range hoods is that they also extract heat from the kitchen. When all the burners are on the temperature in the kitchen rises quickly. The hood range clears away by removing steam or heat generated by the cooktop. Built-in fans ingest the heat and remove them through the exhaust vent. The majority of range hoods come with built-in lighting. The improved lighting around your cooking area will help you with cooking and cleaning, you'll be able to see more dirt and grease around your cooking surfaces that need to be cleaned. If properly maintained, your kitchen appliances can run beyond the manufacturer's designed lifespan.
If you plan on selling your home in the future and your kitchen does not include a range hood you should consider installing a range hood, it will help improve property value. Usually homeowners that intend to sell their homes will remodel the entire home, or at least remodel the kitchen. A kitchen remodel is the perfect time to install a range hood. Even if you do not plan on using it, your homebuyer probably will.
We don't want to sound bleak but not having a hood range installed in your home could hurt the resale value of your home.
Hood Types
There are five main types of range hood designs and one type that is integrated into over-the-range microwaves. This section will introduce you to each type range hood commonly used in newly remodeled kitchens across Southern California.
Under Cabinet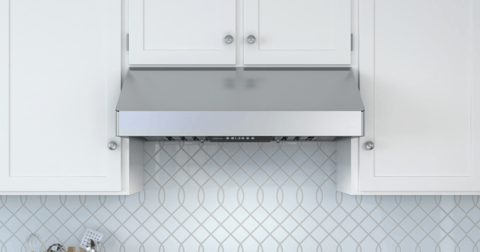 (image courtesy of Zephyr.com)
The simplest type of design you can find for a range hood is the Under-Cabinet Hood. This range hood is small, compact, and inconspicuous; without giving up any performance features. It is discreetly mounted underneath your cabinets, directly over the cooking area. You won't really notice them at first glance. If you want to save some money when you remodel your kitchen, this under-cabinet range hood is the perfect kitchen appliance for you.
Wall-Mounted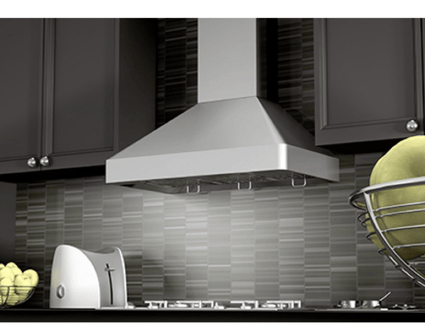 (image courtesy of Wayfair.com)
The second most common type of hood range you'll see are hoods that are mounted on the wall. Usually they have no coverage from cabinets, so the hood and exhaust stack are clearly visible. Wall-mounted range hoods tend to feature bold and modern designs, since they are in plain sight. These ranges have larger chimneys that help with faster exhaust times. This type of hood range is popular in larger kitchens because they do take up space away from cabinetry. If your kitchen is small and you do not want to lose any storage, you'll need to choose another type of range hood. Your interior designer, or general contractor can help you choose the best range hood type for your kitchen remodel.
Island/Ceiling Mounted Range Hood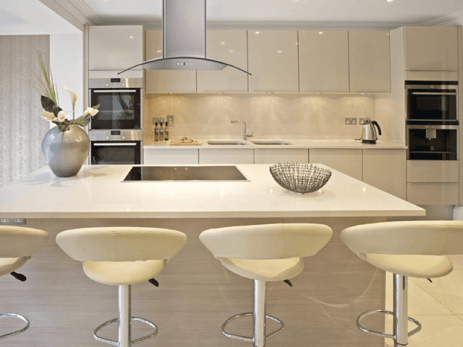 (image courtesy of Houzz.com)
If your cooktop is located on a center island your choices are a bit more limited. When remodeling your kitchen with an island you'll have to choose a ceiling mounted range hood. A ceiling mounted range hood looks like a wall-mounted hood but is designed to stand freely from the ceiling above. These give your kitchen island a very distinct look as they are typically larger, and look more professional. You can find ceiling mounted hoods in modern materials including copper, glass, and stainless steel. You'll be able to make a statement with a ceiling mounted range hood.
Downdraft "Pop-Up" Ventilation Hood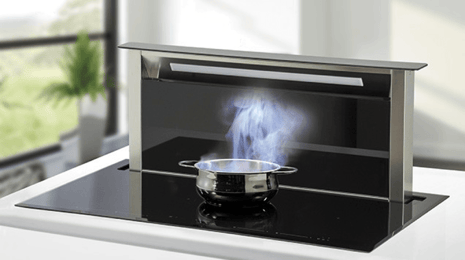 (image courtesy of Sirius Brand Australia)
Never heard of a Downdraft Ventilation hood? Yeah neither had we. Downdraft "Pop-Up" ventilation hoods are quite uncommon in North America, but if you have a small kitchen you should at least consider this type of range hood. Downdraft hoods sit directly behind the range, flush against the wall and out of sight. Once activated it rises from the back of the range and comes into view. If you have a small budget for your kitchen remodel this might not be the best option for you. Downdraft ventilation hoods are pricier because of intricate mechanical features, and specialty vent requirements.
Over-the-Range Microwave Unit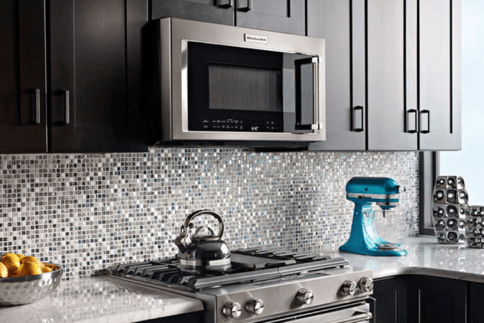 (image courtesy of KitchenAid.com)
Did you know that you can get a microwave and range hood combination in a single unit? You can. This is the most common type of range hood in North America. These over Over-the-Range Microwave units have integrated range hoods that are hardly visible. You'd really have a hard time noticing the integrated hood. Over-the-Range Microwave units are both convenient and efficient in design, they take up no more space than a large microwave. You'll have no trouble finding a microwave and range unit from your favorite manufacturer, and they are not too expensive. If you have a medium sized kitchen and want to purchase a matching set of appliances, you'll really want to consider an over-the-range microwave unit for your next kitchen remodeling project.
In closing, the best benefit of installing a range hood during your next kitchen remodel is the joy of cooking daily and living in comfort, while increasing the value of your property. Depending on the style of range hood you choose during your kitchen renovation project, your new appliance will be of great value for your home. The look of your kitchen will be complete no matter what type of hood range you choose. There are so many choices that you and your interior designer will have no trouble choosing a range hood that fits your style and budget.
---
Want to Learn More?
If you want to learn more about kitchen & bathroom remodeling I have over 200 articles for you to learn the ins-and-outs of home remodeling in the South Bay. Here are some articles that I think you will find useful.
Planning and organizing a kitchen remodel can be stressful if you aren't sure where to start. If your project is large and complex, you'll really benefit from hiring a professional. But did you know that hiring a team of pros is better than hiring an interior designer and general contractor separately? Our team at Bay Cities Construction has helped hundreds of homeowners across the South Bay with their home remodeling projects.
Bay Cities Construction is a California Licensed Contractor that provides interior design services, architectural & engineering services, project management, and construction services. Our team has the expertise to design and build your next home remodel project.
Are you ready to take the next step? If you think Bay Cities Construction is the best licensed general contractor for your project, you can Schedule an Appointment by clicking HERE. We offer a complimentary 1-hour consultation at our office so you can meet our team.