Creating Your Perfect Malibu Beach, CA Bathroom:
If you're thinking about remodeling the bathroom in your Malibu home, here are some important aspects to consider that with make the design process a breeze.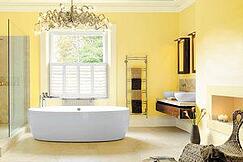 People today look at their bathrooms as a space to relax and unwind. It's one of the most important rooms in a home, and an important feature if and when it's time to sell.
When remodeling the bathroom in your Malibu Beach home, you should think about the project carefully before you starting picking out the fun stuff like tile and color schemes. Here are some basic questions to ask yourself about what you want the ambiance of your bathroom to be and get you started.
Who is going to use this bathroom? Will this be a "family bathroom" or room reserved for the master suite? Will there be enough space to accommodate family or guests comfortably?
How many sinks do you need?
How much counter space do you need?
Will you want a shower, bath or both? Which do you think will be used more often? Would you like both options? Do you need a whirlpool or spa? Should you put the bath/shower in a separate space from the sinks?
Is storage a concern? Storage is a extremely important. Where will you keep toiletries, first aid, medication, and cleaning supplies?
What kind of lighting do you need? You may want different lighting for different parts of the bathroom or for different vibes: brighter lighting for makeup and shaving (Morning Rush) and softer lighting for the shower/bathing area (Calming evening).
Going green? Saving water and electricity does not mean you have to give up comfort. You can still enjoy luxury and comfort while reducing your environmental impact. (For more info on creating an economically friendly bathroom check out our blog on…..
Once you've taken fully answered all the questions above and know exactly what you need, then you can move on to the fun stuff like color schemes, tiles, and fixtures. Be sure to work with your contractor closely so that you get the bathroom of your dreams.