Lighting is basically the most important element in any room, especially in the bathroom.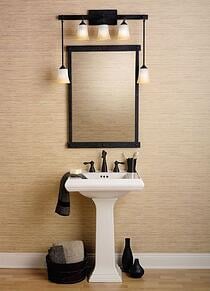 Bathroom lighting distinguishes how you're applying your makeup, how well you shave, and keep you from slipping in the shower. The lighting in your bathroom will change the look of the room, its fixtures and the countertops. It will bring out your bathroom character and ambiance.

Bathroom Lighting

Make sure to include proper task lighting around the vanity for grooming. The best way to do this is by installing sconces on both sides of the vanity or a light above the mirror. Installing recess lighting over the vanity area will cast shadows on the face.
Proper lighting in the shower is important too. For safety, make sure to use proper vapor proof fixtures.
Overhead fixtures work to fill light for the rest of the bathroom by providing general light. For added style, think outside the general light fixture box by adding a chandelier or modern pendant lamp.
If you have built-in shelves or some type of cabinet system consider installing lights inside of them. It will highlight the items displayed in them.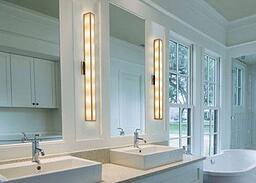 Bulbs and Dimmers

While shopping for bulbs, make sure to get the ones that give off a crisp white light. Avoid anything that will cast a yellowish glow.

Install dimmer switches on all of the lights (this goes for every room in the house). It gives you complete control over the lighting ambiance and saves you money.


Extra Tips for Maximizing Light in the Bathroom

Aside from lights, there are a few other things you can do to help maximize the amount of light you bathroom gets.
Don't use dark colors on the walls
Use large mirrors to reflect light
Avoid clutter
Use glass containers should you choose to display items
Safety Considerations
The bathroom is the most dangerous room in the house when it comes to electrical considerations because of the amount of moisture it can retain. Always consult a professional electrician or contactor before taking on any lighting project (even if it seems simple). There are codes and important safety rules that must be followed and if not done properly the results can be very dangerous and illegal without proper permits.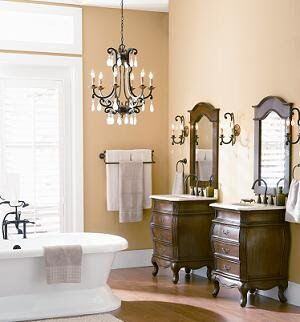 24 min read
If you are thinking of bringing change to your home, the best place to start is with a bathroom remodel. There are a decadent array of bathroom...
Read More