Kitchen counter tops is one of the most important material in your home, so it makes perfect sense why it's so common for homeowners to spend hours selecting their perfect countertop material. It is also one of the most expensive parts of a kitchen remodel depending on what kind of material you select. We have come up with a few ways to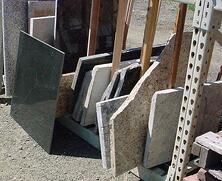 ease the burden of select and the burden of cost. Here are 7 tips to help you select the perfect counter tops on a budget:
When thinking of countertops, the first thing that comes to people's minds are large slabs of stone. Stone showrooms usually require that you purchase the entire slab, and in turn you're getting more material than you will actually need. Left over stone can be used for backsplashes, finishes for an island, or as flooring transition between the kitchen and dining room if you have an open kitchen floor plan.
You can benefit from homeowners who do not use their leftover slab. You can find these left behind at stone-yard and are sold at deep discounted rates. This is a great solution for small kitchens.
Thick edges along the counter top are beautiful but they can be costly. The thicker the material, the higher the price. Also good to know, the additional weight may require extra bracing in your cabinets. You can get the illusion of thick edges without the cost by using a thinner material with a mitered edge.
Counter top edges come in many finishes. They can also be very expensive depending on which material you choose. Straight or round edges are not as popular as the French cove, ogee or waterfall but it won't cost you an arm and a leg.

Using mix n' match counter tops is not the first thing many people think of doing, but many designers actually recommend it. This allows the possibility of using salvaged or left over materials.

Shop around on websites such as yelp, angies list, and the blue book to help you find local fabricators.

Make sure you get all estimates in writing before having the material cut!!

Going to a local salvage yard is a cool way to find countertops from reclaimed old homes or alternative materials than your typical stone like stainless steel.
The average lifespan of a kitchen is about 10-15 years. Be sure to pick durable finishes and maintain the material properly to ensure and extend the longevity life of your countertops.

The best solution to a dull kitchen is an unusual countertop. Concrete or sustainable recycled materials are a durable and a unique countertop surface. Thinking outside of the typical standard stone will open a world of creative possibilities while being easy on your budget.