We have designed these questions to help get your mind thinking creatively about how you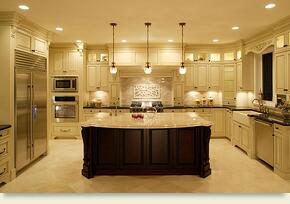 utilize your existing kitchen and how you would like to use your new kitchen. The answers you give should help you with a lot of the decisions you'll come across during the design process. Be realistic about your kitchen and be sure to include anyone else's input who will be using the kitchen as well.
1. What is the primary use of your kitchen?
2. Do you want a major change to your kitchen (larger, smaller, shape, traffic flow, etc.)?
3. What is the percentage that you and/or your family spend in the kitchen?
4. How often do you cook?
5. How many people will be cooking and/or working in the kitchen at the
same time?
6. How often do you entertain?
7. How many people do you typically entertain at one time?
8. What is the most elaborate meal that you've ever cooked?
9. What is the most elaborate meal you can imagine yourself cooking?
10. What is the single worst thing about your present kitchen?
11. What would you change about each of the following in your current kitchen?
-Floor?
-Counter/work space?
-Lighting?
-Storage?
-Appliances?
-Traffic?
12. How hard are you and your family on your kitchen (wear and tear)?
13. What would you like to show off in the new kitchen?
14. What would you like to hide?
15. How much money do you want to spend?
16. If you had to pick a single luxury item for the kitchen, what would it be?