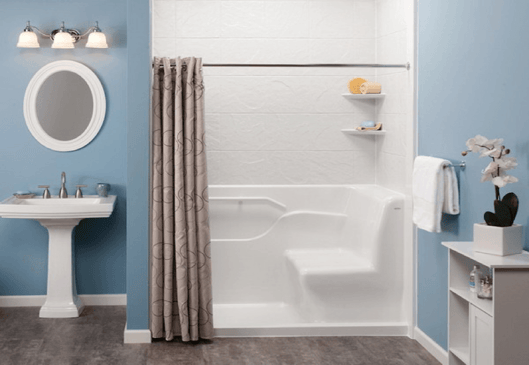 Bathroom remodeling projects allow you to design a bathroom you want to spend all day in. Homeowners can choose to remodel the bathroom to add their own flair, or they expand the bathroom because more space is needed. Several of our customers in the South Bay region of Los Angeles choose to design a bathroom that emulates the spa experience. But for older homeowners, comfort and accessibility is key. Retirees and empty-nesters choose to remodel their bathrooms to make them more accessible. Accessibility for older homeowners can mean the difference between comfort and injury.
This article will help you understand what design features you should consider when planning your accessible bathroom remodel.
If you are looking for the best bathroom remodeling contractor in the South Bay, you can trust Bay Cities Construction. For the past 15 years Bay Cities Construction has helped hundreds of homeowners in the South Bay region of Los Angeles design and build their new bathrooms. As a licensed general contractor, we have worked with hundreds of homeowners to completely renovate their bathroom. Our team is rated among the best bathroom remodelers in the area, we have the experience to help you transform your bathroom into a bathroom you will love. You can also learn about the cost of remodeling your bathroom by reading "How Much Does a Bathroom Remodel Cost?".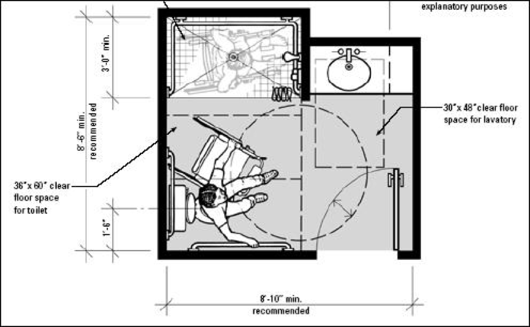 (plan it out - you'll want to design towards your needs)
Planning an Accessible Bathroom
You'll want to make sure your bathroom remodel includes all the features you need to make it accessible. You should ask yourself these 5 questions when planning an accessible bathroom:
What bathroom activities require a user to need assistance?

Are there any medical supplies necessary and where do they need to be placed?

Is a tub, walk-in shower, or roll-in shower preferred?

What activities does a user do independently where grab bars should be placed?

What will users' needs be in the future?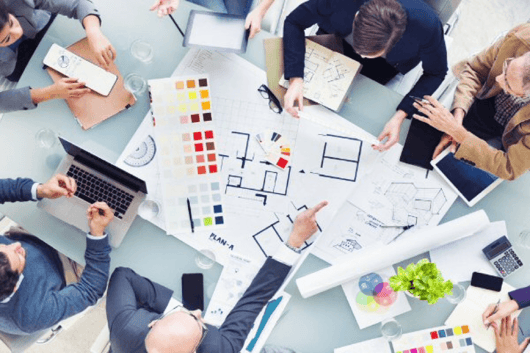 (a Team of Pros can help you with every step)
Hire a Professional
The bathroom is one of the most dangerous areas of a home for anyone with mobility issues. The bathroom can present many challenges for people that require a wheelchair or any other mobility aids. You will really want to make sure that you have the help of a professional that has experience with accessible bathrooms. Depending on the need of the homeowners, an accessible bathroom needs to meet certain criteria and design standards to meet the needs of the elderly or someone who is disabled. This is especially true for someone who requires the use of a wheelchair. You'll need more open space for things like grab-bars to make a bathroom accessible to wheelchair users. But the goal while designing an accessible bathroom is to make the bathroom space safe for everyone who uses the bathroom. A universal design can accommodate wheelchair users and can make the bathroom more comfortable for all users without sacrificing style. It is important to carefully plan your accessible bathroom remodel project. You'll spend a bit more by hiring a team of professionals, but you will be able to rest easy knowing that a licensed general contractor will build your accessible bathroom.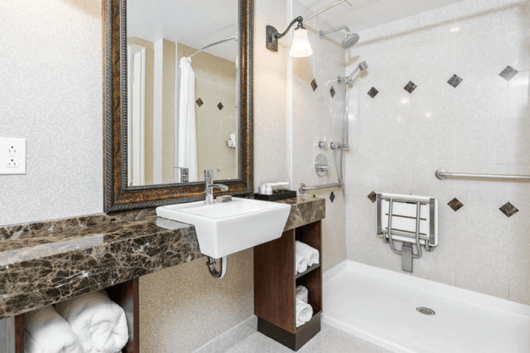 (image courtesy of Houzz)
Accessible Shower
The tub and shower are the most hazardous areas for adults, while most falls for the elderly occur near the toilet. A traditional bathtub is not accessible and can create a dangerous trip-hazard for older homeowners. A walk-in shower is much more desirable for people, it eliminates the high clearance needed to enter a traditional tub that makes it difficult for older and disabled individuals. For those that have mobility issues and require a wheelchair, they will benefit greatly from a roll-in shower. Walk-in and roll-in showers make entrance and egress easy, structurally this design can integrate benches and stools for individuals that have a difficult time standing. A roll-in shower is ideal for people using a wheelchair, walker, or for someone who is at risk for falls and can be used by everyone regardless of ability. The opening to the shower is level with the floor and is sloped down to the drain. The shower should be 36" wide for someone using a transfer seat and 60" wide for someone in a wheelchair to be able to turn around. Grab bars in the shower areas also make it easier for people that require support enter the shower without any difficulty. All three walls in roll-in showers should have grab bars and two walls should have grab bars in a transfer shower. Special attention should be placed on the shower handles, all controls should be within easy reach whenever possible to avoid creating a new obstacle. Slips in the bathroom are a common occurrence, so a non-slip floor is one of the most important things to address in the shower to prevent injuries. Certain materials like a textured tile or a slatted wood tray over a concrete floor can provide a nonslip floor, creating a safe environment within the entire bathroom. Small details like an anti-scald valves can also make the bathroom experience safer; shower controls should also be placed where they can be easily reached by the users. Towel shelves or hooks should also be installed within easy reach to help prevent wet floors.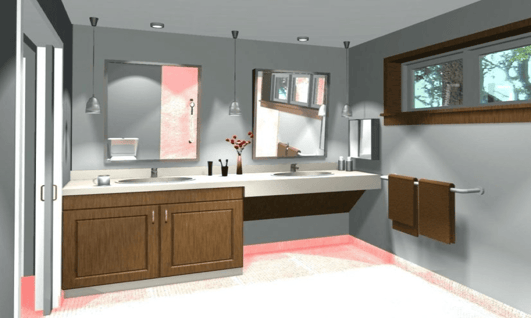 Accessible Sinks & Vanities
Specially designed sinks and vanities can be installed in the bathroom to make it more accessible to all users. But for users who require a wheelchair, a sink should be mounted directly on the wall without any cabinets underneath, making it accessible for both standing and seated users. Open knee space is especially important for wheelchair users, it allows them to approach the sink without any hindrance. Two types of faucets can be considered for an accessible bathroom, a single-handle faucet type or hands-free motion activated faucet can aid users use the sink without any restriction. Vanities also need to be sturdy enough to support the weight of users, working in conjunction with grab bars. All storage areas need to have a low clearance; all users including wheelchair bound users should be able to reach cabinets, drawers, and storage areas.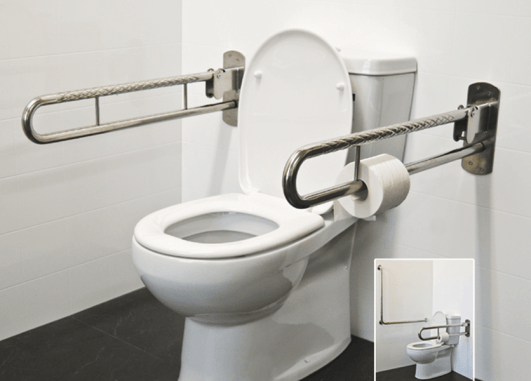 Toilet Accessibility
Toilet accessibility is very important, the Americans with Disabilities Act recommends that toilets be at a comfortable height between 17"-19". A tall toilet makes it easier to lower, stand, or transfer from a wheelchair or walker to the toilet. A bidet can be a welcomed addition for privacy and hygiene for folks who are unable to clean themselves or have difficulty using toilet paper. Remodeling a bathroom to make it accessible can be expensive so there are certain techniques you can implement to save some money. If replacing the entire toilet is not an option, thicker toilet seats can also be used to add height to existing toilets. Grab bars should also be installed near the toilet area. At least one large grab bar near the toilet is recommended. Two grab bars directly next to the toilet on both sides are the ideal placement.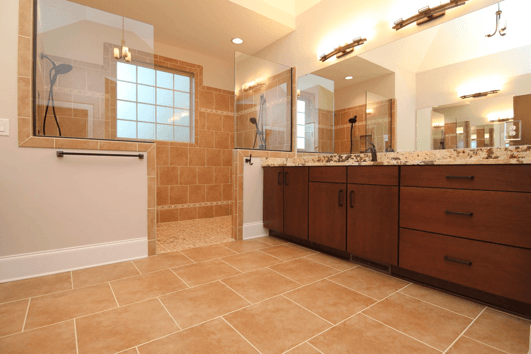 Bathroom Lighting
Good bathroom lighting can also make a bathroom more accessible, if your bathroom has dim lighting you should consider upgrading the lighting options during an accessible bathroom remodel. Good lighting in the bathroom is important for safety, avoiding any dark or shadowy areas in the bathroom are a good for individuals that have visual impairments. Natural light should be used as much as possible, so if is within your means you can install a large window in the bathroom. Light switches should be lowered so they are within easy reach of all users, including wheelchair bound users.
But if they are unable to operate light switches, occupancy sensors can also be installed. These specially designed light switches have sensors that detect movement within the room. They automatically turn on when they detect motion and turn themselves off once the room is empty. This is a hands-free option that can help everyone in the home regardless of disability. Glare should be avoided at all costs, it can create be prevented with even lighting and non-reflective surfaces.
---
Accessible bathroom remodels are a hefty project to tackle alone, you will need a team of Pros to help you every step of the way. You will also need someone you can trust, who will help you every step of the way. Bay Cities Construction is a California Licensed Contractor and our team has helped hundreds of homeowners across Southern California transform their kitchen and bathroom remodeling projects. We know how important accessible bathroom remodels can be for you. Our team has the experience and expertise to design and build your next home remodel project. Having a licensed general contractor with stellar reviews on your side will ensure that your project is finished on time and within budget.
Are you ready to take the next step? We're certain that Bay Cities Construction is the best licensed general contractor for your project, you can Schedule an Appointment by clicking HERE. We offer a complimentary 1-hour consultation at our office so you can meet our team, and we can get to know your project and needs.
2 min read
This bathroom represents the story of America. We are bombarded with marketing material on a daily basis from all sorts of entities trying to sell...
Read More