Homeowners usually only recognize worn flooring, aged countertops, and old cabinets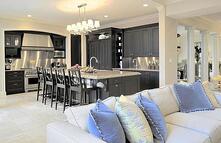 as a sign that their kitchen is outdated. The appearance of your kitchen is one way to consider that it is time to remodel, but the other is the efficiency and functionality of your kitchen.
Here are a few guidelines you can use to evaluate your kitchen:
Adequate space: Are you satisfied with the amount of counter, cabinet, and floor space in your kitchen? Is your kitchen awkwardly shaped and taking away from potential workspace?
Flow of Traffic: If there is more than just one cook in your home, consider making countertop space for more work area. The kitchen also tends to be the heart of the home. It's where guests and family flock to, so also take open kitchen floor plan into consideration. It will allow for more social interaction between rooms.
Child Hazard: Outdated appliances and design layout of your kitchen may be hazardous. If you plan on extending your family, you will want to make more space for cooking larger meals and easy access to cabinets. *Remember not to use sharp corners for your countertops.
Efficiency: Are you appliance outdated? If they are, they me costing you more money. New technologically and economically advanced appliances will be a good investment because they will be saving you money in the long run.
Design: Is your kitchen easily accessible to everyone? Will you be able to use your kitchen as you get older? A universal design will help insure that your kitchen will always be accessible to you and others.
Location Location Location: If you're thinking about adding a deck, consider a kitchen layout with a door that leads to your deck for great outdoor entertaining. You could also rearrange the window during your kitchen remodel to allow for more natural sunlight and visual accessibility to children playing.
Other than cosmetic aging of your kitchen, you can now access all of the above to ensure sufficient kitchen remodel planning.