If you're contemplating a kitchen remodel, you may want to examine your existing space and consider a floor plan that will complement your home and function to the needs of you and your family. There are 6 common floor plans: I- shaped kitchen, a galley kitchen,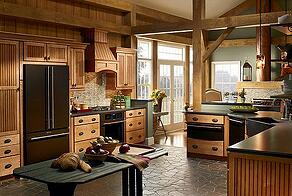 an L-shaped kitchen, U-shaped kitchen, G-shaped kitchen, and an open kitchen floor plan.
Here are some things to consider before deciding on your new kitchen layout:
Baking
Clean-up
Cooking
Food prep
Food Storage
Appliance storage (blender, coffee maker, juicer, etc…)
Tupperware storage
Glassware, dishes, and utensil storage
Space for informal dining
Pantry
Workstation
Not everything on the list will fit everyone's needs, but they are things to consider and wean out to ensure you are able to utilize the most out of your kitchen.
I-Shaped (Single wall)
This option is best suited for small kitchens. The key to this layout is to place appliances close together to optimize counter top and cabinet space.
Galley Kitchen
With this layout, kitchen cabinets and appliances are installed on parallel walls that are separated by an aisle.
L-Shaped
This layout has two sides with work stations for cooking, storage, prep and cleanup. For the corner cabinets, be sure to use carousel cabinets. Depending on the size of your kitchen, you may still be able to accommodate an island or peninsula
U-Shaped
The u shaped layout usually includes an island and utilizes space for any type of occasion.
G-Shaped
The g shaped kitchen is similar to that of the u shaped. The difference is that it usually has a peninsula or half wall cabinet attached for added storage and work space.
Open Kitchen
This is the most popular layout. It eliminates the separating wall between the kitchen and the next room, therefore making it open. This type of kitchen design layout creates a better flow of traffic and makes the space functional for entertaining.
So there you have it, the 6 most popular kitchen layouts. For further questions about how you should layout your kitchen, please do not hesitate to ask.