A fresh coat of paint can bring a whole new life to a room. And we all know that choosing the right color is what really pulls the room together. If you're planning to do it yourself, it doesn't have to be an intimidating project. The key to a successful painting project is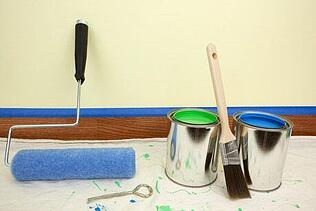 proper preparation. Here are a few tips to make sure you cover all your bases.
· Make sure you clear out the room.
This will ensure that you don't splatter any furniture with paint. If you have pieces that are too large, move them toward the center and cover them with plastic.

· Clean the room.
You'll want to clean the room to make sure that all dust particles are removed.
· Cover the floor.
To protect your floor from paint spillage, cover the entire floor with a plastic drop cloth and use painters tape secure it.
· Patch holes.
Squeeze a small amount of spackle into the hole and smooth over it with a putty knife. Repeat for larger dings.
· Sand.
This part unfortunately is a bit labor intensive, but it will ensure you have a beautiful even surface. Ones the spackle from the patched holes have dried, sand the walls. *Use a 120-150 grit.*
· Wipe.
Because sanding has loosened all kinds of debris. You'll want to mix warm water with dish soap, use a wash cloth and just go once through on the walls with it.
· Remove outlet plates.
Unscrew all the outlet plates to ensure that you don't get paint on them. Just remember to put them back once the paint has dried.
· Tape.
Cover any exposed electrical outlets, doorknobs, light fixtures, windowsills, and door frames, or anything else that you don't want painted.
· Prime.
If you are going to be painting over a glossy surface or a dark color, it would be wise to coat the walls with primer first. Doing this will make sure that the paint comes out even.
Well there you have it, now you have the tips to properly paint any room yourself.