Design Goal: Turn a dated 1950's Kitchen into and entertainment center piece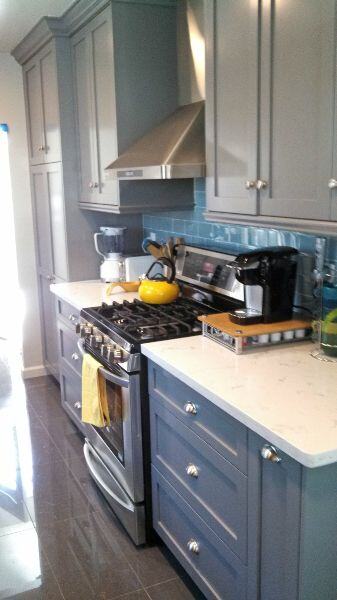 I want to share with you my latest creation. It is a complete home remodel that we justcompleted in Redondo Beach, CA. It is one of the most beautiful kitchens we have done in the last year. The house is a common 1950's house. The galley kitchen is a common floor plan for this type of home. Typically they are narrow and lack function. It goes without saying that I am a function freak! Designer kitchens with no utility are not our forte. We painted the cabinets Gray. A color that my customer selected from the Dunn Edwards color chart. They were factory finished with a slight sheen. The crown molding is robust and ultra-fancy. I used a shaker style door (flat panel and square rails). I like this door style because it is a timeless look that can be dressed up or down depending on the door pulls that we install. The counter top is a really cool white quartz. It looks like Carrera marble but without the yellowing and discoloration. The floors, a high sheen Italian porcelain. The floors are charcoal with a bit of pattern. Notice that we stacked the colors, dark floor, lighter cabinets and ultimately a light countertops. The kitchen really pops with glamor but is still very functional. You can cook for a large dinner party or a small intimate meal. We had to remove a wall to make it flow into the living room.
Behind the Scenes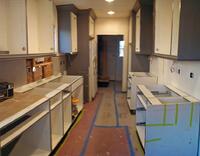 The electrical was shot! We rewired the entire house and put in a new electrical panel. Plumbing waste lines and new copper throughout. There was massive termite damage so we ripped out all the damaged wood and replaced it. The subfloor in the house had settled causing major slopes in the living room and bedrooms. We reframed the floor joists and installed new sheathing. The walls received a new layer of insulation. We spent about 3.5 months remodeling the entire house. Check out the video of the entire remodel.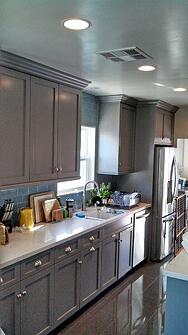 It is one extensive remodel. In order to achieve this level of success careful planning andexecution were necessary. We planned the entire project using Microsoft Project. The design phase was relatively painless for the home owner. We used Pintrest to help identify her style. From there I ran with the baton, drawing out a floor plan, searching for materials and putting the craftsmen in place to make it all happen. She did not have to go running around town shopping for tile or materials. I brought everything over to her. The only trip that was required was a 1 hour appointment to pick out her plumbing fixtures at Ferguson's show room. She received expert advice in selecting the plumbing. We did the rest! I had to goals at the beginning of this project, first give my customer a tier one construction experience and second deliver a beautiful project!
If you found this article helpful and want to learn more about kitchen remodeling you can check out these other articles:
Did you find this article to be helpful? Let us know in the comment section below. Your feedback allows us to create content that you want to see.