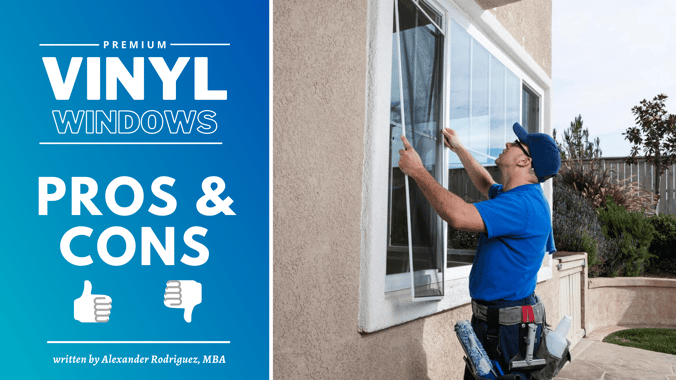 Below you will find a synopsis of both pros and cons of Vinyl windows. We have created a series of blog articles about Vinyl Windows. This series of articles cover cost, quality evaluation and popular brands. White vinyl windows are not for everyone, but they have a role to play in residential construction.
| | |
| --- | --- |
| Pros | Cons |
| 1. Provide a major thermal audible improvement over single panel glass windows. | 1. Not allowed in all cities. Vinyl windows are not allowed in Santa Monica or Palos Verdes Estates. |
| 2. Lowest cost option for new windows. Up to 30-40% less than fiberglass windows. | 2. Limited in color: most manufactures only make white or almond color windows. |
| 3. Able to get custom sizes. | 3. Not paintable. |
| 4. Easy to install in both new construction or replacement window application. | 4. Widely considered a cheap looking window. |
| 5. Durable- 20 year lifespan on high quality Vinyl Windows. | 5. Limited to the type of window operation available |

We have installed hundreds of windows over the last 15 years. Our goal is to provide our clients with the best information so that they know what they are buying. We have hundreds of construction related articles posted on www.baycitiesconstruction.com/blog. To book a free Zoom consultation, submit your contact information, www.baycitiesconstruction.com.