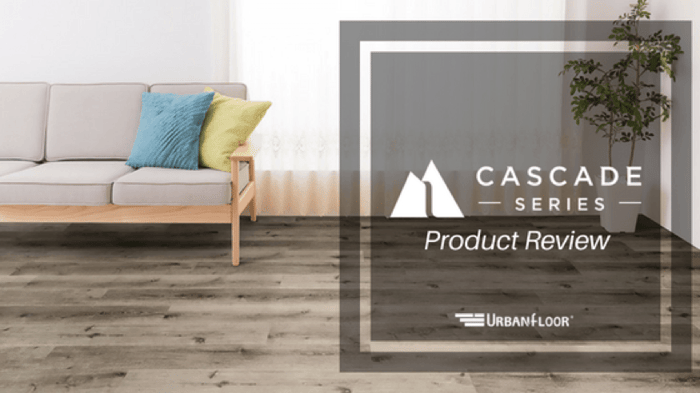 Hey, folks!
I'm Alex Rodriguez, owner of Bay Cities Construction. On this week's blog I'll be talking about home flooring. No matter what project you're considering for your home, flooring is everywhere so it always has to be considered. For those of you that are looking for a flooring product that won't break the bank, you should consider the latest in laminate flooring. But we're also talking about engineered flooring as well, and pretty much everything you need to know about flooring for a home remodel. Whether you're doing a large home remodel or just remodeling your kitchen, if you're considering flooring options, and we're here to help.
One of the newest SPC (Stone Polymer Core) products I've come across is the Cascade Series
This article is meant to help you learn about all the flooring options available to you and what you should consider next time you remodel your home. We will also include some of the latest trends in home flooring. We will also introduce you to one of our favorite vendors Urbanfloor, the manufacture the SPC (Stone Polymer Core) Laminate and Engineered Wood flooring products we will be talking about in this article. They have an amazing product range that fits any budget, from affordable laminates, to extravagant engineered wood products, and we love using their products for our home remodels. Their Cascade Series and Composer series are some of the best flooring products we have ever come across, so we are very excited to review these products for you. We will also share some pictures from some of our recent projects where we installed Urbanfloor products.
Current Engineered Flooring Trends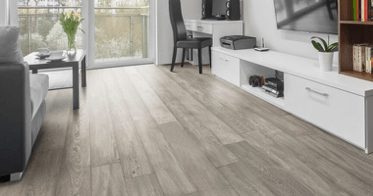 (Chéne by Urbanfloor)
Wide planks are all the rage right now when it comes to flooring, the trend is popular amongst both laminate and tile floors. If you've seen those new porcelain "wood" tiles that have gotten popular lately you'll notice that they are also available in wide planks. We've seen our tile manufacturers come up with these wide, long planks that mimic wood, so it's definitely a trend that's here to stay. But we aren't here to talk about tile. There's a big reason for that tile manufacturers are imitating wide wood planks; not only do larger planks look nice, but there's less grooves for stuff to get into. So it also helps to keep a cleaner home. Additionally, in larger spaces like your living room and dining room, a wider/ larger plank looks great.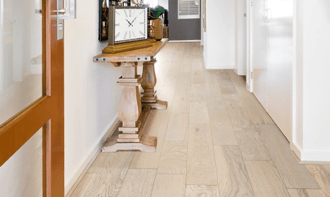 (Wide-Plank Oak Floors)
This picture above is of an engineered wood product. Light tones like this are definitely on trend right now, it's light and just makes the home look great. On the image above you can see an oak floor product; oak is the perfect option for homes that get a lot of natural light. Oak floors give a beachy look, ideal if you live near the beach or anywhere in the South Bay, or really anywhere in Southern California. This has become very popular over the last few years.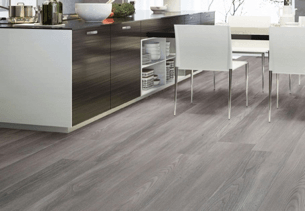 (Grey Flooring)
Another flooring trend are grey floors, the grays are in. If you are going for a modern look you should definitely consider grey oak floors. The grays are definitely in, even in the kitchen. Notice how in the picture above the flooring extends into the kitchen. This is perfect for open concept kitchens. The open floor plans allow the same flooring used in the living space to come into the kitchen as well. Four or five years ago that was unheard of, homeowners didn't want the same flooring throughout their home and their kitchen. Nobody would do that. If you look closely, this particular product has a wire-brush finish to it that makes it look like natural wood. Basically they scrape the plank with wire brushes so that the grain is a little bit more pronounced. It looks a little distressed, just like a natural piece of wood.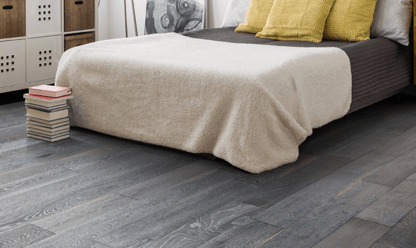 (Grey floor in a bedroom)
This is a nice picture of a differently style, but still within the grey floor trend. This is something that's definitely new. You'll notice how the plank is gray, but there are highlights within the grain. There's almost a two-tone color here, giving it somewhat of a distressed look while still maintaining a modern look that fits in any home. It looks great in this bedroom, but it can also work throughout the entire home.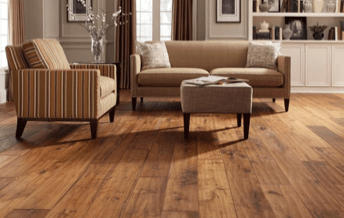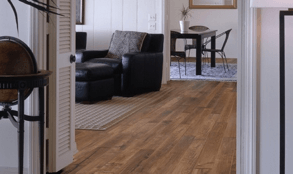 (Distressed-wood floor)
Another trend that is gaining popularity in Southern California are distressed floors. These are perfect for log homes, ranch, pueblo, and large craftsman style homes. It works well in wide open spaces. The cool thing about distressed flooring is that you don't really have to refinish them like regular hardwood floors. Regular hardwood floors require extensive annual maintenance that is both lengthy and expensive. If you want a rugged flooring option you should consider a distressed floor. They are meant to have small imperfections throughout the entire plank, and as you can see in the image above there are also color variations that makes it look amazing. If this flooring had no variation in color it would look plain, but the variety of tones make it look aged and rugged. Traditional hardwood will get scratched and scuffed as they age, so they are not the best option if you have pets or small children. After a while they will get scratched up as dogs run around or you move furniture around. You'll have to refinish the floor every five years. With a distressed plank like this, you don't have worry about any of that. You just put a little orange-oil on it and that's it; it'll take the highlight of the scratch away and it just blends in and looks worn-in. Similar to quality leather goods, when it's a little worn it looks nice. Above you'll also see an image of a distressed floor but with thinner planks. The longer length gives it a modern look and is definitely consistent with current flooring trends.
What You Should Consider...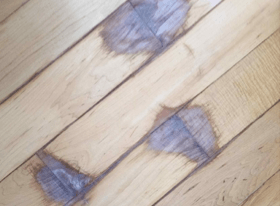 (Water damaged floor)
Did you know that all floors are not created equal? There are some flooring options that are better suited for high traffic, and others that are better suited high humidity area. There are certain characteristics that you need to consider. So let's talk about some of the qualities you should consider when looking for new home flooring options. There are so many flooring options available that you really need to do some research to find the best option for your home. For example, you'll have to consider what room you're installing the floor in, the level of traffic it's going to get, and if the floor will be exposed to the backyard where sand and grit is likely to be tracked in? Will it be installed in a hallway? Is this flooring going to lead into kitchen or bathroom? These are all things that you really need to consider when choosing a home floor. You'll want to avoid moisture-sensitive materials like hardwood flooring in the kitchen and in the bathroom. Ceramic and Porcelain tiles are a much better choice for these rooms where water is almost always present. You can also consider a porcelain tile that looks like wood if you like the wood look, so the location dictates what kind of flooring you should have.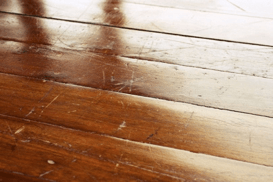 (Scratched Hardwood Floors)
Pets are the second largest thing you should consider when choosing floors. Big or small, pets will leave their mark on your floor. Hardwood floor will be out of the questions, and even some engineered wood floors might not be able to withstand constant pet scratches. Pets can have accidents and wet the floor, some floors will be ruined by prolonged exposure to water. If you have small pets in the house, they're more likely to urinate in the house because they spend a lot more time inside the house. These are things you really need to keep in mind when choosing your flooring. Traffic, pets, and the location of the flooring are all things to consider. Above you can see traditional wood floor with extensive scratches throughout. As you can see hardwood floors can get all scratched up and damaged. However, there are products that are more durable now. In all honesty, I don't think there's a more exciting time for flooring than now, especially with new products like SPC (Solid Polymer Core) floors and LVP (Luxury Vinyl Planks) floors. There are so many flooring options available now, whether it's tile that looks like wood, or laminates, or even the engineered stuff.
You also need to consider how large your space is. The larger your space, the more expensive it's going to be, right? You've got to consider what your cost per foot is going to be for the actual material and about installation. Homeowners tend to overlook labor and installation costs during a home remodel. So if you have 5000 square feet, you may not want to pick stuff that's $25 a foot. You may want to pick something that's a little bit lower in price. Some options might be out of reach if you have a conservative budget.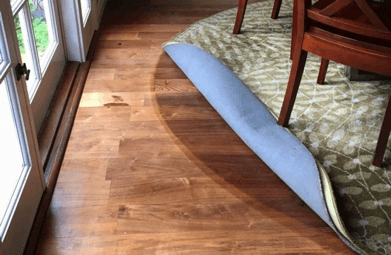 (Sun damaged floors)
One thing that is often overlooked is sun exposure, you need to consider the constant UV exposure your floor will experience daily. In the picture above you can see that there's a lot of exposure to UV light. If your floor is next to a glass patio door it can become sun bleached due to UV exposure. If your glass doesn't have a UV film on it that protects against ultraviolet rays, you are probably going to experience some discoloration; especially if it's natural wood. Any natural wood product, especially darker woods, will experience fading. It's going to be something to consider, so that is definitely a major consideration on your floors is, how are you going to protect them? Are you going to protect them with a window film? Are you going to protect them with a window covering, or are you going to have something that's a little bit more UV light resistant?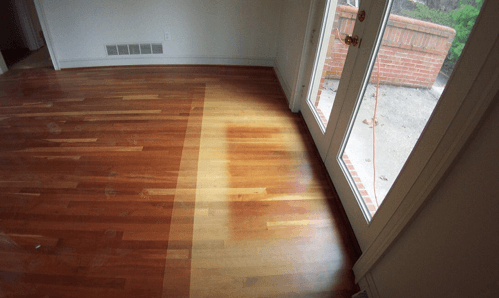 (Sun damaged floors)
Here is another image of a floor that has been discolored due to prolonged sun exposure. It looks like there, used to be a place mat right here. This doorway probably leads to a side yard or a backyard, and the homeowners had placed a mat there. These big windows look great, but if you don't plan on having some type of film on the glass your room will be hot. Don't get me wrong, they look amazing, but you have to consider all the elements your floor will be exposed to. If you don't do anything to protect your floors, you will experience this kind of damage, particularly on natural wood.
A New Type of Laminate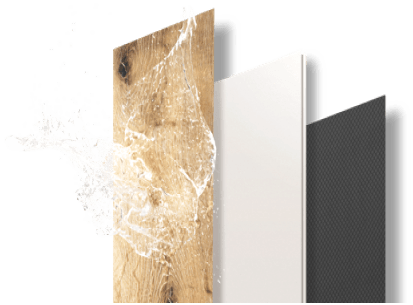 (Urbanfloor Cascade Series)
Just recently one of our vendors introduced a new SPC (Solid Polymer Core) Laminate product that just blew me away. This product impressed me with it's looks and it's tremendous value. My team has been using Urbanfloor on our projects for the past 4 years, their engineered wood products are unbeatable. Their new Cascade Series is a luxurious SPC Laminate floor that literally looks like a million bucks, but it doesn't cost a million bucks. It is THE BEST LAMINATE flooring option in the market.
One of the biggest benefits of the Cascade Series is that it's virtually waterproof. If there is a spill, it won't absorb water as a hardwood or engineered wood would. So we've actually run a little test on the Cascade series flooring in question. We have kept this plank of Manitou, one of the colors offered in the Cascade series, submerged in a bucket full of water for over a month and it still looks amazing.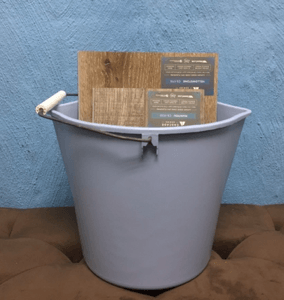 (A Cascade Series plank in water)
Here is our bucket test, all right? It's been in here for quite some time. Now, typically, there's massive amounts of damage on here, on the corner, and there is pretty much no swelling. Normally, this swells and it starts to buckle and it starts to fray. Can you see that? That starts to fray right here on the corner, so when you get the next piece bumped up to it, they start to buckle. This material does not react with water. You can see the rubber layer, it's still intact. I mean, nothing's come apart.
This is what it looks like. Whether it's wood or the laminate engineered wood, on this bucket test here, it definitely starts to warp out. Now, damage to flooring happens for a number of reasons. Major damage is typically from flooding. You have a dishwasher that floods our or there's some kind of leak on the second floor and it drains. But a ton of damage that I've seen, unfortunately, is people mopping the floors with a super soaked-out mop, and they just like have a puddle of water back and forth on all the flooring. That will damage the crap out of your floors. It will destroy them. Okay? I have no idea why people do that, but it's not a good idea.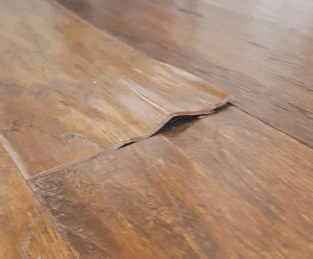 (Water damaged plank)
The solid core of the Cascade Series, does not absorb water. It does not react with water at all. That's an important thing to consider. All wood flooring, including engineered wood products, or any byproduct of wood, will absorb if it gets wet. Other wood products will get damaged. If you mop it with a lot of water, you will damage it. The materials used on the Cascade series, the solid core, is much more resistant to these things than the other products that have a wood core.
The Cascade series is an SPC laminate product, that means that there's a few different layers compressed together to make a plank. It's made of multiple layers including the wear layer, which is the top layer, which is just a clear protectant later. Then you've got a UV film that's going to protect the layers beneath. In this case, the urban floor has a UV layer. It has a transparent wear layer. It's a clear layer that protects the actual print, so this right here is the print material, and that's what gives you the look of wood or concrete or whatever the flooring is mimicking. Right below that is called the traction or the cushion base, in some cases it's cork, but in the case of the product that we're talking about today it's actually a rubber piece, and this together makes up the SPC laminate plank of the Cascade Series.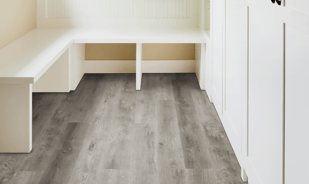 (Havasu from the Cascade Series)
Pictured above is Havasu, another product within the Cascade Series. This gray color is definitely on trend, a lot of people like this gray. I always tell my designers that homeowners that homeowners are usually grey or brown; some of them like brown shades, and others like gray shades. Like, if you like warmer colors, you're going to go into the browns and beiges and all of the other colors associated with that. If you like the grays, I mean, that's kind of your scheme. It'll be a version of gray, lighter or darker, and blacks, and stuff like that. Urbanfloor has done an amazing job at putting together a lineup of colors that look nice. Even though this product is fairly inexpensive, it does not look cheap. I can't tell you the specific price but I can tell you that it's under $5.00 a foot, a total bargain. They have a great selection.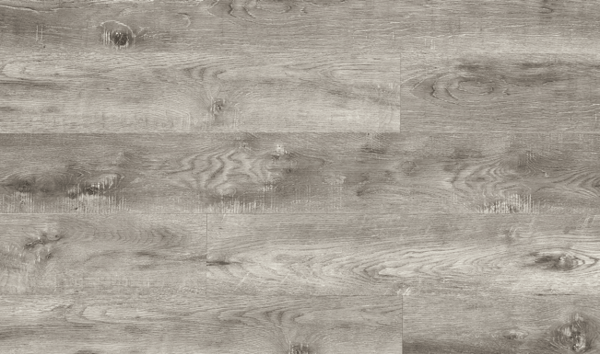 (Close-up of Havasu)
The texture on here, it looks really cool. It looks very similar to their more expensive lines that have like that wire finish. When you walk on these, you'll feel the texture on the surface of the material. Definitely you can feel the grooves of where they're mimicking the grain of the wood. So on your feet, it feels real cool. We've installed this product on a couple of jobs, and we've gotten really good feedback from our customers about this. We're going to be installing this new line in probably two of the next projects we've got.
---
---
Overall Review: Five Star Rating
So lets go ahead and rate the Cascade series, that's the reason why we've written this article. We have four criteria; quality, aesthetics, durability, and value. And we will be giving them a rating based on a scale of five-stars ⭐⭐⭐⭐⭐
Quality ⭐⭐⭐⭐ For this type of laminate flooring the quality is definitely a four. I kind of want to give it a five, to be honest with you, because in its class, it's pretty amazing stuff. But you know, I guess I think if we're talking about engineered kind of being the next step up. Engineered wood first, and then a solid wood even above that; I guess maybe you have to reserve the five stars for kind of like the next level up in material. But in all honesty, for a laminate, I definitely think it's a five. But to have some comparison to the next level up, I gave it four stars.
Aesthetics ⭐⭐⭐⭐⭐ Man the Cascade series has great looks. The print on it and the way that it looks, definitely a five star. One look at it and you'll fall in love with it, I am sure of that. The Cascade also comes in a wide variety of colors that you're bound to find something that fits your style. That's why I think it's the best laminate floor product out there.
Durability ⭐⭐⭐⭐⭐ The Cascade Series is bomb-proof. It's very durable, it definitely deserves five stars. It's pretty good quality. The wear layer is pretty thick, it has UV protection, definitely pretty nice stuff. Five stars without a doubt.
Value ⭐⭐⭐⭐⭐ The Cascade series is under five bucks a foot folks. You get the look of $10 a foot at a much cheaper price. I'm sorry, Urbanfloor doesn't let me disclose their prices, but it's definitely under $5 a foot. You can't beat that – just like I said, it's the best laminate in the market.
Who is Urbanfloor?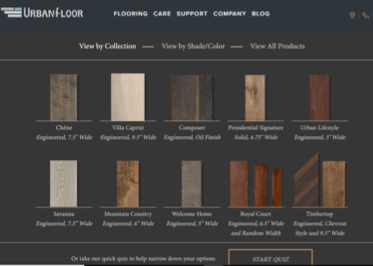 (Urbanfloor product lineup)
Urbanfloor, by far our favorite supplier, was established 2003 and they've been making quality floor products ever since. We chose them as a supplier because they have a good reputation and their products are simply amazing. This is information that we've put together as part of our research for bringing them on as a vendor. It's a pretty lengthy process when we consider a new supplier. They've been around for a while, and they've got a pretty good distribution network throughout the United States, especially here in Southern California. Unfortunately, they don't sell directly to the public, you'll need to purchase the Cascade series through an authorized distributor. Luckily for you, we are an authorized distributor for all Urbanfloor products, including this Cascade series. You won't be able to find any prices online, but if you call us we can prepare a quote for your project. Urbanfloor offers both laminate and engineered-wood products. They've got a bunch of engineered floors with different surfaces, everything from wired to distressed planks. They've got a bunch of really cool stuff, so you should consider going out on their website and checking it out by clicking here.
Frequently Asked Questions
As a general contractor I meet a lot of homeowners and they always ask the same questions when it comes to flooring. Below you find these common question and the answers to them.
Do I need to order any extra when ordering flooring? Yeah, you should. Yes, definitely. You should order about 10, maybe 15%. And a lot of it depends on what kind of flooring it is. But the wide planks you should probably at least get 10% for sure.
Is the Cascade Series tough enough for a rental property? I think that if you own an apartment building, this is what you should be putting on your floor, you should be changing your building out completely to this. Over time, the amount of money you're going to be safe by not having to replace carpets, is huge. The product is waterproof. If you have sections that are somehow damaged or there's odor from pet urine or whatever, you can remove certain sections of it, and replace them. It is an amazing material that will in the long term, if you have a rental property, it's the thing to install for sure.
Can you install SPC or engineering wood flooring directly over a concrete slab? Yes, you can install over the concrete slab, you can install it over existing wood. The only thing I wouldn't install it over is, I wouldn't install it over tile. If the tile has a lot of dimples and stuff like that, or it's uneven, I would definitely remove the tile and then install it.
What product do you recommend for pets? I think it's a great product for pets. If you got a nervous puppy and stuff and you have little urination problems, this is easy to clean up as long as it's right away. I think over time any flooring, if you have a dog that pees on it all the time, you're going to get a certain amount of smell. But this won't be damaged by it, you can remove this, clean the area below it, and then put it back. In theory, you know. Some cases just remove it and put in a new piece. Whatever area it got exposed.
How long does an installation on this type of product take? You can install a matter of a day or two, depending how many square feet you're putting in. But I think you can do a whole house in less than three days.
Will big dogs scratch it up? Nope, they won't scratch it up. The wear layer is pretty darn hard, it's pretty good stuff. Even flooring like, if you put this in a dining room, you got the chairs rolling back and forth. If you got some felt on the chairs, as long as you don't have anything jagged on it, it will resist wear very good.
What's the edge profile on the Cascade series? It's seamless. The edge is real tight.
Can you expect to hear squeaking from these products, just like with a hardwood floor? No squeaking. If you install this over concrete, or areas of the floor that are unlevel, like a slab that have a little bit of unevenness, you'll feel a void when you're walking on it.
Will heavy furniture dent floors? This is a very hardcore center. I would be really ... other than a piano.
Can you expect color variations on some of these floors as they age? If you buy a batch of the same stuff, like a year or two later it's possible, but unlikely
Do these products need to be glued? Nope, they're not glued, it's glue free. That's why it's cheaper.
---
---
Want to learn more about home flooring? Check out these awesome articles below

For over 15 years Bay Cities Construction has helped hundreds of homeowners with their home remodels. When you hire Bay Cities Construction you don't just hire a contractor, you hire an entire team of Pros with several years of experience. Our team has the expertise to help you with Interior Design, Architectural and Engineering Services, City Representation, Permit Processing, and Construction services. If you think Bay Cities Construction is the right team for you, contact us today. We will help you design, engineer, and build your dream home.
Ready to take the next step? We're certain that Bay Cities Construction is the best general contractor for your project, you can Schedule an Appointment by clicking HERE. We offer a complimentary 1-hour consultation at our office, so you can meet our team and we can discuss your kitchen remodeling project. Our team of Pros can help you design and build the kitchen of your dreams. If you have been disappointed by other contractors, it's time to call one of the best home remodelers in the South Bay.