Crown molding is a decorative trim that lines the ceiling and the wall. During the renaissance era, crown molding was used to cover imperfections between the ceiling and wall. Today, while in some cases it may still be used to cover imperfections, its main purpose is to add class and style to a room.
You can purchase crown molding from virtually any home improvement store. Consult with a designer or contractor to see what type of crown molding would fit your room. Selecting the right one is crucial because, yes they are meant to add character but they can also make your room feel extremely small and cramped. There are so many to choose from; plain, intricate design, abstract lines, leaves, and even gold trimming.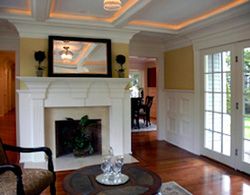 Here are a few ideas of what type of crown molding generally works with different rooms.
For crown molding in a small room, you'll want to keep it very simple. Like I mentioned before, you have to be careful about your selection because choosing the wrong one can make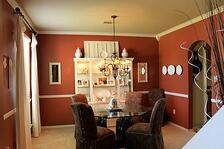 your room look smaller. The photo to your right is a perfect example of that. Yes, the molding is gorgeous, but it definitely makes the already small living room, look even smaller. The photo to your left has very simple but elegant crown molding. It adds character to the space without compromising its size.