When putting together your master bedroom you want to maximize comfort and natural light. Waking up on Sunday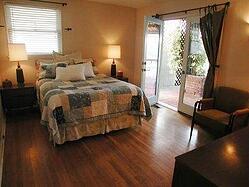 mornings and opening all the curtains only to be bathed in sunlight is a feeling like no other. To get the most comfort out of your master bedroom you will have to find a balance between the colors you choose, drapery/blinds, and deciding between sliding doors or French doors.
French doors vs. sliding doors can be a bit of a tricky decision, a master bed room with plenty of room to accommodate two doors being open and still having an ample amount of walking space is important for any room. Whereas sliding doors may not open up as much as French doors do, but sliding doors will be minimal in space consumption. Not all master bedrooms are equal in size, so decide the lay out of your rooms' furniture then you can truly asses your options.
With either a sliding door system or French doors there will be many options for blinds and or drapery. Most French doors would need the drapery to be separate and mounted onto the wall; whereas sliding door systems can sometimes have the blinds integrated into the door itself.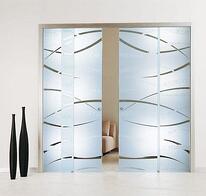 When looking at the cost difference between a nice basic French door, or a sliding door Lowes and home depot average out the same price points around 300 dollars up to about a thousand. Something for the 300 dollar price point is basic in function and the materials are not very exotic. The French doors would be made of a particle board with single panel glass windows embedded. And for the glass door system at a 300 dollar cost would most likely be made of steel, a familiar sturdy material. Now something in the 500 to 1000 dollar range you begin to see the French doors made of solid wood some nicer than others, oak vs. mahogany for example as well as double paneled glass windows which provide better insulations. And the glass doors at the 500-1000 dollar range would have nicer and safer locking mechanisms, as well as the integrated blinds.
Before you finish up your master bedroom take into consideration the different ways you'd like to access your backyard or patio, the price range you'd feel comfortable with as well as what kind of blinds or drapery you could envision your master bedroom with.