The most common home addition request we get is for a new master bedroom. Whether you are updating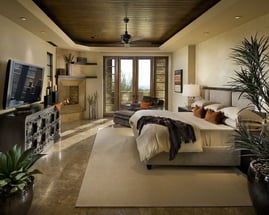 an old home or your family is expanding, there are things that you will want to include during your new master bedroom remodel. Here are 10 things to you consider for your dream master bedroom.
1. Pick Location
The first thing to do is to pick the location of where you want your bedroom. Remember, this room isn't for the family, it's for you but it still has to flow with the rest of the house. If your addition will be ground level, consider having it placed in the back of the home for privacy. If you choose to add a second floor for your bedroom, consider the existing structure and be sure to consult with an engineer.
2. Outdoor Access
Is being able to access a patio or backyard from your bedroom important to you? If so, then after selecting your location, you should consider where in that space you would like to walkout every morning for a breath of fresh air.
3. Windows & Views
With natural lighting being so big now a days, consider rolling blinds. Studies have shown that a darker room induces a sounder sleep. Now who doesn't like to get a good night's rest?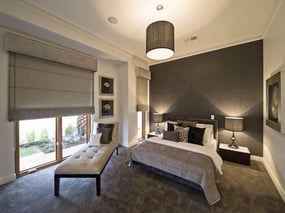 If your home is fortunate enough to have a view, make sure that your bedroom location takes full advantage of that; whether it be a beach view, city view, garden, or swimming pool view.
4. A Sitting Area
A common trend is to build a bedroom with a sitting room or mini living room. It may seem odd to have a living room in your bedroom, but the idea behind is to have the option of getting away when you just need some peace and quite.
5. A Fireplace
We all love a good fireplace. It is the focal point of any room. You may want to consider a gas fireplace, as more and more cities are no longer allowing wood burning fireplaces.
A fireplace provides the perfect focal point for any room. If you want one in your bedroom, work with your architect or designer to determine how much emphasis it should have.
6. Lighting
The bedroom allows you to get creative with lighting. While it is important to have a dimmer, consider a chandelier instead of traditional recessed lights.