Remodeling any portion of your home takes a substantial investment as well as time and energy. The last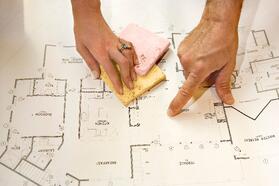 thing you want to do is pay for more than you anticipated. Your budget mostly likely doesn't leave room for error.
Here are some of the most common home remodeling mistakes and how you can avoid them.
1. In what order should I do remodeling projects?
There is nothing more costly than having to work on the same project twice. Most people do the projects they can afford first. But there is no point in adding new windows or a deck if you plan on eventually doing an addition. Depending on the structural layout, you may have to work on those tasks again.
2. How do I stay within my remodeling budget?
Failing to plan is planning to fail. The more detailed the project plans are, the more accurate the contractor can do the bid and give you a realistic price point. You should put away 5%-10% of the proposed budget for unexpected challenges of a remodeling project. For instance, you don't know the whole story or true cost until you cut into walls, floors, and ceilings.
3. Should I demo the job myself?
The worst thing anyone can do is decide to start gutting their home without a solid plan. You will most likely end up sitting in a construction zone for a lot longer and spending a lot more.
4. Will I get more for my home if I remodel?
Unless you plan on being in your home forever, don't overbuild. This occurs when the completed project is worth more than the market value of your home. Most people list their home way over market value in an effort to recoup some of the cost that went into remodeling, but don't count on making that back!
5. Should I rely on others to make sure my project goes as planned?
Now we're not saying that you need to micromanage, but you do need to remain involved. The homeowner is an important factor because the contractor can't read your mind. You need to be able to tell them when you want to add or take something out. You should be visiting the construction site daily to see the progress and to find out why certain things were done that day. This is not for you to scold a contractor, but for you to understand your own project and to help avoid unnecessary miscommunication and error.
Do you want to learn more about home remodeling projects? You can check out the following articles:
Let us know your thoughts in the comment section below, your feddback allows us to create content you want to see. Good luck and remember that failure to plan is planning to fail!