While we've done several of these types of articles, each one is different in subtopics. Many people fail to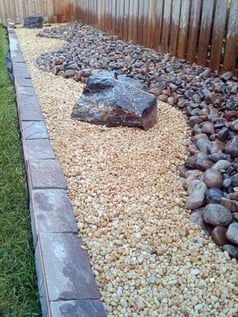 do their homework before taking on a project and that's why these issues are so common. Here are a few areas where potential problems may lie and how to avoid them.
Landscaping
One of the most overlooked aspects of remodeling is not leaving room in the budget for repairing or replacing the landscaping once the project has been completed. Remodeling projects take a toll on your yards and driveway. Most of the space is used for supplies, equipment, and is main access to and from the project itself. Homeowners are so focused on the project itself that they forget about making their yards pretty again. You don't need a big budget for landscaping. You just need to make sure to leave enough allotted in your budget to restore it.
Inferior Materials
We absolutely hate to see people do projects themselves or just anyone trying to save money on their remodel. We get it, it's expensive. But if you can't afford to do it right the first time, then you should probably wait. Don't sacrifice on quality. Truth be told, you get what you pay for. Pricing for projects are priced out by square footage. With the right design, you can save money which can be used. Remember, a project is priced out by a cost per square foot. With the right design, you can actually save money on gross square footage, which can then be put toward quality materials.
Everyday Design
Remodeling your home is expensive, it only makes sense that you would want the completed project to benefit your everyday life. A good remodel makes existing space more functional and adds value to the owners life. If you are adding square footage, make sure that the additional space will have a purpose. If not, you're wasting your money.
Going Green
If you're going to be demolishing portions of your home for the remodel, this is the perfect time to go green by adding additional insulation to maker your home as energy efficient as possible. The same reason goes for updating the electrical and the plumbing. Updating your home to be eco friendly is pretty expensive, but will pay off in the long run. It's about investing in the future.
Contingency Plan
It is very rare that issue don't arise during a project. Do not use every last penny. It's imperative that you leave room for extra things, such as dry rot. Dry rot is usually found once the walls have been opened up, and there is no real way of knowing it's there unless there is molding through the walls. Set aside 5 to 10 percent of the total budget as your contingency fund for the "just in case" scenario.
We can't stress enough how important it is to plan ahead! Failure to plan is planning to fail. The more details you figure out before construction begins, the fewer surprised you're likely to run into.
If you found this article helpful we have plenty of resources in our blog for homeowners reasearching their next home remodel project. To learn more about home remodeling, you can check out the following articles:
Let us know your thoughts in the section below, your feedback allows us to create better content for you on our blog.