With summer around the corner, it is time to start thinking about outdoor space. Decks are a wonderful way to give your home an outdoor living space. If you are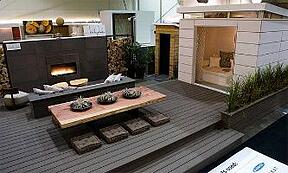 planning to add a deck to your home, here are a few things to consider:

1. Needs: Will you be using the space for outdoor dining and entertainment? Built in seating? Plants? Space for a hot tub? Fire pit? Outdoor kitchen?

2. Location: Most decks are built off kitchens, living rooms or family rooms to maximize the use of space. Be sure to consider privacy when deciding where your outdoor living space should be.

3. Size: What kind of furniture do you plan on using on the deck? Be sure to allow space for pulling out chairs, walking around, and grill space. If you want to include a hot tub or fire pit, be sure you talk to your contractor about factoring in those dimensions accordingly.

4. Integrate: A deck that blends with the design of your home will bring value if you ever plan to sell. The style of your home will help narrow the types of materials and accents that should be used. Be sure that your contractor is knowledgeable on design product options as well as how to appropriately optimize your outdoor space on your budget.
5. Lighting: Decking lighting may include wall scones, accent lights around the perimeter, post lights, or flood lights. Make sure to put the switches indoor for convenience and also consider dimmers/ timers. Definitely include a bug zapper and if you want to be a little eco friendly, consider solar lighting.
6. Landscape: If you need more privacy, choose tall bushes or trees that will also provide you with shade.
7. Maintenance: Depending on where you live and the seasonal weather patterns, you clean your deck of debris one to two times a year. For wood decks, you can hose or pressure-wash them. They also need to be stained annually. *After cleaning the deck, let the deck dry off for three days then apply the stain. For tiled decks, the dirt can be removed with a stiff scrub and commercial cleaners. If there is growing mold, you'll have to use oxygen bleach cleaner.