More people than ever are making a living working from home. According to the most recent census:
13.4 Million American people earn a living working from home.
The demand for home offices is growing. So what does this mean for homeowners and home remodelers? For homeowners, an office in the home can be an asset. Not just as a base for working but it also adds major value to a home if you ever plan to resale. For home remodelers, this means they should be knowledgeable and constantly up to date with technology that is used to create an office space as well as an ergonomic design.
People who work from home deserve a space where they are allowed to work without distraction, keep organized, and be able to separate from their job at the end of the day. A home office should be a functional and aesthetically pleasing space; 8 or more hours may be spent in the room and/or have associate and client meetings.

If you're one of the 13.4 Americans who work from home or are considering doing so, be sure to think of comfort, organization, and productivity when designing your office.
Comfort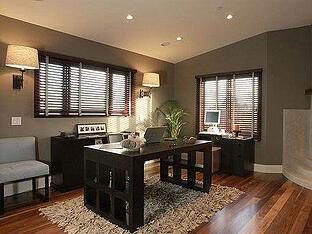 Beforehand, determine how much time you will spend working in your home office each day. You can succumb to the same problem workers encounter in a regular office building. These problems include eyestrain, back pain, carpal tunnel, and other factors that may reduce productivity. Plan your home office accordingly by addressing the following:
Location: How much space will you need work comfortably? Offices can be construction from a closet, landing, loft, attic, basement, garage, kitchen, den, or bedroom. The space you select should be sufficient enough for your equipment, professional resources and storage for yourself or anyone else who may work with you.
Lighting: Natural, direct and ambient lighting in work spaces is important. This should be a priority in your home office as well. Studies have shown that eye strain is a primary complain among office workers that impacts productivity significantly. It would be an important topic to address with your contractor on your lighting needs.
Ventilation: Heating and cooling are often overlooked when planning a home office. It's important to have cooling during the hot months and heating during the cold. Pay attention to the location of vents and heat ducts when determining the set up of the room.
Flooring: Some of the best flooring options for offices are carpeting, hardwood, or laminate floors. Also look into flooring that will limit noise.
Soundproofing: There can be so many distractions while working from home. Consider soundproofing your office to control street noise or other occupant noise in the house. A contractor will be able to help determine the best solutions for soundproofing your home office.
Selecting a Desk and Chair: A comfortable chair and desk are two of the most important tools in an office. Be sure to get a chair that has lower back support, armrest, a head rest, and that is adjustable for height. The right desk may increase productivity and work efficiency.
Color: Color has a big impact on moods. Greens, grays, and blues encourage mental clarity while reds energize it.
Organization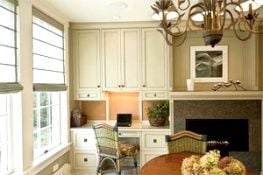 Believe it or not, clutter and disorganization can cause a business or individual to fail. Consider these three suggestions when designing your home office:
Layout: The layout of your office will depend on the space that is available to work with.
Equipment Requirement: The basics are a computer, printer, scanner/copier, phone, and maybe a television. Make sure you have adequate power outlets and surge protectors.
Shelves and Storage: Wall shelves and bookcases help keep an office organized. If space is really crunched, consider built in office shelving that allow you to add base cabinets, and allow you to keep supplies out of sight. Built in shelving will also optimize floor space.
Productivity
designing a comfortable and organized office will create a productive environment. It's important to set regular house to allow yourself off the clock.
Close the Door: No matter where you choose to have your home office, be sure to include a door for privacy. Productivity during working hours is important and it will keep other household member out of your space.