We understand that your house is your home. If you're planning a remodel instead of building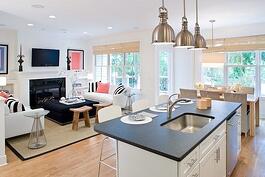 from scratch or buying a new one, it's probably because you love the features in your home. These features are what made you fall in love with the house and buy it. We want to help you organize your home remodel making it feel new and refreshed without eliminating the main features of the home.
Planning Your Remodeling Project
Now that it is time to begin planning your home remodel, let's think the things you want to change about your home, and the things you want to keep. We can start by creating a list. This list is very similar to a pro's and cons but we'll label one side "change" and the other side "keep". Here is an example of how we set up our list:
| | |
| --- | --- |
| Change | Keep |
| Create more open space | Built-in shelving |
| Larger Master Bath | Hardwood floors |
| More natural light | Arched doorways |
| Bigger kitchen with an island | |
One of the most difficult challenge that remodeling homeowners face, is staying within a realistic budget. You're given this blank canvas and it's very easy to get carried away with it. Here is another list that you can use to help you organize where your budget should go.
| | | |
| --- | --- | --- |
| Essential | Would be Nice | If the Budget Allows |
| Increase counter space in the kitchen | Granite countertops for the kitchen | Add steam shower to Master Bathroom |
| Re-do the Master Bathroom | Add tile floor in mudroom | Create a new patio area for grill and hot tub |
| Add a guest bathroom | New carpet in basement/ recreation room | |
| Open space between kitchen and family room | | |
These lists that we have created are just examples of how you can better organize your home remodel. They are simply here to help you prioritize the budget of your home remodel. Be sure to create your remodeling list before you start any project. Have it ready when you meet with contractors so that they may give you're a more thorough estimate as to how much each pinpointed project might cost.