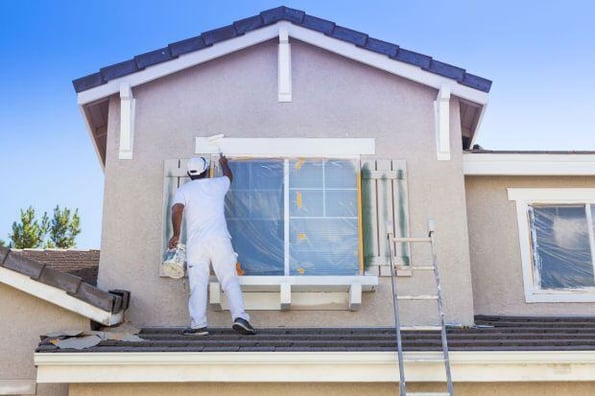 (House painter working on fascia and trim)
One of the quickest and inexpensive ways of remodeling your house is by adding a fresh coat of paint. Paint on the outside of the home is just as important as it is on the inside, so you want to select colors that match well with each other. Transforming your house into a home is a matter of putting your personal touches into every space.
You will need the right tools and the right team to transform your house into a home.
Color Palettes
If you choose to completely remodel your home the newly transformed space should reflect the personalities and tastes of the homeowners. Playful touches throughout the room can come together in harmony to become a space that everybody loves. Every client is unique and every home is special in its own particular way. Choosing the right elements can make all the difference. The right color scheme can create an illusion of a larger space, while the right furniture pieces elevate the look of the room.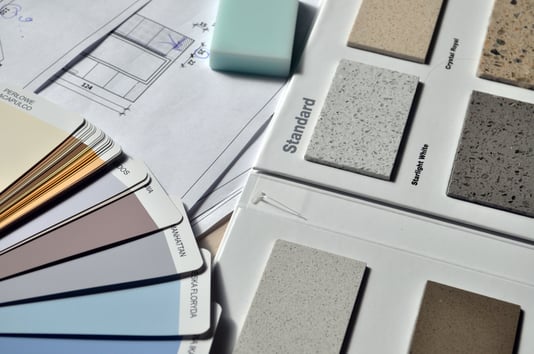 (Choose your paint colors carefully)
Paint plays an important role in transforming the overall look of a remodeled home. Homeowners will often choose colors from magazines that inspired their remodeling project, while others might need help from an interior designer in choosing a color for their space.
Dark colors absorb light and will make the room appear smaller than it is, lighter colors have the opposite effect. Lighter colors will reflect light throughout the entire room and will make small rooms appear larger. Whichever color you choose for your home, it should be one that you are comfortable living with.
Paint to Sell
Paint color is also important when it comes time to sell the house. Real estate agents will often suggest that you use neutral colors like white, grey, and pastels to attract formidable buyers. Soft neutral colors allow potential buyers to imagine themselves in this new home. You won't want to scare off any potential buyers with any gaudy color options.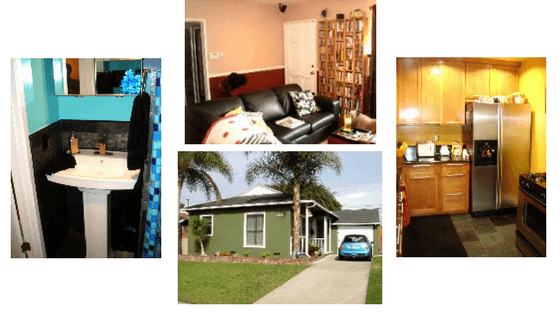 (homeowners add their own flare)
In the images above you can see the vibrant colors chosen by homeowners. The colors certainly capture the essence of their home and their personality. They added a personal touch that reflects their taste and charm. This house in Los Angeles was painted inside and out.
Time to Paint
So how do you paint your home? Some homeowners will choose to paint themselves, and will save a couple hundreds bucks, but don't expect professional results. Painting the interior of the home is rather easy; you won't run into any major issues if you decide to paint yourself. You can hire a professional team of painters to have your home painted rather quickly and evenly, but be warned that during the summer they are booked solid. You should expect to pay a slight premium in the summer for any reputable home painter. If your home is two stories or more, you should really hire a professional, they have the right equipment to reach all corners of your home. You won't want to risk any sort of injury just to save a couple hundred bucks.
Our team of Pros can help you with any home remodeling project, including residential painting. For over 15 years Bay Cities Construction has been serving homeowners in the South Bay Region of Los Angeles. Bay Cities Construction is a California Licensed Contractor. Our team has the expertise to redesign and paint your home.
Are you ready to take the next step? If you think Bay Cities Construction is the best licensed general contractor for your project, you can Schedule a Quote by clicking here. We offer complimentary 1-hour consultations for your bathroom remodel projects.
We have plenty of resources on our website to help you with your home remodeling project; from tips, trends, guides and checklists, you'll find plenty of resources on our blog section. If you need additional help for your home remodeling project we suggest reading the following articles:
Let us know your thoughts in the comment section below. Your feedback allows us to create better content that you want to see on our blog.