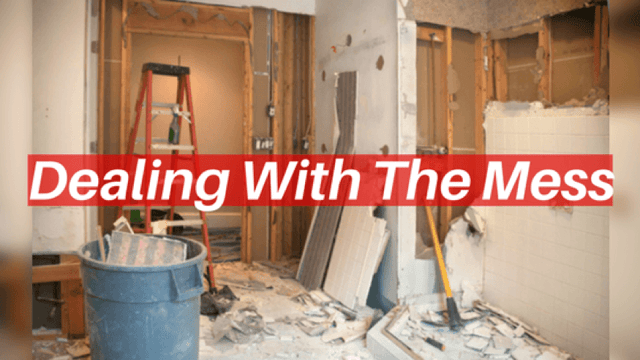 Large home remodeling projects are complex, they take a long time to complete and can also create some headaches. If a single room remodel is complicated, just imagine how much more complex a multi-room home remodeling project. Choosing the right contractor for your project is key, it can mean the difference between a smooth project and a home remodeling horror story. But even if you find the best general contractor in your area, there are some things you need to deal with that are completely unavoidable. Loud noise, dust, and plastic sheeting will be part of your life for the next couple of months. These are the small details that almost nobody talks about, but we want to give it to you straight. Home remodeling is messy, but the end result will be well worth it. Kitchen and bathroom remodeling (the two most popular home remodeling projects) are the most complex and messiest. So let's just take a look at the environment you will experience at your home when you start a home remodeling project.
Before we begin, our website has several resources for homeowners to learn about home remodeling. We have videos and hundreds of blog articles that cover topics like home remodeling, kitchen remodeling, bathroom remodeling, home additions, soft story retrofits, interior design, and finding the best general contractor near you. If you need help finding a general contractor online we recommend our article titled HomeAdvisor vs. Houzz vs. Porch. Vs. Angie's List: An Honest Comparison - You'll be shocked to learn the true nature behind these websites.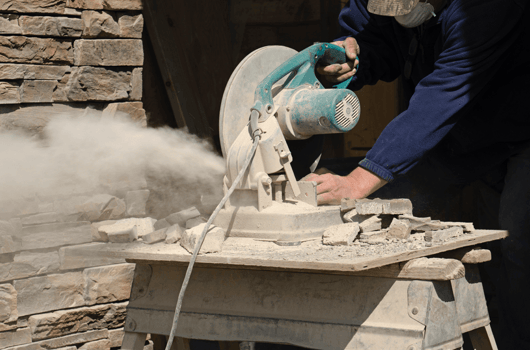 (A miter saw can pick up dust when cutting stone and wood – image courtesy of Hinman Construction)
Construction can be a messy business, as we mentioned previously noise and dust are completely unavoidable. This is especially true for major home remodel projects were demolition and drywall removal is involved. Certain projects require new drywall and or backer board, but this is only for large projects. Keep in mind that we have to take you home apart before we can put it back together. Prepare for the mess…mentally. You will have to live with a certain amount of dust and noise, especially if you plan to live in the residence. Some of our past clients have been brave enough to live in their home while construction took place, but we don't recommend this if you have a small home. Power tools are loud, so the noise produced during a construction project can be obtrusive. It's best If you don't have to be home during the construction process, and if you have pets you'll need to consider their wellbeing as well. Putting your pets in a kennel or boarding facility might be the best option so that your pet is unaffected by the commotion of your home remodeling project. Our team takes several steps to ensure that the rest of your home is not affected by the construction ruckus. One of our procedures is to hang plastic sheeting throughout your home. The plastic sheeting curtains should line the perimeter of all the work areas and might even extend to parts of the home that are not being worked on. You'll need this plastic sheeting while demolition occurs, you'll be surprised just how much dust can be generated when your contractor removes drywall. This is important to keep particles and dust from entering the rest of your home. It's best to avoid the area of the home that is being remodeled altogether.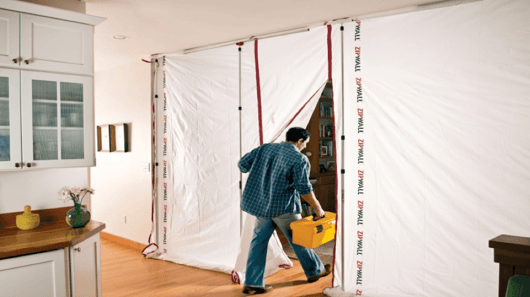 (plastic sheeting in the work area - image courtesy of Remodeling.net)
Another precaution our team takes is by laying down temporary floor protection, known as "ram board". The ram board is installed to protect the carpet or tile that will receive heavy traffic during construction. When the home remodel construction begins we want to make sure that we are unobtrusive as possible, our team will make sure our construction does not impact your daily life. On average we spend at least $500 in floor protection alone to ensure that we protect client's flooring. Even though demolition is sometimes part of home renovation, the general contractor and construction workers do not want to destroy your home. The goal of the home remodeling crew is to improve your space and make your home beautiful. The interior of your home will be wrapped in plastic, enough plastic that is should feel like you are in an incubator looking out into your home. All in an effort to keep your home clean. And if you feel like you need more protection, our team will continue adding plastic until you do. When laying out the plastic sheeting we will pay special attention to all the nooks and crannies, especially the book shelves. It could take forever to clean out those books. Wrap any book shelves in plastic. Look around for any hard to clean items…either remove them from the area to be remodeled or cover them up. We do our best to keep your home clean after construction is done, but budget $450 to have your home totally detailed after construction is complete. Take a deep breath…and have fun with your new remodel.
---
For over 15 years Bay Cities Construction has helped hundreds of homeowners with their home remodeling projects, helping them transform their house into a home they love. Our team has the experience and expertise to help you with home remodeling, kitchen remodeling, bathroom remodeling, home additions, soft-story retrofits, and home additions. When you hire Bay Cities Construction you don't just hire a contractor, you also hire an entire team of Pros. With several years of experience, our team has the expertise to help you with Interior Design, Architectural and Engineering Services, City Representation, Permit Processing, Construction Project Management, and Construction services. If you think Bay Cities Construction is the right team for you, contact us today.
Ready to take the next step? We're certain that Bay Cities Construction is the best general contractor for your project, you can Schedule an Appointment by clicking HERE. We offer a complimentary 1-hour consultation at our office, so you can meet our team, and we can get to know your project and needs. The majority of contractors don't have an office or showroom, do you really want to deal with a contractor that can disappear overnight? We didn't think so!