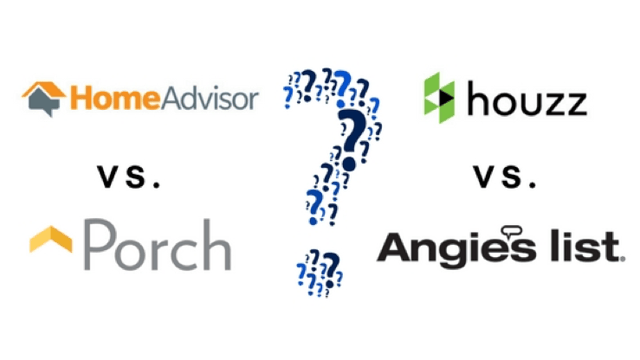 Many homeowners end up at one of these sites when they search for local contractors. These companies have nothing to do with construction and everything to do with collecting information that can be sold to contractors. Incidentally, most of the time these contractors are not even local. If you think that this is going to be a negative review for these lead generation companies read through the article completely, I want homeowners to know the truth. In this short article, I will give you a Pros and Cons list about what you stand to gain as the homeowner. I'll also share my experience with using HomeAdvisor to promote my business.
HomeAdvisor:
Full disclosure, as a general contractor I will admit that my opinions on this topic may be a bit biased. Back in 2007, I was a customer of "Service Magic". That was the former trade name of HomeAdvisor, before they rebranded to HomeAdvisor. I utilized their service for several years with a degree of success. At the time, I knew little about online marketing. They would do the all the technical work and simply sell me leads. I eventually stopped using them because the quality of their leads was terrible. When I would call these leads, they would be irate because they were bombarded with several calls within minutes of submitting their information online. It was my understanding as a customer that a single lead would only be sold to four contractors. I suspected, without "proof" that perhaps they were selling the lead to more than four contractors because of the visceral reaction of the prospective lead. It seemed like a swarm of sales guys blew up their phone as soon as they clicked ENTER on the HomeAdvisor website.
Pros
HomeAdvisor requires a background check from the contractors.

Contractors on HomeAdvisor must have their financial house in order and produce good reviews.

Service is Free to the consumer.

Has reviews for over 116,000 professionals.

Does not prioritize paid listings from members, contractors can't buy their way to the top.
Cons
If you are looking for a local contractor, you will be forced through a series of qualifying questions. In the end, you may get matched up with a contractor that is not local but wants to work in your geographic area.

Consumers, get ready for a full-scale assault of phone calls over the next three days (for those of you who love to shop, you will not be disappointed with the plethora of contractors calling you).

Unless you do an exact match, you lose the ability to search each contractor on their own merit.

Does not allow you to contact the contractor directly.

Your contact information is being sold as a lead.
---
Houzz:
Another disclosure, I do have a free listing profile with Houzz but I have never paid for their services. Houzz attracts over 25 million visitors to their website, so they have plenty of contractors listed on their websites. They also have content that provides design ideas and inspiration. Although they do offer free profiles, they are a lead generation website nonetheless. If you create an account or submit a request you will be contacted be several different contractors. Their business model is a bit different than the rest because they do not just sell leads, they also sell products on their site.
Pros
The directory allows consumers to openly browse the list of contractors (see our listing).

Customers can post reviews of contractors and product reviews.

They have a great gallery of products, lots of inspiration.

It is completely free to the consumer.

There is a Q&A forum between homeowners and contractors.
Cons
Contractors can buy their way to the top, Houzz prioritizes paid listings.

No background check requirement for advertising with them.

You will go through the vortex of qualifying questions.

You may not get a local contractor but they may service your area.

Your contact information is being sold as a lead.
---
Porch:
The Porch experience is slightly different. They aim to be a concierge service for the homeowner. Porch has reviews and listings from contractors across the country, their coverage is national. They have a network of vendors that will do all types of odd jobs around the house. They do have an advantage over other lead services because they partner with the Better Business Bureau to provide ratings. Porch also has an app that helps homeowners with do-it-yourself projects that do not require contractors.
Pros
Homeowners can tap into Porch's network of vendors for small jobs that many contractors do not want to do.

You can find contractors that are rated by the Better Business Bureau.

You can negotiate prices with Porch, not the contractor.

No direct cost to the homeowner, contractor splits the job profits with Porch.

Has 3.5 million professionals on their site.
Cons
The initial contact is direct with Porch, and not the contractor going to your house.

No background check requirements.

You name is sold to the contractor.

Your contact information is being sold as a lead.
---
Angie's List:
Founded in 1995, Angie's list is the oldest online directory for home services. It was created after Angie Hicks attempted to find a contractor online with little success. This means that Angie's List has 20 years' worth of reviews generated by their members. Nobody can beat Angie's List on this, they have been doing this the longest. But this is a directory where only paid members can post reviews. If you do not have a membership you won't be able to access anything information at all (no names, no phone numbers, no websites). If you want to access their site you better be ready to reach for the wallet.
Pros
Reviews are authenticated by Angie's List staff. Only Angie's List members can post reviews.

Angie's List claims to do a background check on people.

They provide homeowners with actual support, but only at the Gold Level subscription.

Issues a fair pricing guarantee.

Boasts 10 million verified users, that's a lot of people.

Has over 20 years' worth of reviews.
Cons
They prioritize paid listings over high-ratings.

It is not visitor friendly.

You must sign up for membership prior to seeing their list of Pros.

Memberships require a paid subscription.

Your contact information is being sold as a lead.
Watch: How to Hire a General Contractor?
---
Did you notice a common theme? All these websites collect and sell your contact information. You should be aware of this when you are looking for a local contractor online. Searching for a qualified licensed general contractor shouldn't be so difficult and misleading. We always advise homeowners to first check if the contractor is licensed, if they have insurance, and if they are willing to provide references. If you are a homeowner who needs advice on how to hire a contractor you can check out our blog article 9 Things to Know Before Hiring a General Construction Contractor.
For over 10 years we have provided our customers with quality work and exceptional service. We provide potential clients with all the information they need for peace of mind. Our team has the experience, reputation, and expertise to complete your project on time and within budget. Our team can provide everything you need for a home remodel project; we offer interior design services, and architectural & drafting services as well. When you hire Bay Cities Construction you aren't just hiring a contractor, you are hiring a team of pros!
Our blog is full of valuable resources for homeowners researching their next home remodel project. If you need help choosing a contractor for your project you can also check out these blog articles: