Through the years the projects that we have taken on have become more technical with more facets of complexity. More choices in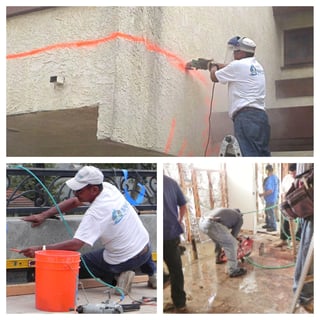 materials, elements of design and time constrictions due to professional obligations all contribute to a very challenging building environment. Technology has paved the way for new materials such as 3d tile patterns, complex plumbing system and digital integration in the home. Truth be told, residential construction is widely tainted by flaky and sloppy people of ill repute for those of us who strive to deliver a positive experience and quality service to clients. I think it is fair to set a reasonable expectation.
Team Building Model
With these complexities, a single 'construction guy' in a truck simply cannot keep track of all the tasks that need to get done in order to deliver a project on time. This is self-evident when you look at the low customer satisfaction rating many contractors earn online. The fact is that between designing a project, planning the construction, and executing the construction plan, it takes more than one individual. It takes a team. Managing people, quality control, and delivering a project on time is a function of processes and planning. Processes are systems, rules, and protocol that help guide the behavior of the people of a company. The stakes are high in construction because the liability is high. Working with a contractor that has a designer, project manager, foreman, and a season team of sub-contractors makes a world of difference. The relationships we establish with our subs and vendors helps us deliver a better experience for our clients. The reason is simple, we treat our employees, vendors and sub-contractor well. We earn their respect and sub sequentially they really enjoy working for us and are committed to providing good quality service to our clients. The ticket to tomorrow job is earned by stellar performance on today's job.
Technology and Team Building
In an effort to get organized, improve communication with clients, and track the progress of on-going jobs, we have propriety software to keep it all together. This software has an interface that clients can access from any smart phone, tablet or laptop. It offers our clients a real time window of the status on their project. My clients can see a weekly schedule, payments received, daily log, daily picture posts, and much more.
Our goal is to be an industry leader in delivering great customer experience in residential construction. Combined with our business model, this technology brings us closer to our clients and helps keep everyone in the loop so there is never a question about what is happening on the job.
As you can see there is a lot of factors to consider when trying to select the right professional for your project. Remember, don't hire a contractor, hire a team!
Check out our Interview on KRLA AM870 The Answer
If you enjoyed this article and this video and want to learn more about hiring a general contractor you should check out the following articles:
Our blog has resources for homeowners that are researching home remodels, we really hope you found this article to be usefull. We would love to see your feedback in the comment section below. Your feedback allows us to create content that you want to see on our website.