Kitchens are one of the most requested rooms to renovate. Searching for a company to achieve your dream kitchen can often times be complicated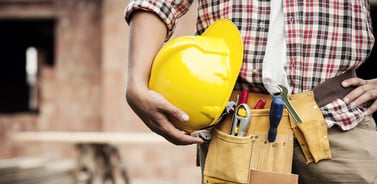 and feel overwhelming. Updating your old kitchen with one that is modern and appealing is exciting, yet many delay the process because selecting a contractor is so daunting.
There are two main ways to find a kitchen remodeling contractor in your community. One, talk to family and friends about any reliable construction companies they may have hired in the past. Two, check online referral sites like yelp. You'll be able to see customer reviews and experiences, as well as guide you to the company website so you can get a better feel of who they are and services they provide.
Once you have complied a list of 3 or 4 professionals, be sure to contact them for quotes. They will have to come take a look at your existing kitchen so that they may give you a better estimate based on the total work that needs to be done.
If anyone hesitates to give you a quote in writing, this is a shady sign so cross them off your list and look for someone who is more forthcoming.
Kitchen renovations take time, but be sure to ask each contractor for an approximate completion date. Most professionals are able to complete the project within the same amount of time more or less. If you come across someone with an unrealistic timeframe, cross them off of your list because they are likely to give you a hard time.
After you've narrowed down your list, check each professional's references to ensure that their reputation is legitimate and ask about the quality and dependability of the workers. If there is anyone who will not provide you with references, cross them off of your list.
Once you have decided on a licensed contractor, make sure they provide you with a contract. This will protect both parties and will specify the tasks involved on the project, cost, completion date, and any other stipulations such as change orders.
Before signing the contract, request a copy of the contractor's license and make sure that they have current general liability coverage. If they don't, you are liable for any accidents that occur on your property, so beware!
Choosing the right team to remodel your kitchen is extremely important. The key is to find someone who has the ability to stay on budget while completing your project in a timely manner. Selecting the right kitchen remodeler based on competence will ensure satisfaction with the process as well as the outcome.
Related Articles: