Thinking about remodeling your bathroom before the new year? Here are a few small bathroom ideas to get you started.
Older homes have a lot of charm and are uniquely classic. More often than none, they come with drafty windows, less-than-perfect plumbing, squeaky floors, as well as small bathrooms. New home bathrooms have nearly doubled in size over the past 30 years, older homes have bathrooms that average about 5 by 8 feet. Not to worry, the right colors, lighting, and fixtures will help create the illusion of a roomy bathroom. Here are some examples of beautiful small bathrooms.
Check out this Eastern Oasis, it has a freestanding vanity with elongated fixtures, a custom bamboo mirror, and a ladder towel rack that create the illusion of vertical space in this small bathroom.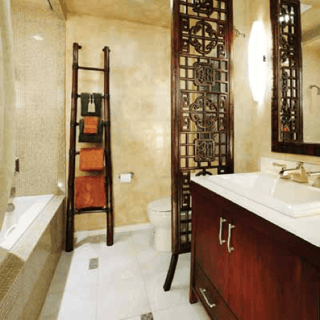 Eastern Oasis not your style? How about this Spanish Hacienda style- this small bathroom is featuring a custom mini sideboard topped with a rich red travertine counter and copper vessel sink. A rich shower drape and handmade tiles add to the charm of this small space, showing that patterns used selectively as accents do not overwhelm a small room.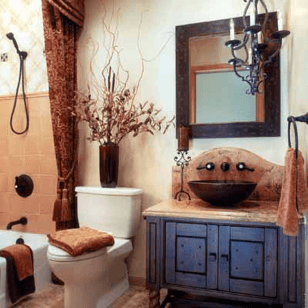 If it's classy and elegant look that you want, here is this small bathroom get-away for you. This bathroom has white marble tile and several mirrored surfaces that wrap the room. It features floor-to-ceiling cabinets that add height, while a glass shower wall eliminates the visual barrier of a shower curtain or door. The rich wood tones add warmth and also create balance in this small space.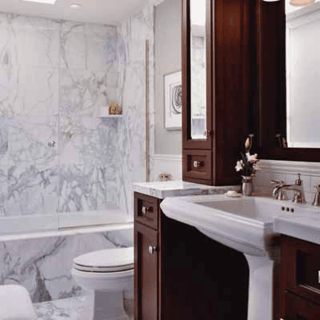 Don't despair, there is hope for your small bathroom. It can be an elegant spa retreat or anything that will bring you tranquility, relaxation and peace.
Small bathrooms can be cozy when built with the correct layout. A bathroom remodel allows you to design and build the best bathroom for your space. The posibilities are literally endless. Our article How Much Does A Bathroom Remodel Cost explains the different bathroom remodel price points in depth, and describes how there are "different budgets for diifferent bathrooms".
If you want to learn more about bathroom remodeling you can check out these additional articles:
We really hope you enjoyed this article and picked up some ideas for your small bathroom remodel project. Let us know your thoughts in the comment section below, your feedback allows us to create content that you actually want to see.