Many people who are looking to remodel their bathrooms want something that is luxurious. Something that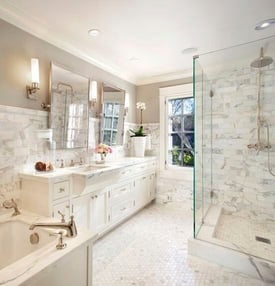 meets all of their needs and wants. The undertaking of a bathroom remodel can get complicated and messy if you're not prepared. To make the task of a bathroom renovation less daunting, we've put together a list of the two most essential tips will help get you through the stress and help get you the result of your dream bathroom.
Find your budget and STICK TO IT! This is by far the most common mistake. People don't do their homework on the types of materials they want versus what their budget allots for. Make sure that you start planning ahead. Your budget will influence what materials and fixtures you can choose from.
Be realistic. When you're selecting the materials, think about the cleaning complexity as well as how much storage you will need. You may love a pedestal sink style, but you haven't planned for storage elsewhere, you may be wondering where to put your extra toilet paper or deodorant. Plan for a bathroom that fits your lifestyle.
While this list may seem minimal, I can not tell you how many time I've met with people who have no clue what their budget is. A contractor needs to know how much they're working with so they know how to properly put your bathroom remodel estimate together. Otherwise, I guarantee you will be sticker shocked.