When designing your bathroom remodel, you select materials that will make it look modern but timeless. There are five crucial materials that you should stay away from when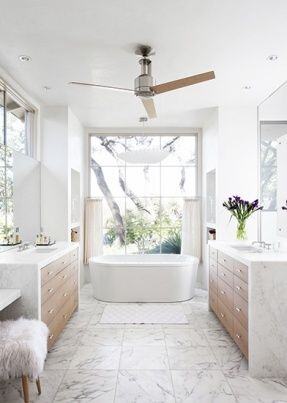 designing your bathroom remodel:
Outdated Countertops
Do not use Gilbert countertops in your bathroom. They are outdated and don't bring any value to your home. Instead, select a stone. This will bring a fresh look to your bathroom.
Old Flooring
Just like your old countertops, the bathroom flooring should be replaced. Most old homes have laminate flooring around the home, get rid of it! Allow room in your bathroom remodeling budget to update the bathroom floor with with tile or stone.
Say No to Bright Colors
If you ever plan to sell your home, it is important that you pick colors that are universally appealing but that still compliment the countertops and flooring.
Say Goodbye to Bathroom Carpets
While carpet in the bathroom is not that common anymore, it can still be found. Carpet, especially in the bathroom is not hygienic and can harbor mold without you even knowing.
Don't Overcomplicate Things
Some of the best bathroom remodel designs are clean and simple. Less is more. To keep countertops and walls free of clutter, make sure you add plenty of storage. It's important that you communicate with your contractor early on so that he/she may design the appropriate bathroom storage solution for your lifestyle and needs.
Related Articles: