Bathrooms can be a very special place in the home.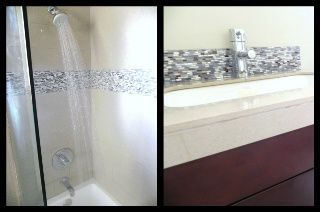 They can act as a sanctuary were homeowner go to wash away the stress of life. They provide us with the quiet time we need to center ourselves in preparation of our day. The selection of materials plays a pivotal role in the experience that you want to create. This bathroom remodel in Manhattan Beach represents how a small space can be transformed to express elegance and invite relaxation. The decorative tile strip is composed of small glass tiles installed flush with the surrounding porcelain tile. The wall tile was cut from a larger 12" X 24" tile. The tile selection and design was created by Q Design here in the South Bay. This project turned out beautiful.
If you want to learn more about bathroom remodeling we suggest reading the following articles:
Did you find this information usefull? Let us know in the comment section below.