Remodeling your home can be quite nerve racking during the process, but the end result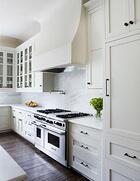 is always exciting. To ease the process of home remodeling, follow these tips:
1. Contractor and Designer: Use a licensed contractor and designer for your home remodel projects. You will want an expert involved to make sure everything looks good and goes smoothly. They will handle everything from design, to permits, to construction. Your home will be in good hands.
2. Don't Skimp: DO NOT skip important details just to save money. It could end up costing you more money in the long run. Having a cookie cutter project could mean having to pull stuff apart and replace it again.
When you hire a professional contractor, they will let you know which permits will be pulled during the process and when. When you pull a permit, it will always follow inspection to make sure the contractor is following building codes.
3. Show and Tell: This is the digital era. It is so much easier no to gather all your ideas for your project together. Show your contractor/ designer all your ideas regardless if they clash (modern, rustic) they will find a happy medium to meet all your needs. You can use websites like pinterest and houzz for creative inspiration.