When making renovations to your home including a new paint job, you want to pick the perfect color. A few things to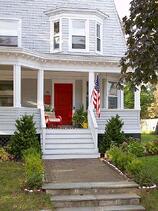 keep in mind during the process of choosing a new color scheme for your home should be; the choice between spring or autumn colors, curb appeal, and even texture.
Every year there are new colors present on the market, all of them changing depending on the season. Whether you want a vibrant and warm color for your home or choose a combination of earthy colors all working in harmony with one another to make your home look and feel like the home of your dreams. For example most modern homes are a derivative of a earthy pastel color contrasting with etched glass or gleaming bright with stainless steel, and many cottage style homes will go with some sort of soft spring color to complement a soft wood finish.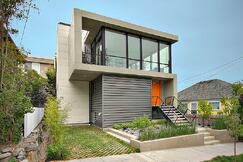 Curb appeal is just the short and simple way of describing that one house on the block that everyone stops to look at during their commute home. Your front porch and door are the focal point to your homes curb appeal. A few different ways to give the front of your home some pazaz, like choosing a snazzy paint color for your door, picking out a nice custom wooden door, or even adding some sort of wreath or ornament that resembles your style.
One of the last things to take into consideration when decorating the outside of your home is the texture of the walls. Stucco, wood shingles, or smooth adobe looks can make all the difference on the color you should stick with for your home. With stucco walls your color options are still pretty open, shingles you'd probably want to choose a fine finish that'll bring out the characteristics of the wood, and adobe homes mostly go with chalky earth tones.
Before you and painting crew get started on redesigning the outside of your home take into consideration your color options, textures, and door/knob combinations.