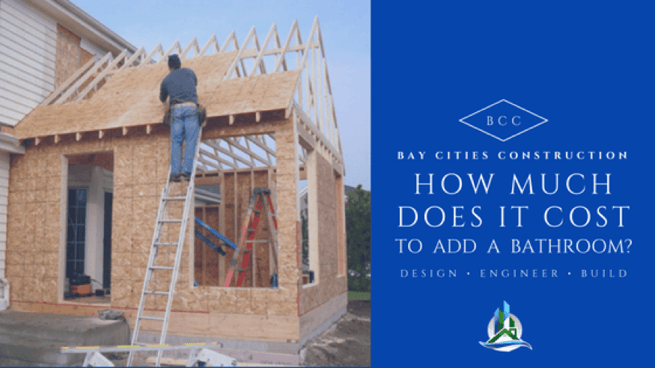 If you have a large family with a single bathroom, you'll know the pain of having to share a bathroom with other people. Sometimes adding a new bathroom is the only option, it won't be cheap, but it will change your life. How Much does a bathroom addition cost? It depends on a lot of things like size, material selections, features, and selections. Adding a bathroom is usually more expensive per square foot than other rooms because of components like plumbing, ventilation, electricity, and drainage. If you live in California you can expect to pay up to 25% more than the prices you see online.
A $5,000 remodel won't get you much in California, it'll be more of a "facelift" than a complete remodel. Building a new bathroom (or any other room for that matter) will require building permits, and you'll also need Architectural & Engineering Plans to have your project approved by the city.
2021 Update: The Pandemic & 'Texas Freeze' have caused material shortages and an increase in raw material prices. Everything from cabinets, flooring, concrete, paint, adhesives, and lumber have increased in price since 2020. Be prepared to pay 15% to 30% more for a bathroom remodel in 2021/2022. Source: Wall Street Journal

Costs to Consider
When you consider adding a bathroom to your home you should also consider costs that most people tend to forget about

Building Permits - You'll need building permits, they can range between $500 - $3,000. Depends on the city and size of your project.
Engineering Plans - Yes, you'll also need engineering plans to submit to the city. These can run anywhere from $5,000 - $15,000, again depending on the size and complexity of your project.
Interior Design - If you want to let a professional design your bathroom expect to pay anywhere from $3,000 to $10,000.
New Sewer Line - If your existing sewer line is old/clogged/corroded you'll need a new line. It can range from $5,000 - $15,000 ($6,500 to $19,500 in 2021)
Asbestos Remediation - Asbestos in older homes is almost unavoidable, this material is hazardous, and only certified professionals can handle it. Expect to pay between $5,000 up to $20,000 ($6,500 to $26,500 in 2021) depending on the size of the home.
Electrical Panel Upgrade - Does your home have a fuse box? You'll need a new electrical service panel. Not terribly expensive, but it can range from $5,000 to $10,000 ($6,500 to $13,000 in 2021)
Property Tax Reassessment - Any time you add square footage to a home, you'll be reassessed. Expect to see an increase in your property taxes.
Bathroom remodels are the second most popular remodeling project we encounter, second only to Kitchen remodels. According to the National Kitchen & Bath Association the national average for a bathroom remodel is $16,000 as of 2016 (the last year the data is available). But keep in mind that this is only the national average. You can expect to pay anywhere from $15,000 to $50,000 ($19,500 to $65,000 in 2021) for a true-bathroom remodel in Southern California. In our experience, a typical bathroom remodel in Los Angeles can land anywhere on a "Good, Better, Best" price scale. You can learn more about "Good, Better, Best" bathrooms by reading Price Calculator: How Much Does it Cost to Remodel a Bathroom which you can read here. Keep in mind that you have full control of your costs when you add a bathroom, avoiding high-end materials like marble and solid-brass fixtures.
It's Pricey
If you hadn't figured it out yet, adding a new bathroom to your home is significantly more expensive than remodeling a regular bathroom. Think about it, the room is already built when you remodel a bathroom; but when you add a new bathroom you have to build everything including a new foundation. And just as we mentioned earlier, you have additional costs like engineering plans and building permits. All the new infrastructure needed to add a new bathroom is hidden behind walls and underground; all that plumbing is out of sight. Adding a new bathroom to your home that is modestly designed can cost anywhere between $30,000 and $50,000 ($39,000 to $65,000 in 2021). If you have your heart set on adding a large spa bathroom to your home you can expect to pay upwards of $60,000 ($78,000 in 2021). Marble isn't cheap folks.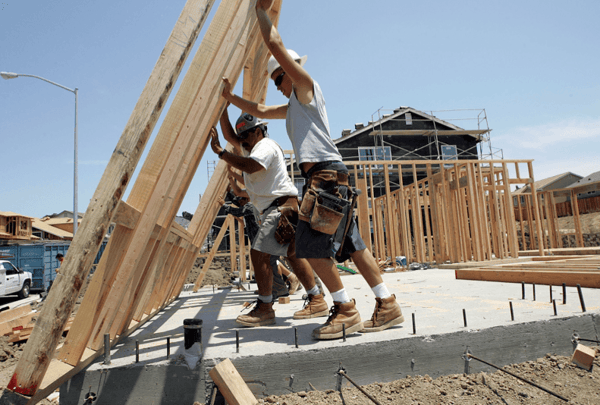 (Construction in California is expensive)
Los Angeles Bathroom Prices
Do you think these prices are a bit expensive? That's because it kinda is, construction costs in California are the highest in the nation. On top of that, people in Los Angeles & wealthy neighborhoods have expensive taste. High-end materials come with a bigger price tag. Watching remodeling shows on HGTV and DIY Network can give you a false sense of affordability, you can't completely gut & remodel a 2,000 square foot home in Los Angeles for $10,000. We never recommend the DIY route (unless you work in the industry) because you can easily create unnecessary damage, or worse you can seriously injure yourself. Let a professional handle your project from start to finish for a hassle-free experience. A professional general contractor can help you with everything from Interior Design, Structural Engineering (for Engineering Plans), Permit Processing (yes, you're gonna need building permits for your own safety) and can help you design a project you can actually afford to build. Don't hire an architect that will leave you with a project you can't afford to build, Bay Cities Construction is the right team for you.
Want to learn more about bathroom remodeling? You should check out these awesome articles!
---
For over 15 years Bay Cities Construction has helped hundreds of homeowners with their bathroom remodels. When you hire Bay Cities Construction you don't just hire a contractor, you hire an entire team of Pros. With several years of experience, our team has the expertise to help you with Interior Design, Architectural and Engineering Services, City Representation, Permit Processing, and Construction services. If you think Bay Cities Construction is the right team for you, contact us today. We will help you design, engineer, and build your dream bathroom.
Ready to take the next step? We're certain that Bay Cities Construction is the best general contractor for your project, you can Schedule an Appointment by clicking HERE. We offer a complimentary 1-hour consultation at our office, so you can meet our team and we can discuss your bathroom remodeling project. Our team of Pros can help you design and build the spa-bathroom your dreams. If you have been disappointed by other contractors, it's time to call one of the best home remodelers in the South Bay.